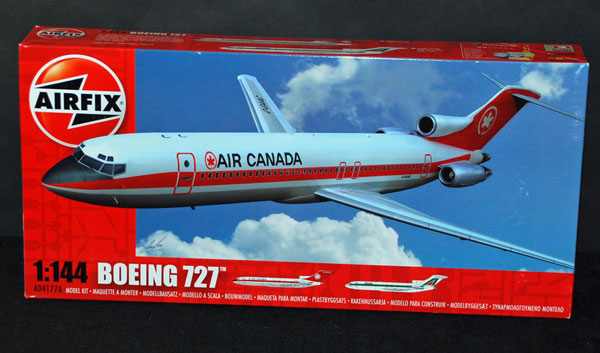 Ref: A04177A
Price around: 14.99 GBP (March 2014)
Review by Geoff Coughlin
Our thanks to Airfix for supplying our review sample. Get this kit here now at: www.airfix.com
Introduction
Two things before we get into this review – firstly, come on, who remembers building it first time around? Go on, be honest? I certainly do and loved every minute of it. I was only young (many, many moons ago!) but it has working rear steps that you can open and close before take-off, and also the wheels went around! Come on, it doesn't get much better than that; well does it? Well, not then, when I hadn't even got into my teens…
The second thing you may be wondering is why review what is essentially a civil airliner in SMN – a military magazine? Well, that's because a number of air forces around the world have used the type over the years in all kinds of roles, so this Boeing 727 and the 737 that has just been released are going into SMN.
A little bit about the Boeing 727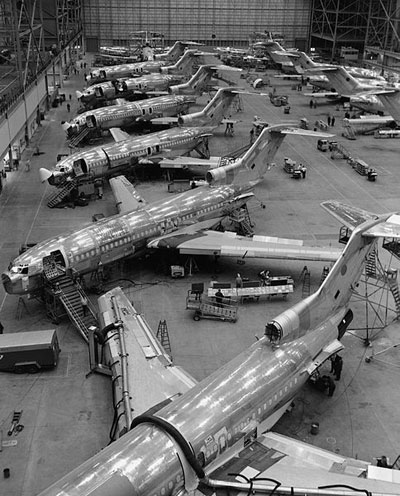 The Boeing 727 design was a compromise among United Airlines, American Airlines, and Eastern Air Lines requirements for a jet airliner to serve smaller cities with shorter runways and fewer passengers. United Airlines wanted a four-engine aircraft for its flights to high-altitude airports, especially its hub at Stapleton International Airport at Denver, Colorado. American, which was operating the four-engine Boeing 707 and Boeing 720, wanted a twin-engine aircraft for efficiency. Eastern wanted a third engine for its overwater flights to the Caribbean, since at that time twin-engine commercial flights were limited by regulations to routes with 60-minute maximum flying time to an airport (see ETOPS/LROPS). Eventually the airlines agreed on a trijet.
In 1959 Lord Douglas, chairman of British European Airways (BEA), suggested that Boeing and de Havilland Aircraft Company (later Hawker Siddeley) work together on their trijet designs, the 727 and D.H.121 Trident, respectively. The two designs had a similar layout, the 727 being slightly larger. At that time Boeing intended to use three Allison AR963 turbofan engines, license-built versions of the Rolls-Royce RB163 Spey used by the Trident. Boeing and de Havilland each sent engineers to the other company's locations to evaluate each other's designs, but Boeing eventually decided against the joint venture. De Havilland had wanted Boeing to license-build the D.H.121, while Boeing felt that the aircraft needed to be designed for the American market, with six-abreast seating and the ability to use runways as short as 4,500 ft.
In 1960 Pratt & Whitney was looking for a customer for its new JT8D turbofan design study, based on its J52 (JT8A) turbojet, while United and Eastern were interested in a Pratt & Whitney alternative to the RB163 Spey. Once Pratt & Whitney agreed to go ahead with development of the JT8D, Eddie Rickenbacker, Chairman of the Board of Eastern, told Boeing that the airline preferred the JT8D for its 727s. Boeing had not offered the JT8D as it was about 1,000 lbs heavier than the RB163, though slightly more powerful; the RB163 was also further along in development than the JT8D. Boeing reluctantly agreed to offer the JT8D as an option on the 727 and it later became the sole powerplant.
With high-lift devices on its wing the 727 could use shorter runways than most earlier jets (e.g. the 4800-ft runway at Key West).
Later 727 models were stretched to carry more passengers and replaced earlier jet airliners such as the Boeing 707 and Douglas DC-8 as well as aging prop airliners such as the DC-4, DC-6, DC-7 and the Lockheed Constellations on domestic routes.
For over a decade more 727s were built per year than any other jet airliner; in 1984 production ended with 1,832 built and 1,831 delivered, the highest total for any jet airliner until the 737surpassed it in the early 1990s.
Military Boeing 727s
A military version, the Boeing C-22 was operated as a medium-range transport aircraft by the Air National Guard and National Guard Bureau to airlift personnel. A total of three C-22B's were in use, all assigned to the 201st Airlift Squadron, District of Columbia Air National Guard.
What's in the box?
Well, clearly this isn't a new-tool model; I wouldn't expect it to be, no this is the original release back again but with some great decals if you do fancy a pop at an old favourite.
Take a look at the kit parts in the photo gallery below – not bad, given the age of the kit. Yes, there are raised panel lines but these can easily be sanded off and there isn't too much excess flash/plastic either.
The shape is pretty good and certainly looks like a Boeing 727.
This is a basic kit that will present few problems for any builder of any age and builds into a fairly decent representation of a Boeing 727.
Decals and instructions
The decal sheet is excellent offering two brightly coloured '727s; one Air Canada and the other Alitalia. A great feature is the inclusion of decals for the windows, should you wish to fill the holes provided and go this route. You can always add the windows as suggested in the instructions and see how they look and if not what you want, just fill over them and apply the decals later.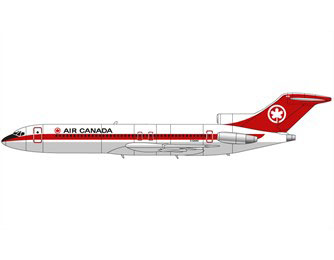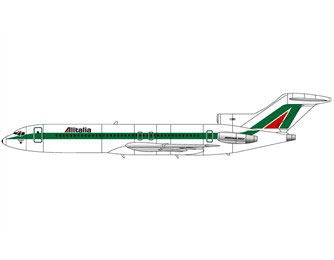 To sum up
Sure, this is an old model and the price of this release at the time of writing feels a little steep to be honest. On the plus side those decals are typical of the time for Boeing 727 aircraft in their heyday. If any of you out there happen to know of or locate decals for this kit featuring military options, then please do let us know. Thanks.
SMN Quick summary Star rating out of 5
| FEATURE | STAR RATING (out of five) |
| --- | --- |
| Quality of moulding | *** |
| Accuracy | *** |
| Instructions | *** |
| Decals | **** |
| Subject choice | **** |
| Overall | *** |