Review by Mick Stephen
Thanks to HPM Hobbies Pte Ltd & Hobby Bounties for supplying the review sample. Order this kit from: http://www.hpmhobbies.com/
In this Olympic year there are certainly plenty of medals to be won; here we are just weeks from the start of the 2012 London Games and the military aircraft modelling world has a potential podium winner: the new tooling Mirage III /V variants from High Planes Model Hobbies.
Background…
High Planes Models have been a plastic model manufacturer in Australia for many years; their recent acquisition has seen them relocate to Singapore. HPM's reputation is of producing a range of very accurate kits of typically neglected subjects, just check out their website to see what I mean! HPM led the way in what is now known as "limited run" injection moulding, which uses low cost tooling and low pressure injection techniques. The downside with this method is that limited run kits require careful cleanup before assembly.
This new range of kits utilizes the more commonly used method of high pressure injection and tooling, while maintaining the same standard of accuracy and detail, with the upside of becoming somewhat easier to build.
The Mirage range…
There have been numerous attempts by all the mainstream (and not so mainstream) kit manufacturers to capture the Mirage III/V in plastic over the years. The best of these in 1/72 scale have been from Revell in 1972 and Heller in 1977, but raised panel lines were the order of the day. It wasn't till 2004 that Eduard brought out a kit in 1/48 scale with half decent recessed detail. Here we are in 2012 and enter stage left, HPM to continue on from their 'limited run' offerings with a brand new tooling release of three kits covering Australian, Argentinian and Israeli versions of this iconic aircraft.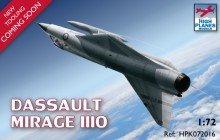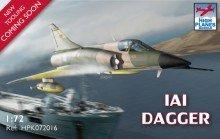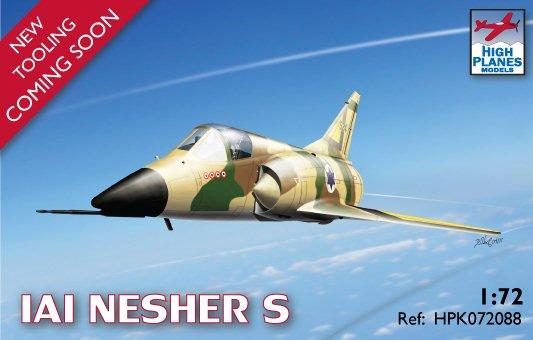 All the kits have parts options for different variants and a choice of decals for at least 3 subject airframes of the type.
So let's take a closer look at our review sample & see what Olympic medals can be won!!!
What have we got..?
The Mirage III / V is an iconic aircraft and was exported all over the world, built under licence (and sometimes without one) by a multitude of countries. As a subject choice this aircraft will attract interest across the globe.
Our sample is the Israeli Aircraft Industries built version of the Mirage V called 'Nesher", which is often mistranslated from Hebrew to means 'Eagle', but in fact means 'Vulture'. We won't go into the history of this particular aircraft, that's a fascinating story in its own right, so we'll save that for the Build Now review article to follow. Instead let's concentrate on our kit contents….
The kit comes in a sturdy open top box, which with such rugged construction will ensure no damage whilst in the post. My review sample certainly arrived in tip top condition. The box top becomes a handy tray for parts storage during the build.
The box art depicts a clean winged Nesher in IAF camouflage scheme at high altitude, this is quite a striking image and certainly will make the box stand out on the shelf.
The sides are adorned with images of the other kits in the range and dimensions of the finished kit. However, we're not here to review the box artwork alone, let's go inside and see where the treasure really lies.