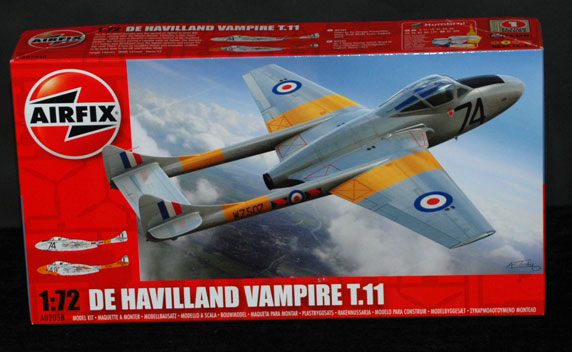 Ref: A02058
Price: around £7.99 GBP
Review by: Geoff Coughlin (Feb 2013)
See our FINISHED NOW BUILD REVIEW
Our thanks to Airfix for supplying our review sample. Get this impressive little kit here now at: www.airfix.com
Here's something to get you in the mood… a beautiful whistling Goblin!

A little bit of background
The de Havilland Vampire was the second jet fighter to enter RAF service, coming after the Gloster Meteor. Featuring a twin boom fuselage, which was to become a common feature of de Havilland designs, the Vampire provided a capable early jet fighter. The Vampire T.11 trainer was developed from the fighter versions and served the RAF until 1967. It was an excellent trainer and examples continue to fly today both in the UK and further afield.
Powered by a single de Havilland Goblin 35 turbojet engine, a total of 731 Vampire T-11 trainers were built.
Initial assessment
First impressions are good as this kit is an all-new tool and that is good news at any time. There is a very innovative construction method in this new kit – for example the main gear units attaching to the front of the tail booms and engine intakes slotting behind the complete forward fuselage.
Quality
The sprues are full of well detailed, often very delicate parts that look very impressive. The panel line detail is quite fine, maybe slightly heavy for the scale but very presentable and sharp. Interestingly the panel line detail is slightly finer on this tooling than even the Sea Harrier FRS-1 that accompanies it; that's also a recent tool but just goes to show that Airfix is getting better and better with many of their most recent releases. There is some flash visible but this should be able to be removed easily enough and options for a pair of under wing tanks.
The tyres in this Vampire kit look to have a very slightly weighted appearance on one side, but this is hardly visible and probably a good idea as they were kept inflated to high air pressures making any 'bulging' hard to pick out in some images.
Cockpit
The cockpit tub has decals for the main instruments and this is ideal in this scale, with an ejection seat that's not bad that will be enhanced by the addition of a scratched or etched seat harness and ejection handles. Some detail is moulded into the fuselage side and, again, this is fine for the scale.
Dropped flaps?
Not available in this kit – a bit of a shame as this can add a lot of interest to any model but understandable to help keep tooling costs down I guess.
Clear parts
Usefully the front windscreen is moulded separately to the rear portions that can easily be displayed open – nice touch in this scale and this will allow you to really go to town and add some detail as much will be visible.

Instructions
These follow the usual exploded stage diagrams and are clear and straightforward. Humbrol paint references are given on the all-colour painting guides included and that's nice to see. Colour names are also given allowing you to match your colours from whatever source you prefer.
Decals
The two schemes provided are excellent: one an Aluminium machine with Yellow trainer bands on wings and tail booms; the other Aluminium with Day-Glo Red panels – superb! Those provided here look good quality like others we are getting now from the manufacturer – just ensure that they go onto a gloss surface and then spray (or paint) gloss varnish over the decals once dry before applying your chosen varnish/finish. I say this because I have been caught out with the slightly matt texture of the decals looking far too obvious if you apply the varnish directly onto them; just something to bear in mind! The decals are in register and colour saturation is good too.
A nice feature is full stencil data markings.
To sum up
SMN Quick summary Star rating out of 5
| FEATURE | STAR RATING (out of five) |
| --- | --- |
| Quality of moulding | **** |
| Accuracy | **** |
| Instructions | **** |
| Decals | **** |
| Subject choice | ***** |
| Overall | **** |
Airfix has done a great job with this package, it embodies so much of what we hoped they would achieve going forward and sets a high standard that we will expect to see in all they do going forward. Their 4-Star rating above overall sums it up!
Geoff C.