Our sincere thanks to Mirage Hobby for supplying our review kit. Get this kit here now at Mirage Hobby.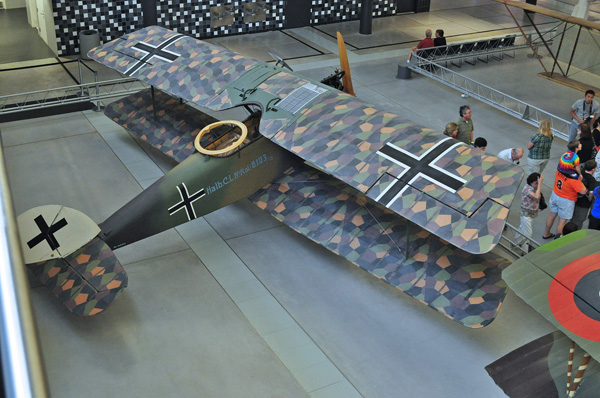 A little bit of background to the type
Karl Thies, chief designer of the Halberstädter Flugzeugwerke, G.m.b.H., designed the CL.IV as a replacement for the CL.II. As the CL.II had proven to be particularly effective in the ground support role, the focus of an improved version was to create a specific ground attack aircraft.
The new CL.IV featured a shorter, strengthened fuselage and a horizontal stabiliser of greater span and higher aspect ratio than that of the CL.II. These changes, along with a one-piece, horn-balanced elevator, gave the CL.IV much greater manoeuvrability than its predecessor. After tests were completed of the prototype in April 1918, at least 450 were ordered from Halberstadt, and an additional 250 aircraft from a subcontractor, LFG (Roland), as Halberstadt CL.IV(Rol).
The Halberstadt CL.IV was one of the most effective ground attack aircraft of World War I, relying on its good manoeuvrability to avoid ground fire. It appeared on the Western Front towards the end of the German offensives in 1918. Flights of four to six aircraft flew close support missions, at an altitude of less than one hundred feet, suppressing enemy infantry and artillery fire just ahead of the advancing German troops. After these late German offensives stalled, Halberstadt CL.IVs were used to disrupt advancing Allied offensives by striking at enemy troop assembly points and night sorties were also made against Allied airfields.
Towards the end of the war, on bright, moonlit nights, CL.IV squadrons attempted to intercept and destroy Allied bombers as they returned from the raids.
The Mirage Hobby kit
This is the first time we've had the pleasure of looking at and reviewing a model from Mirage Hobby – why? No idea, because they have been producing plastic scale models for a number of years.
I came across their website and I spotted that there was a possibility of receiving a review sample or two and this is the first one to arrive. We'll look for an opportunity to build this model at some point over the coming months – I just need to get it into the heavy SMN schedule :) Then you'll be able to see how it all goes together.
In the meantime… what's in the box and how does it all look as it comes? Let's find out…

Main components
The grey plastic is well moulded, looks to be good quality and detail is sharp and precise across the board. Some raised detail on the fuselage sides is clear and defined. Some internal frame detail is there too, although not much of this will be visible on your completed model.
The wings are well tooled with separate control surfaces, allowing you to pose these slightly off centre.
The guns are very well moulded for plastic items – good recessed detail that should look good under paint and wash.
The wheels and manufacturer's mark are well done.
The engine comprises several parts and should make up into a very convincing replica of the original. Note that the exhaust pipe array protrudes from the top of the engine and these will look great if you apply your metallic/heat staining skills to them.
The propeller blades look to be a fair representation of the real items.
Watch out for
The only thing I can see from the plastic parts is that many have mould seam lines, although these should only really be a bit fiddly on the smaller items – nothing too dramatic, just additional work.
Photo etch (PE)
A very nice fret shows plenty of smaller items that will enhance your model – the cooling jackets for the guns, belts and other details.
Decals
These look very impressive, especially the excellent faded fabric effect on the lozenge camouflage pattern. Take a look – wow! Quality looks very good too – all markings in register and good, accurate colours to my eye.
Instructions
These are good – plenty of use of colour (for the painting guides) as well as the exploded diagrams that look clear from first glance.
Overall
I like this model a lot – the package is very full and you won't need to buy anything else – just enjoy what comes in the box – it's extensive.
Geoff C.
SMN Quick summary Star rating out of 5
| FEATURE | STAR RATING |
| --- | --- |
| Quality of moulding | ***** |
| Accuracy | ***** |
| Instructions | ***** |
| Decals | ***** |
| Subject choice | ***** |
| Build enjoyment | ***** |
| Overall | ***** |
The inside of the box lid has some tempting images of other Mirage Hobby products – notice the PZL. PII – we also have that one and will be the first up on the modelling bench – keep an eye on Build Now for that… looks like a nice model and a full Here Now review will be available in Aircraft-Here Now shortly.