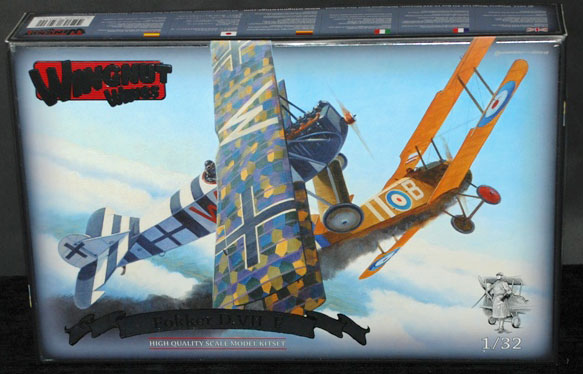 Price around USD $79.00
Review by Geoff Coughlin (April 2013)
Adam B has already done a good review of the Fokker D.VII (Alb) and so I'll confine this review to making some observations and including a full set of photos for this new release so that you can see what's on offer.
Our thanks to Wingnut Wings for supplying our review sample. Get this and all the other superb kits in the WW range here now at: www.wingnutwings.com
We have multiple builds of Wingnut Wings kits… just check out your Wingnut Wings Finished Now area in SMN.
Here are some photos of our completed Wingnut Wings builds to date:

History
The Fokker D.VII was a German World War I fighter aircraft designed by Reinhold Platz of the Fokker-Flugzeugwerke. Germany produced around 3,300 D.VII aircraft in the summer and autumn of 1918. In service, the D.VII quickly proved itself to be a formidable aircraft. The Armistice ending the war specifically required Germany to surrender all D.VIIs to the Allies at the conclusion of hostilities.[1] Surviving aircraft saw continued widespread service with many other countries in the years after World War I.
The D.VII entered squadron service with Jasta 10 in early May 1918. The type quickly proved to have many important advantages over the Albatross and Pfalz scouts. Unlike the Albatross scouts, the D.VII could dive without any fear of structural failure. The D.VII was also noted for its high manoeuvrability and ability to climb at high angles of attack, its remarkably docile stall, and its reluctance to spin. It could literally "hang on its prop" without stalling for brief periods of time, spraying enemy aircraft from below with machine gun fire. These handling characteristics contrasted with contemporary scouts such as the Camel and SPAD, which stalled sharply and spun vigorously.
However, the D.VII also had problems. Several aircraft suffered rib failures and fabric shedding on the upper wing. Heat from the engine sometimes ignited phosphorus ammunition until cooling vents were installed in the engine cowling, and fuel tanks sometimes broke at the seams. Aircraft built by the Fokker factory at Schwerin were noted for their lower standard of workmanship and materials. Nevertheless, the D.VII proved to be a remarkably successful design, leading to the familiar aphorism that it could turn a mediocre pilot into a good one, and a good pilot into an ace.
Manfred von Richthofen died only days before the D.VII began to reach the Jagdstaffeln and never flew it in combat. Other pilots, including Erich Löwenhardt and Hermann Göring, quickly racked up victories and generally lauded the design. Aircraft availability was limited at first, but by July there were 407 on charge. Larger numbers became available by August, when D.VIIs achieved 565 victories. The D.VII eventually equipped 46 Jagdstaffeln. When the war ended in November, 775 D.VII aircraft were in service.
A new nose
The main visible difference between this 'F' version of the Fokker D.VII and the 'Alb' is that square front radiator, plus of course the extensive and colourful decal options – just check out the Gallery Grid below to see what's on offer this time. Some truly breathtaking examples that make you want to just get on with your build so that you can get to the painting and markings!
Everything about this package oozes quality: the ultra clear instructions with helpful colour paint options table through to the period images of the type that give so much away in terms of weathering options and finishing ideas.
Instructions
Now these are a sight to behold, absolutely gorgeous and packed with historic photos and reference shots of actual aircraft and close ups of the power plant and cockpit. These should be made standard in all model kits, as they really are from the top drawer.
SMN Quick summary Star rating out of 5
| FEATURE | STAR RATING (out of five) |
| --- | --- |
| Quality of moulding | ***** |
| Accuracy | ***** |
| Instructions | ***** |
| Decals | ***** |
| Subject choice | ***** |
| Overall | ***** |