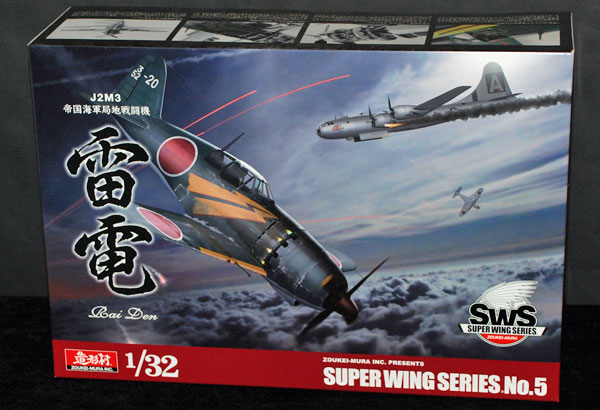 Commonly known as the J2 Raiden
Price around £55.00 (9,240 JPY)
Review by Geoff Coughlin (Nov 2013)
Our thanks to Zoukei-Mura for supplying our review sample – get this impressive kit here now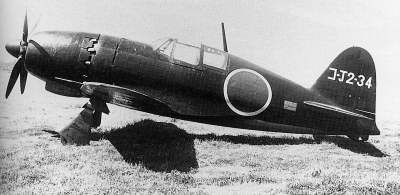 A bit about the Rai Den "Thunderbolt"
The Mitsubishi J2M Raiden (雷電, "Thunderbolt") was a single-engined land-based fighter aircraft used by the Imperial Japanese Navy Air Service in World War II. The Allied reporting name was "Jack".
The J2M was designed by Jiro Horikoshi, creator of the A6M Zero to meet the 14-Shi (14th year of the Showa reign, or 1939) official specification. It was to be a strictly local-defence interceptor, intended to counter the threat of high-altitude bomber raids, and thus relied on speed, climb performance, and armament at the expense of manoeuvrability. The J2M was a sleek, but stubby craft with its over-sized Mitsubishi Kasei engine buried behind a long cowling, cooled by an intake fan and connected to the propeller with an extension shaft. Pilot visibility was poor, but a domed canopy introduced later in production partially alleviated this concern.
Teething development problems stemming from the Kasei engine, unreliable propeller pitch change mechanism and the main undercarriage members led to a slowdown in production. A continual set of modifications resulted in new variants being introduced with the ultimate high-altitude variant, the J2M4 Model 34 flying for the first time in August 1944. It had a 1,420 hp Kasei 23c engine equipped with a turbo supercharger (mounted in the side of the fuselage just behind the engine) that allowed the rated power to be maintained up to 30,000 ft. Two upward-aimed, oblique-firing (aimed at seventy degrees) twenty mm cannons, mounted in the German Schräge Musik style, were fitted behind the cockpit with the four wing cannons retained. Unresolved difficulties with the turbo supercharger caused the project to be terminated after only two experimental J2M4s were built.
J2M1 – eight aircraft.
J2M2 – 131 aircraft. (approximately)
J2M3 – 307 aircraft built by Mitsubishi and 128 aircraft built by Koza KK.
J2M4 – two aircraft. (including one J2M3 converted to J2M4 standard)
J2M5 – 43 aircraft.
J2M6 – two aircraft.