Review by Geoff Coughlin (Jul 2012)
Price around £7.49 GBP
Kit ref: A02005A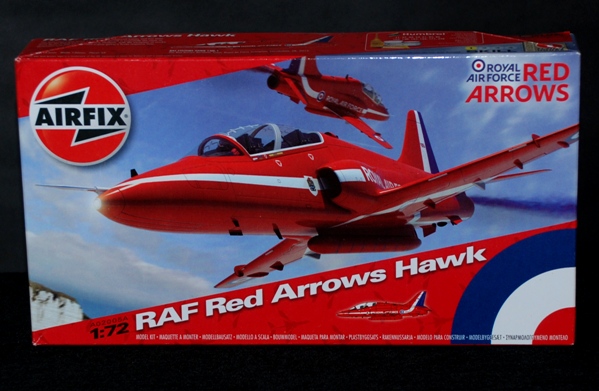 Our thanks to Airfix for supplying our review sample, get this kit here now at: www.airfix.com
Reference…
There are highly detailed internal and external walkaround sets in SMNs Photo Reference Library for the BAe Hawk and a unique one for the Red Arrows Hawk – inside and out!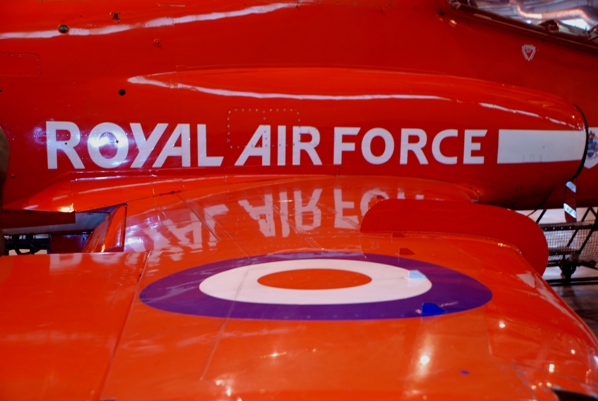 And this… to really get you excited!
A little bit of background…
The Red Arrows, officially known as the Royal Air Force Aerobatic Team, is the aerobatics display team of the Royal Air Force based at RAF Scampton. The team was formed in late 1964 as an all-RAF team, replacing a number of unofficial teams that had been sponsored by RAF commands.
The Red Arrows badge shows the aircraft in their trademark diamond nine formation, with the motto Éclat, a French word meaning "brilliance" or "excellence".
Initially, they were equipped with seven Folland Gnat trainers inherited from the RAF Yellowjacks display team. This aircraft was chosen because it was less expensive to operate than front-line fighters. In their first season, they flew at 65 shows across Europe. In 1966, the team was increased to nine members, enabling them to develop their Diamond Nine formation. In late 1979, they switched to the BAE Hawk trainer. The Red Arrows have performed over 4,000 displays worldwide in 52 countries.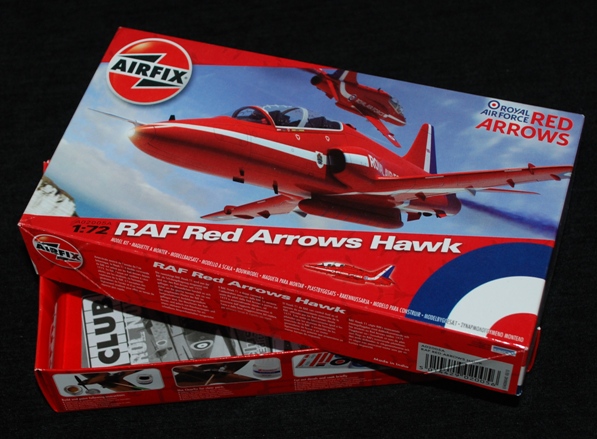 That box…
Impressive box art as ever that will have had many hundreds of modellers, enthusiasts and youngsters reaching for their wallets – or Dad's wallet! Practical too being sturdy and acting as a parts tray – great stuff!
Now let's go inside… fuselage and wings
This isn't a new-tool kit but the fact that the BAe Hawk is readily available again in 1:72 is very welcome – maybe the new-tool will come in due course? I remember building this kit many years ago and from what I remember and can see here, this is pretty much the same kit.
Basic internal cockpit ribbing and somewhat overdone recessed panel lines. Shape is good though, although there are no options included for dropped flaps, offset rudder or lowered speedbrake. So, immediately this is well off the pace as far as Airfix latest items like their P-51D Mustang, A-4 Skyhawk and Mk.22 Spitfire all in 1:72 scale are concerned. These latter kits are superb and up there with the best, so we need to adjust our expectations with this hawk release. To be fair, it's not billed as a new-tool in their 2012 catalogue so reasonable we have what we have.
The main wheel bays although detailed are too shallow and a bit unconvincing, although reasonable detail is apparent on the inside of the main gear doors.
Sub assemblies and detail parts…
The breakdown of the parts looks very logical and options abound. The immediate highlights are the control columns and cockpit decals and, if you like to add pilot figures, those too.
Moving to the cockpit…
Not too bad for the scale with the decals mentioned above and a reasonable representation of the Martin Baker Mk.9/10 seat. You'll need to add some harness straps to really improve the look and final appearance of the seats but the control columns will help. The real Hawk cockpit isn't too cluttered and so the kit parts are passable.
Ventral smoke generation pod…
This is a fair representation of the one fitted to Red Arrow machines although you don't get any other weapons as this release is confined to only making a Red Arrows hawk aircraft.