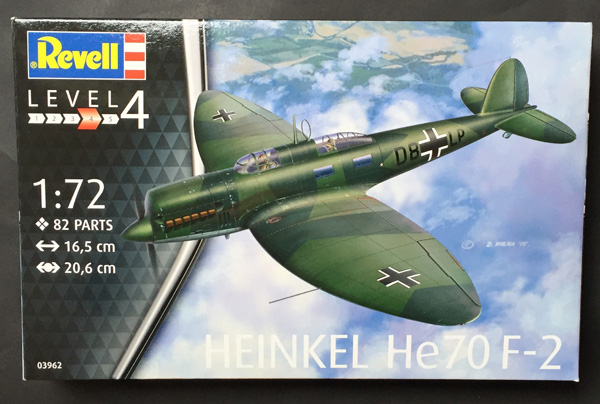 Ref: 03962
Review by Geoff Coughlin (January 2016)
Price around: £5.99 GBP
Our thanks to Revell for supplying our review sample. Revell model kits are available from all good toy and model retailers. For details visit www.revell.de/en
The Heinkel He 70 is a German mail plane and fast passenger aircraft of the 1930s which was also used in auxiliary bomber and reconnaissance roles. It had a relatively brief com-mercial career before it was replaced by types which could carry more passengers. The He 70 was a leading design for its day, setting eight world speed records by the beginning of 1933.
Twenty-eight aircraft were sent with the Legion Condor, where they were used during the Spanish Civil War as fast reconnaissance aircraft. Their high speed (and likely the already existing "blitz" title) gave them the nickname Rayo (lightning).
The He 70K (later He 170), a fast reconnaissance airplane variant was used by the Royal Hungarian Air Force in early World War II during 1941-42. The Luftwaffe operated He 70s from 1935, initially as a light bomber and reconnaissance aircraft. As soon as purpose build designs became available, it was relegated as a liaison and courier aircraft.
The main weakness of the He 70 in military use was that crews considered it a fire risk. Ele-ments of the airframe were made out of so-called "Elektron (alloy)", though the majority of the monocoque fuselage was Duralumin. Elektron is a very light, yet strong, alloy of magne-sium, which burns readily when ignited, and is difficult to extinguish. Moreover, the wings contained a non-self-sealing 47-gallon fuel tank apiece, which may have further added to the aircraft's reputation for being flammable. A single hit from a light machine gun is reput-ed to have often set the entire aircraft ablaze. The Hungarian He 170A (a military version derived from the He-70 with a new WM-K-14 radial engine), fleet was retired for this and other reasons, including poor defensive armament, short range and poor view from the cab-in, and replaced with vintage, high-wing He 46 monoplanes, until modern Bf 109 fighter-reconnaissance and specialized Fw 189 "Uhu" medium altitude observation aircraft could be introduced.
The He 70 'F' was the German long-range reconnaissance / courier version of the type.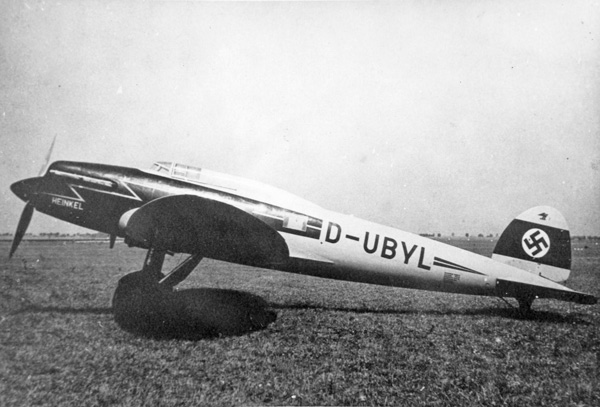 The Revell Kit
Good to have this one back again – originally issued by ICM back in around 2008. This time with new decals and the much better colour instruction sheet Revell is issuing these days – thanks Revell for listening to us modellers! Now sort out those boxes… :)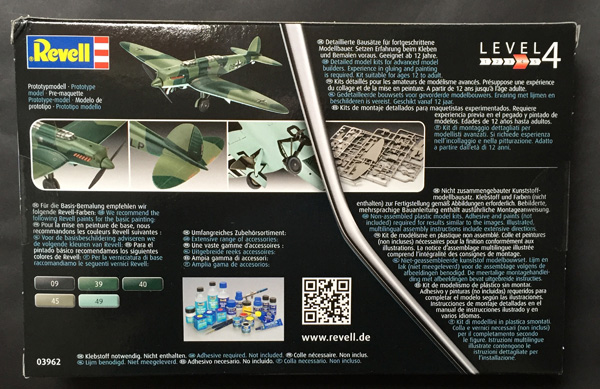 Box and contents
The Revell box artwork is usually impressive enough and that's the case here – an image of an He 70 flying out on one of its long-range reconnaissance sorties.

Let's go inside…
Light grey sprues packaged well and no damage is apparent. Taking the main components first, they are well tooled, fine recessed panel line detail and acceptable levels of detail across the board.
No distortion on the main parts is apparent and a dry fit of the main fuselage promises a decent fit; the initial impression is one of detail parts that will go to make up a decent repre-sentative model in 1:72 scale. There is some excess flash on many of the parts which alt-hough this can easily be cleaned up.
Some observations
• subtle fabric-effect on main wings and elevators
• undercarriage units are pretty basic but so was the case on the real aircraft. Ejector pin marks could be a pain to clean up
• wheel wells are basic with no internal detail
• seats are finely moulded and have a decent thin scale thickness. You'll need to add some seat belts as these aren't provided on the sprue or decal sheet
• flaps look like they can be posed up or down although you may need to do some work to make a 'dropped' flap option look authentic.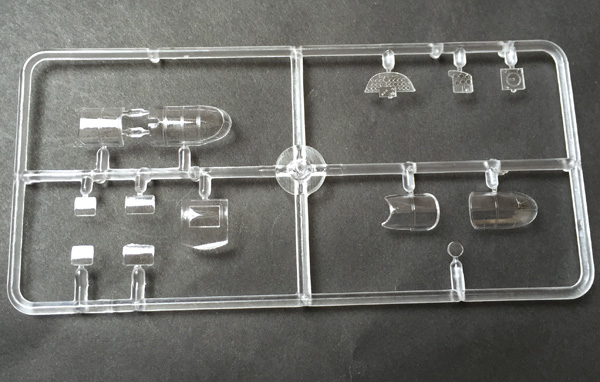 Clear parts
The clear parts look clear and defect-free.
A clear main instrument panel is included with decals to apply to same and this is a nice touch in this scale, although I'm not sure you'll see the benefit through the canopy.
Instructions
The Revell instructions look rather different this time – colour would you believe! Location of parts is clear but colour paint coding is for Revell paints only. You'll have to match your own choice of paints if you go elsewhere for your choice of colour. The build sequence is pretty standard and logical but many modellers will part company with the stated order to suit their experience.
The back of the box has additional colour and painting guidance and all in all the instructions are definitely a step forward for Revell over their pretty basic instructions included so far.

Decals
Good quality and well printed as is the case with newer Revell decal sheets.
An option for one Heinkel He 70F-2 is included for a machine based at Bad Zwischenahn, 1941 in standard RLM colours of the early WWII period.
Conclusion
This is an interesting subject that provides all military fans, especially those with an interest in German WWII or Heinkel aircraft subjects with a great new addition to their collection.
The model itself looks to be engineered ok from the dry/test-fit. Moulding is acceptable and the recessed panel detail ok.
Geoff C.
SMN Quick summary Star rating out of 5
| FEATURE | STAR RATING (out of five) |
| --- | --- |
| Quality of moulding | *** |
| Level of detail | *** |
| Accuracy | *** |
| Instructions | **** |
| Decals | **** |
| Subject choice | **** |
| Overall | *** |