Price: £29.99 approx (March 2012)
Review by: Geoff Coughlin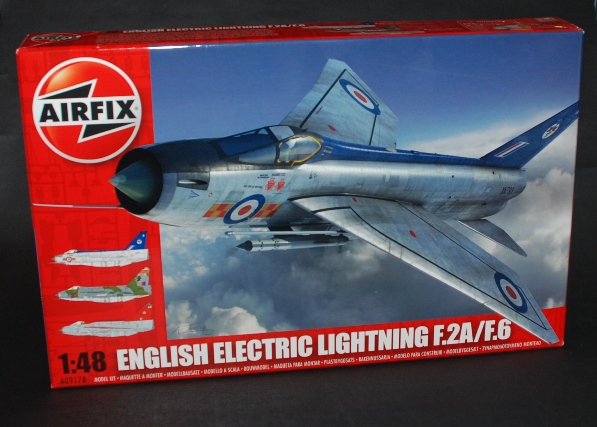 Our thanks to Airfix for supplying our review sample.    

Reference
There are three highly detailed internal and external walkaround sets in our Photo Reference Library for the English Electric Lightning, which would cost serious £'s if you had to buy them separately!
There are also book reviews and previous Lightning projects in SMN, so there's no excuse not to get one of these re-released Lightning kits now! There are no guarantees of availability for the future with any manufacturer, so it is worth getting one while you can.
I only say this because I didn't the first time around and, as the type is my favourite of all time, I was hugely disappointed when it disappeared the first time.
Now it's back and still looking very impressive so let's see what's actually on offer this time…
Background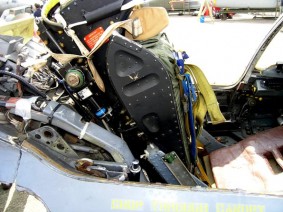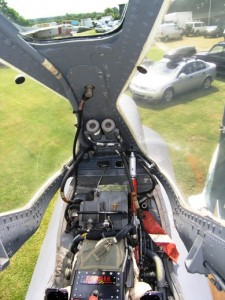 Entering RAF squadron service in 1960, the Lightning represented a quantum leap in capability and performance over the RAF's previous interceptor jets; offering Mach 2+ performance, as well as a phenomenal rate of climb.
Until its retirement in the 1980s, the Lightning has few rivals for outright speed and climbing ability. However, it did have some shortcomings, most notably its lack of range, as well as its limited armament of just two air-to-air missiles.
The F3 Lightning introduced an enlarged ventral tank, with later versions also being equipped with over-wing tanks, improving the range of the Lightning further.
These versions deleted the nose guns of the earlier variants, thus reducing the ability of the Lightning pilots to get in close to their opponents. They also did nothing to overcome its missile deficiency, with the Lightning still having to rely on just two missiles.
The Lightning was eventually replaced in 1988, superseded by the more capable and more heavily armed Tornado; but a number survive today in museums, a reminder of one of the RAF's fastest fighter jets of all time.
That Box
Big boxes don't always deliver big kits as we know, but this box – with its evocative box art – certainly does.
Adam Tooby, who is responsible for the recent stunning artwork on Airfix box tops, has to be congratulated on this one. Simply stunning, and I don't use that word lightly.
If ever a picture could sell the contents, this has to be it.
Now let's go inside…
Fuselage and Wings
The Lightning has a very distinctive wing shape, as does that fuselage. Capturing both in any scale accurately is a challenge for any manufacturer.
The leading edge of the wings on the F2A/F6 changes angle outwards towards the tip, but also has an aerofoil-shaped leading edge that only Airfix has accurately captured. Certainly, Trumpeter struggled with their much larger 1:32 model to accurately get it right and, in many ways, failed to do that across most areas of the kit.
This certainly isn't the case here though, the wings are accurate and so too is the fuselage.
Even the small air scoops that adorn the rear end of the Lightning on both sides are there; you only need to open them up using a rat-tail file or one of those great new sanding needle equivalents from Albion Alloys.
Sub-assemblies and Detail Parts
The breakdown of the parts looks very logical and there's options abound.
The immediate highlights are the accurate wheel hubs and undercarriage legs that enable your Lightning to sit at the correct angle – slightly tail heavy.
Dropped flaps, tail hook and high pressure tyres (without bulging – just a slight flat sanded on the bottom will look realistic) are further highlights which will enhance your model and enjoyment of the build.
Moving to the Cockpit…
Generally, this is pretty well represented in 1:48 scale.
The main side consoles are there, but many of the smaller items are missing; you'll have to scratch these from your 'mini-spares box', but that's half the fun and you only need to add what you want.
The raised moulded detail is as good as it comes, but the area behind the seat and inside the canopy is worth adding to.
The detail on the MB Mk.4 ejection seats looks great, with a breakdown of several parts; just some belts to add as these are a real feature of the seat.
The Nose Ring
This is precise and very thinly moulded, which is great because the real nose intake for the vertically-mounted twin Rolls Royce Avon engines is wafer thin.
The nose probe and in-flight refuelling probe (the latter getting massive use when the type was in service!) are, again, very well moulded.
Ventral Fuel Tanks
It's a nice touch to make the front of the huge belly tank separate, as Airfix offers alternate gun-vent equipped F6 or smooth F2A options available; all you need to do is make your choice early on as to how you want to finish your Lightning and fit the appropriate parts.
The same goes for the nose gun arrangement – the F2A having an additional twin set of cannon doubling up on the two fitted in the upper nose for both variants. The plugs fit neatly in the lower gun ports for the F6 option.
Burner Cans and Jet Pipes
The real jet pipes and burner cans are detailed, with fine petals that open and close when the aircraft is moving from dry to reheat, and are necessarily simplified in this kit.
Having said that, with careful painting they can look pretty good. Alternatively, you could always reach for the mouse and get some Aires resin aftermarket items – these are usually stunning!
Weapons and Stores
You also notice very quickly that Airfix have provided an excellent choice of weapons and stores:
Red Top AAMs X 2
Firestreak AAMs X2
Over wing drop tanks X 2
You can also probably raid your spares box for some 'Matra' rocket pods and decals for a Saudi (RSAF) or Kuwaiti machine.
Clear Parts
These are simple; as are the needs of the real aircraft – split canopy/windscreen so that you can pose it open.
Additionally, the clear glazed nose for each Red Top AAM is included, as are the wing-tip navigation lights and observation window. All these parts are bagged separately and are blemish-free.
Decals
Airfix have included a decent decal sheet, which was made by Cartograf in Italy.
These are excellent quality and will present no problems if applied to a gloss surface. In register, colour saturation, excellent and accurate – what else do you need? Options included this time are welcome, offering the change to build three very different aircraft:
English Electric F2A Flown by Wing Commander J.B. Mitchell, C.O. 92 Squadron RAF Germany, Gutersloh, August 1972
English Electric Lightning F6, No 11 Squadron, Royal Air Force Binbrook, Lincolnshire, England 1978
English Electric Lightning F6, No 5 Squadron, Royal Air Force Binbrook, Lincolnshire, England 1987
The all-colour painting guide/ decal instruction sheet is back, which is very welcome.
Instructions
These are very good and there are clear and unambiguous instructions on assembly. At all stages there are some neat symbols to indicate options for your build of either an F2A or F6 Lightning.
To Conclude…
I have been lucky enough to build two of these kits already (it's one of the two you see in the image at the bottom of this review, the other is by Tom Potter) and I believe that when it came out it was arguably one, if not the, best model ever produced by Airfix.
This was mainly because the engineering and quality at that time was so much better than anything that company had ever produced before, though their 1:48 Seafire was also very impressive.
What's so great this time around is that everything looks like an old friend; the smooth high quality plastic is a pleasant surprise, I thought it unlikely that would be replicated this time around.
Everything else is well moulded, with no excess flash to speak of, meaning the moulds have stood the test of time very well.
The decal sheet is better than before and my overwhelming sense is that this is a model that you can build straight from the box, adding just a few scratched parts to add that little bit extra in the cockpit if you want.
My previous build was a dream as far as I can remember and I suspect that I won't be able to resist this one again.
This will come after I follow through and do the T5 resin conversion for the Airfix 1:48 Lightning I promised a friend too long ago, which will be arriving in Build Now shortly.
| FEATURE | STAR RATING (out of five) |
| --- | --- |
| Quality of moulding | ***** |
| Accuracy | **** |
| Instructions | ***** |
| Decals | ***** |
| Subject choice | ***** |
| Overall | ***** |
Highly Recommended.
Geoff C.