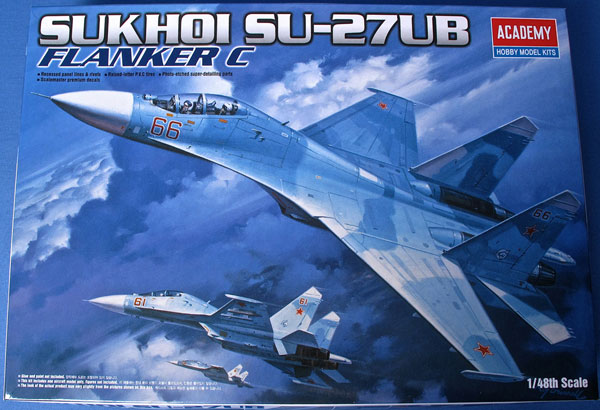 Review by Graham Thompson
A little bit of background
The SU-27 C variant as depicted in this Academy kit is the two seat trainer version of the iconic 'Flanker' as it was known in the west.
The SU 27 was developed as a long range interceptor to try to match the American F15 of which it does bear some basic similarities in appearance. It was the Soviets first operational 'fly by wire' fighter and, combining this advanced avionics its power, aerodynamic design, Sukhoi had produced a fast, long range agile aircraft cab able of operating off fairly undeveloped airfields with shortish runways.
It's agility was to impress at air shows when one first demonstrated to the public the now famous 'Cobra' manoeuvre in which the aircraft would slow rapidly developing a near vertical nose up attitude before bringing the nose back down again and powering forward. Although a spectacular thing to see, I am not sure what practice purpose this has unless in a conventional gun based dogfight. Please correct me if I am wrong in this assumption.
Sadly, the desire to wow the crowds also lead to some tragic crashes of the type at air shows around the world but no one could deny that the SU 27 in all its variants was a capable aircraft.
YouTube Videos
Ukraine Flanker in Flight at air show

Back seat