Kit Ref: 04834
Price around £26.99 GBP (June 2014)
Review by Geoff Coughlin
Our thanks to Revell for supplying our review sample. Revell model kits are available from all good toy and model retailers. For details visit www.revell.de/en, @RevellGermany or facebook.com/Revell
Good movie to get you in the groove to take on the big Revell kit!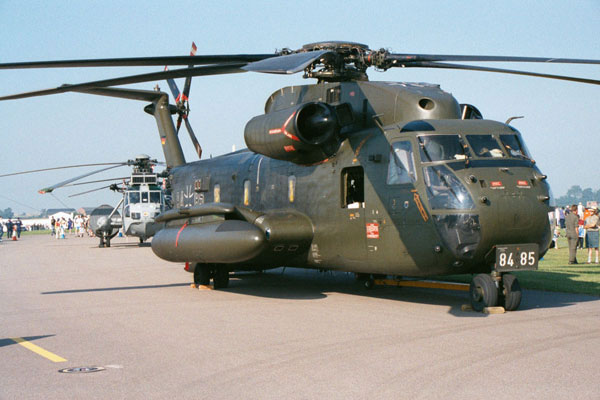 Reference pics in your Photo Reference Library…
Do check those out, some great walkaround pics covering the internal and external details of the type, especially the MH-53 Pave Low 'Stallion', CH-53E-G Super Stallion – Sikorski listed under 'M' in the Photo Reference Library.
A little bit about the type
The CH-53 Sea Stallion is the most common name for the Sikorsky S-65 family of heavy-lift transport helicopters. Originally developed for use by the United States Marine Corps, it is also in service with Germany, Iran, Israel, and Mexico. The United States Air Force operated the HH-53 "Super Jolly Green Giant" during the late- and post-Vietnam War era, updating most of them as the MH-53 Pave Low.
The dimensionally-similar CH-53E Super Stallion is a heavier-lifting, improved version designated S-80E by Sikorsky. Its third engine makes it more powerful than the Sea Stallion, which it has replaced in the heavy-lift mission.
In 1966 the German military evaluated both the CH-53 and CH-47 Chinook as a replacement for the H-21 and H-34G helicopters with an initial requirement for 133. The purchase of the CH-53 was approved in June 1968 but due to budget constraints only 110 were ordered.[17] Following the delivery in 1969 of two pre-production helicopters from Sikorsky the production aircraft were licence built by VFW-Fokker at Speyer in Germany. The first German-built helicopter flew from Speyer on 11 October 1971 and was delivered to the Erprobungsstelle der Bundeswehr 61 flight test centre at Manching on 1 December 1971.
The German Army Aviation Corps received 110 type CH-53Gs. Except for the first two, all machines were built in Germany. The first flight made by a German CH-53G was made in 1971, followed in March 1973 by the delivery of the first machines to Army Aviation Corps Regiment 35 in Mendig, and shortly afterwards to the newly formed Army Aviation Corps Regiment 15 based at Rheine, and Army Aviation Corps Regiment 25 based at Laupheim.
In order to meet ever more demanding specifications, over time the CH-53G received modifications designed to improve its service life and operational capabilities. These involved three major upgrades: new missile warning and self-protection systems; provision for two external fuel tanks allowing range to be increased to 1800 km when carrying 36 armed soldiers or a 5500-kg payload; and addition of a night vision goggles-compatible cockpit for night low-level flying capabilities. All CH-53Gs were upgraded by Eurocopter Germany by early 2001.
German Army Aviation Corps units have carried out a whole range of international missions under the auspices of NATO and the UN, providing transport for members of UNSCOM in Iraq, serving in Kosovo with KFOR, with IFOR in Bosnia and Herzegovina, and more recently with ISAF in Afghanistan. Due to the lower cargo capacities of the NH-90, service life extensions for at least a portion the CH-53 fleet are envisioned, bringing its useful life out to approximately the year 2030.
On 1 January 2013 all Army Aviation Corps CH-53Gs were transferred to the German Air Force and incorporated into Helicopter Wing 64.