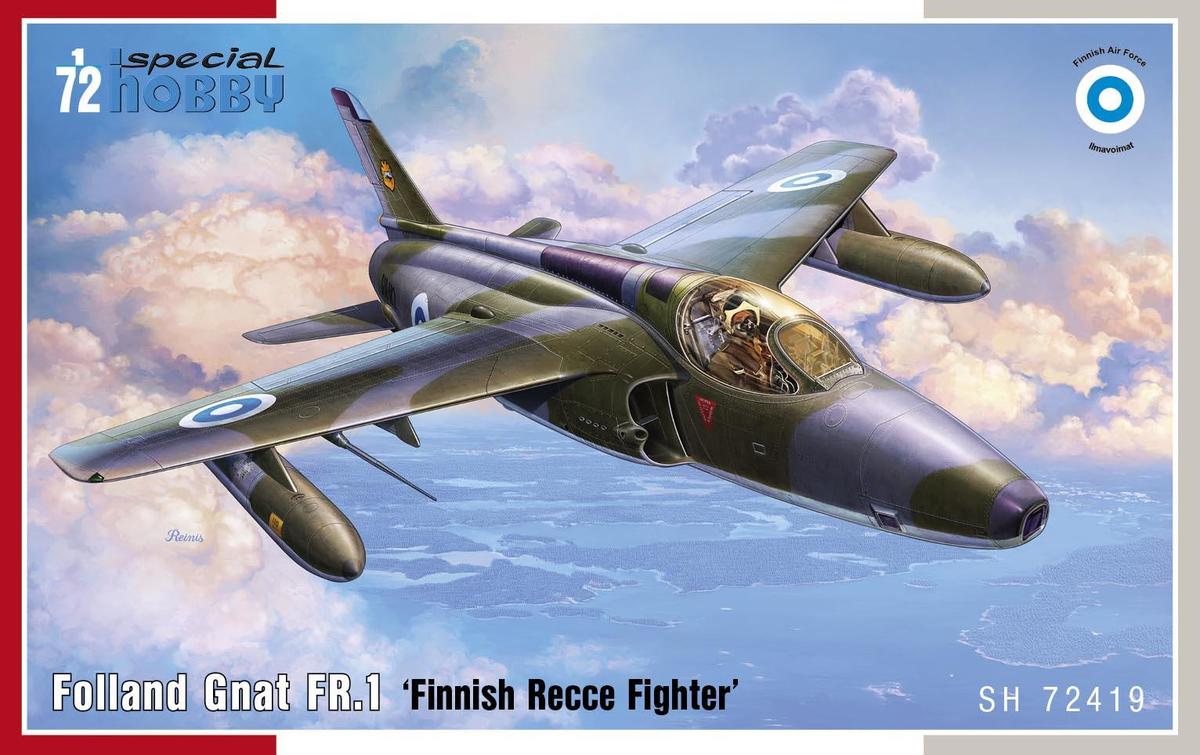 Kit Ref: SH 72419
Plastic injection-moulded tooling.
In-Box Browse with Geoff Coughlin (October 2020)

Get this kit here now at Special Hobby
---
Take a browse inside now…
---
Here's my summary…
Geoff C.
SMN Quick summary Star rating out of 5
| FEATURE | STAR RATING |
| --- | --- |
| Quality of moulding | *** |
| Level of detail | **** |
| Accuracy | **** |
| Instructions | *** |
| Decals | *** |
| Subject choice | **** |
| Overall | **** |
You can find out more about the different versions of this kit, originally introduced in 2015, here at Scale Mates.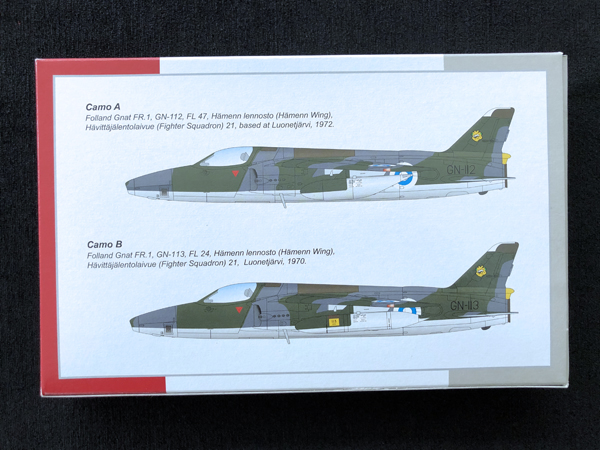 Here's a little more information about the Folland Gnat…
The Folland Gnat is a British compact swept-wing subsonic fighter aircraft that was developed and produced by Folland Aircraft. Envisioned as an affordable light fighter in contrast to the rising cost and size of typical combat aircraft, it was procured as a trainer aircraft for the Royal Air Force (RAF) as well as by export customers, who used the Gnat in both combat and training capacities.
Designed by W. E. W. Petter, the Gnat has its origins in the preceding private venture Folland Midge. The issuing of Operational Requirement OR.303 by the British Air Ministry served to motivate the type's development; the Gnat was later submitted to meet this requirement. Its design allowed for its construction and maintenance tasks to be carried out without specialised tools, making it suitable for use in countries that had not yet become highly industrialised. The Gnat has been viewed as a major motivating factor towards the issuing of the NATO NBMR-1 requirement, which sought to make available a common strike/attack light fighter with which to equip the air forces of the various NATO members.

(Photo: Folland Gnat T.1 XP515 of the RAF Central Flying School when operational at RAF Kemble in 1974. Courtesy: RuthAS)
Although never used as a fighter by the Royal Air Force (RAF), the Gnat T.1 jet trainer variant was adopted and operated for some time. In the United Kingdom, the Gnat became well known due to its prominent use as the display aircraft of the RAF's Red Arrows aerobatic team. The Gnat F.1 was exported to Finland, Yugoslavia and India. The Indian Air Force became the largest operator and eventually manufactured the aircraft under licence. Impressed by its performance during combat, India proceeded to develop the improved HAL Ajeet, a modified variant of the Gnat. In British service, the Gnat was replaced by the Hawker Siddeley Hawk.