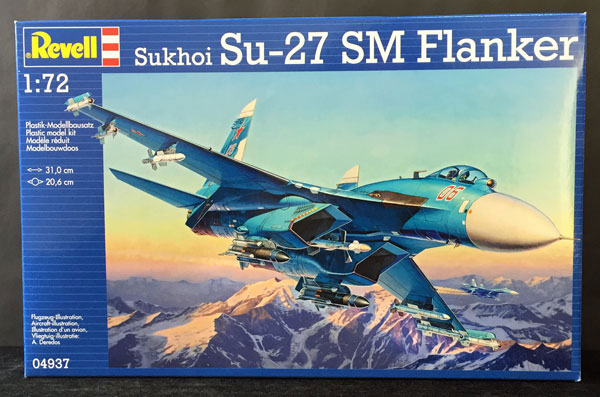 Kit Ref: 04937
Price around £22.99 GBP (May 2015)
Review by Geoff Coughlin
Our thanks to Revell for supplying our review sample. Revell model kits are available from all good toy and model stores. For details visit www.revell.de/en
A little bit of background
The Sukhoi Su-27 (Russian: Сухой Су-27) (NATO reporting name: Flanker) is a twin-engine super-manoeuvrable fighter aircraft designed by Sukhoi. It was intended as a direct competitor for the large United States fourth-generation fighters such as the F-14 Tomcat and F-15 Eagle, with 3,530-kilometre (1,910 nmi) range, heavy aircraft ordnance, sophisticated avionics and high manoeuvrability. The Su-27 most often flies air supremacy missions, but its most modern variants are able to perform almost all aerial warfare operations. Complementing the smaller MiG-29, the Su-27 has its closest US counterpart in the F-15 Eagle.
The Su-27 entered service with the Soviet Air Forces in 1985. The primary role was long range air defence against American SAC B-1B and B-52G/H bombers, protecting the Soviet coast from aircraft carriers and flying long range fighter escort for Soviet heavy bombers such as the Tu-95 "Bear", Tu-22M "Backfire" and Tu-160 "Blackjack".
There are several related developments of the Su-27 design. The Su-30 is a two-seat, dual-role fighter for all-weather, air-to-air and air-to-surface deep interdiction missions. The Su-33 'Flanker-D' is a navy fleet defence interceptor for use on aircraft carriers. Further versions include the side-by-side 2-seat Su-34 'Fullback' strike variant and the Su-35 'Flanker-E' improved air defence fighter.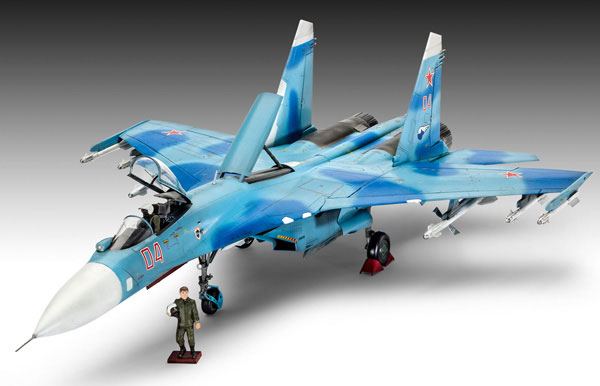 You can see from the manufacturer's model build that this kit makes up into a very good representation of the Sukhoi Su-27 Flanker
The Revell Kit
This is a good kit that features fine levels of detail across the board – especially very refined panel lines. The kit isn't new and if you bought the relatively new Zvezda offering back in 2014 you'll see that the sprue layout is exactly the same, suggesting that this Revell kit is the same one packaged with new decals.
Gallery Grid 1

Gallery Grid 2
The grey sprues (including the clear one) feature recessed panel lines – looking restrained in this scale plus a look and feel of good quality moulding with parts crisp and sharp.
Box and contents
The Revell box artwork is usually impressive enough and that's the case here – an image of a Russian Su-27 high above the mountains – nice!
Let's go inside
The grey sprues are packaged well and no damage is apparent. Taking the main components first, they are well tooled, recessed panel line detail and having a quality feel, some of the best I have seen in this scale. No distortion was apparent and a dry-fit of the upper/lower laterally-split fuselage promises a decent fit; the initial impression is one of a lot of detail parts that will go to make up an impressively large model in 1:72 scale.
Cockpit and interior
Decals are available on the decal sheet to add to the instrument panels in the cockpit, and, to be honest, I think this is perfectly acceptable in this scale. Raised detail is there too for the rear decking behind the seat and is nicely moulded. The seat is quite well detailed and will add a fair bit to the eventual look.
The crew access ladder is a nice touch, the separate crew figure too.
Engine cans
These will look good under some Alclad2 metallic paint and a good opportunity to add some of their 'Hot Metal' colours in the process. The engine face is located suitably far down the jet exhaust to feel and look realistic.
Undercarriage units
Impressively detailed units are supplied that will be highly visible on your finished model – as is typical of the type. The hydraulic lines are moulded there too and some simple cleaning up should see them usable as is.
Stores
Alamo, Archer and Adder guided weapons as well as Krypton guided weapon are included.
Nose weight
Worth adding a little inside the huge nose cone to make sure your Flanker doesn't sit on its tail!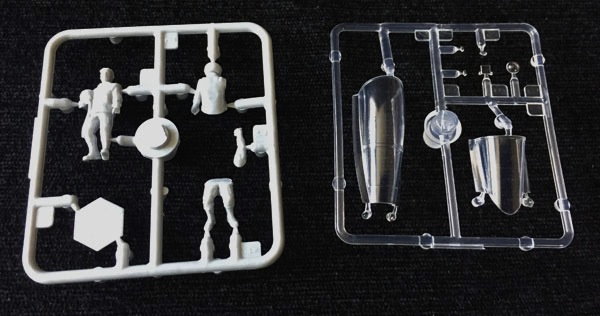 Clear parts
The clear parts look clear and the canopy / windscreen is provided as a two-piece moulding and shape looks fine on initial inspection.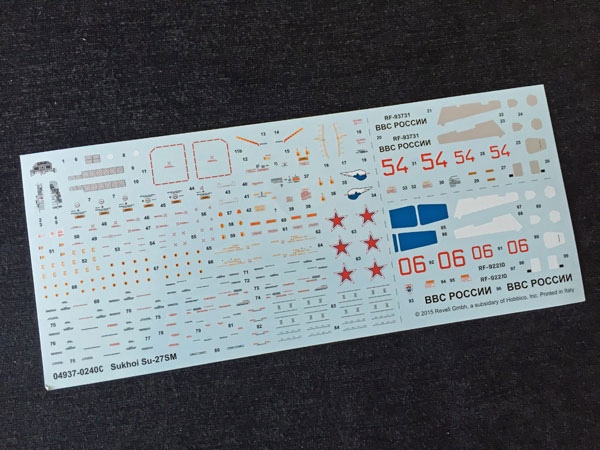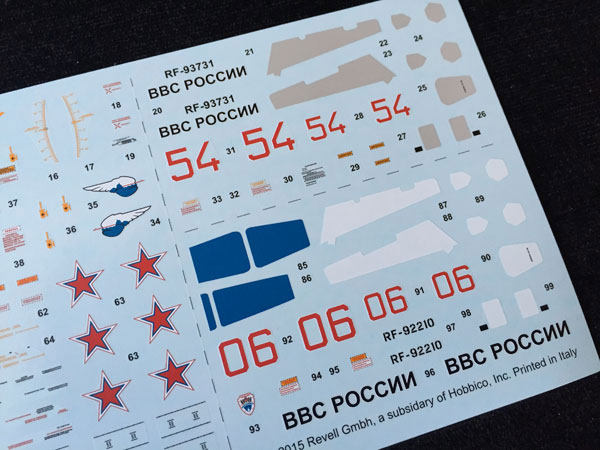 Instructions and decals
The Revell instructions follow their usual exploded stages format. Location of parts is clear but colour paint coding is for Revell paints only. You'll have to match your own choice of paints if you go elsewhere for your choice of colour. The build sequence is pretty standard and logical but many modellers will part company with the stated order to suit their experience.
The decals look to be good quality and feature the following aircraft:
• Sukhoi Su-27SM Flanker – 06 RF-92210 Russian Air Force 2013
• Sukhoi Su-27SM Flanker – 54 RF-91731 Russian Air Force 2012
Stencil detail is also provided and is almost always well worth adding, even in 1:72 scale to add additional interest to your completed model, but I suspect you'll have your own views on this. All the colours are in register and colour density looks impressive and carrier film limited, so I wouldn't expect any problems with application. The schemes are certainly eye-catching. Looking at the manufacturer's completed model (see attached photos) the decals will look great when carefully applied.
Conclusion
This is a good subject and will provide all modern military fans with an opportunity to expand their collection; especially if you like your aircraft colourful or are creating a collection. The model itself looks to be very well engineered at first glance and from the dry/test-fit. Moulding is good and the panel detail excellent for current 1:72 scale kits.
Recommended for all scale modellers.
Geoff C.
SMN Quick summary Star rating out of 5
| FEATURE | STAR RATING (out of five) |
| --- | --- |
| Quality of moulding | **** |
| Accuracy | **** |
| Instructions | *** |
| Level of detail | **** |
| Decals | ***** |
| Subject choice | **** |
| Overall | **** |