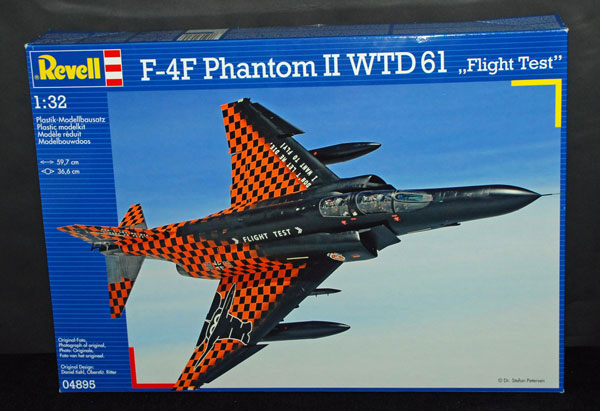 Kit ref: 04895
Price: around £36.99 GBP (Sep 2014)
Review by Geoff Coughlin
Our thanks to Revell for supplying our review sample. Revell model kits are available from all good toy and model retailers. For details visit www.revell.de/en, @RevellGermany or facebook.com/Revell
A little bit of inspiration here… well worth a look!
Reference…
Some useful reference pics are available from the Revell website here.
A little bit of background
The German Air Force (Luftwaffe) initially ordered the reconnaissance RF-4E in 1969, receiving a total of 88 aircraft from January 1971. In 1982, the initially unarmed RF-4Es were given a secondary ground attack capability; these aircraft were later retired in 1994.
In 1973, under the "Peace Rhine" program, the Luftwaffe purchased the lightened and simplified F-4F which was upgraded in the mid-1980s. 24 German F-4F Phantom IIs were operated by the 49th Tactical Fighter Wing of the USAF at Holloman AFB to train Luftwaffe crews until December 2004. In 1975, Germany also received 10 F-4Es for training in the U.S. In the late 1990s, these were withdrawn from service after being replaced by F-4Fs. Germany also initiated the Improved Combat Efficiency (ICE) program in 1983. The 110 ICE-upgraded F-4Fs entered service in 1992 and were expected to remain in service until 2012. All the remaining Luftwaffe Phantoms were based at Wittmund with Jagdgeschwader 71 (fighter wing 71) in Northern Germany and WTD61 at Manching. The German Air Force retired its last F-4Fs on 29 June 2013. German F-4Fs flew 279,000 hours from entering service on 31 August 1973 until retirement.
The Revell Kit
This isn't a new-tool F-4F Phantom but the re-release of a kit first issued in 1995. What you get is a well-tooled model that's current in terms of approach and breakdown. The kit still has that shape issue around the nose – a little too flat that you may feel the need to re-work. A stunning new decal sheets for the featured "Test Flight" commemorative scheme is included. Read on to find out more about what's actually in the box…
Box and contents
Impressive box art sells and this, one of the final schemes applied to an F-4F is certainly attractive – I mean, have you seen that scheme – your model would look stunning on any display table!