So what's inside…?
The grey sprues are packaged well and no damage is apparent. Taking the main components first, they are well tooled, recessed panel line detail and having a quality feel. No distortion was apparent and a dry fit of the main fuselage sections offers a good fit around the joins.
The cockpit looks busy enough with good ejection seats – I think new parts for these are offered this time too. The main instrument panel and side consoles feature nice raised detail that will paint up well. Decals are also provided on the decal sheet for the main instrument panel and side consoles should you wish to go that route.
Side walls are a bit bare and using any references that you have further detail will improve these areas.
Another nice touch is the inclusion of an access ladder that will add interest to your finished model.

Weapons and stores
You can see for yourself that Revell has included plenty of stores options (AIM-9L Sidewinder AA X4 and Sparrow AA missiles X4 and those classic wing fuel tanks). The stores are well tooled and the complete range on offer can easily be seen in the accompanying images. You won't need any of the stores for the featured aircraft, save for the two underwing fuel tanks.
Nose radar
The nose radome can be positioned open exposing the detail within and this may be a solution to the 'nose issue'. However, doing so would kill the sleek lines that I for one would want to illustrate on a model in this commemorative scheme.
Undercarriage sprues
The wheels bays and main gear units are features of any Phantom kit and so, it's good to see that they are well detailed here. The wheels/tyre combinations come with a choice of bulged or un-bulged tyres – nice.
The wheel bays are adequately detailed although the bays themselves are a little shallow but this wouldn't bother me too much if building the kit.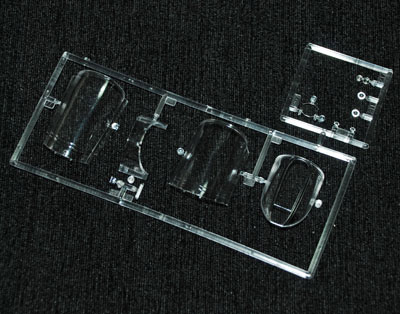 Clear parts
The clear parts look clear and the canopy rear portion is provided in two parts, so you can pose the canopies open or closed. The parts are clear and no defects apparent.
Instructions and decals
The Revell instructions follow their usual exploded stages format. Location of parts is clear but colour paint coding is for Revell paints only. However, the FS colour references are provided and this will help you to match your own choice of paints. The build sequence is pretty standard and logical but many modellers will part company with the stated order to suit their experience.
The decals look to be good quality – certainly good subject choice, you won't be able to miss your F-4F model on a display table! Stencil detail is also provided and is almost always well worth adding, especially in 1:32 scale because it adds interest to your completed model. All the colours are in register and colour density looks impressive and carrier film limited, so I wouldn't expect any problems with application.
The idea as you can probably see is to spray your model really dark grey and orange and then apply the different black checkerboard sections to the upper and rear areas of the airframe.
Conclusion
This is a great subject, should sell well and be popular with modellers, especially with those that have an interest in all things modern and German Luftwaffe. The inclusion of great colour schemes on Revell's decal sheet is great and of course the model itself is well-engineered – just that nose to sort out, or not as you prefer. Panel detail is impressive and you could remember that you get a very big, eye-catching model for your money.
On their website Revell suggests that this model is 'very challenging' – not sure I agree with that. If you build the model from the box and take care and time, you will be rewarded with a good and impressive-looking model as long as you have a little modelling experience under your belt.
Geoff C.
SMN Quick summary Star rating out of 5
| FEATURE | STAR RATING (out of five) |
| --- | --- |
| Quality of moulding | **** |
| Accuracy | *** (nose shape is an issue) |
| Level of detail | ***** |
| Instructions | *** |
| Decals | ***** |
| Subject choice | ***** |
| Overall | **** |