Ref: A01008
Price: around £5.99 GBP
Review by Geoff Coughlin (July 2012)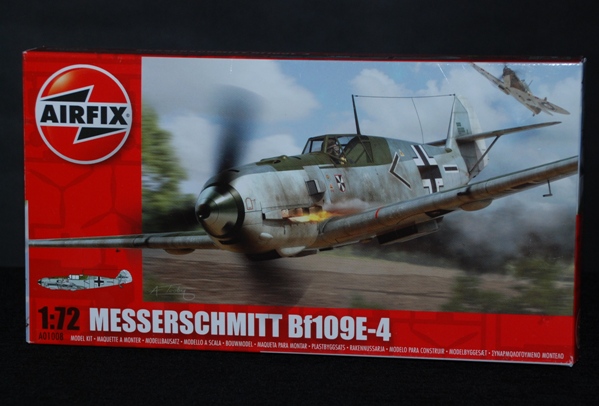 Our thanks to Airfix for supplying our review sample. Get this kit here now at www.airfix.com
Something to get you in the mood!
Brief background…
The Messerschmitt Bf 109E was one of the first true fighters of the modern era. Designed by Willy Messerschmitt and Robert Lusser during the 1930s, it Included such features as all-metal monocoque construction, a closed canopy, a retractable landing gear, it was powered by a liquid-cooled, inverted V12 aero engine. The "Emil" was the Luftwaffe's fighter during the Battle of Britain.
That box art again!
Well, if nothing else, you just can't fault the new-style box art Airfix is using to sell their kits. Awesome this one and it shows a stricken Luftwaffe pilot nervously looking over his shoulder in his Bf 110E-4 as his pursuing Spitfire breaks away. Really evocative and reminiscent of their early days and the 1970s when this sort of box art was the norm. Alan Tooby the artist that creates these masterpieces has a real flair to rival and surpass even Koike Shigeo of Hasegawa box art fame – no mean feat in my opinion!
But what's inside?
Click on the images below to view larger picture. Click again to close.
One of the first things you notice is the panel lining – looks very impressive for the scale and much like their Bf-109.
Moving onto the overall shape and look, it certainly looks about right to me. Detain is crisply moulded with no flash to speak of. The breakdown of parts on the two main sprues is similar to the larger kit in 1:48 and I reckon that's one of the best this company has produced. It's good to see that this is very much just a smaller- scale version of the bigger scale model.
Fuselage interior detail is perfectly adequate and accurate enough for this scale. A wash will bring out the detail nicely. The cockpit 'tub' is moulded well with floor and headrest detail with a beautifully delicate control column as a separate item. The seat is ok and the harness although moulded if carefully painted should look perfectly acceptable.
Rib detail on the 'fabric' control surfaces is good and not overdone to my eye; some may disagree but I wouldn't correct it as it looks fine and will do under paint and subtle weathering.
Ejector pin marks…
These round circles crop up in several places (cockpit, fuselage sides) but most are in places that can be easily rectified or ignored as they won't be seen, but take care not to miss any. I've notices a few more that are harder to remove in the recent Spit F.Mk 22 in 1:72 so this is something the manufacturer will need to watch.
Further highlights…
There are some very nice touches that become clear when you take a closer look at the sprues.
Dropped flaps option – great news that makes a world of difference to a model aircraft parked at dispersal
Separate cowl – that can be removed to display the detailed DB engine; the latter better in this small scale – less convincing in 1:48
Main gear units – ultra thin and delicate scissor links
Weighted tyres – will look good on your finished model
Wheel wells – some good detail in here on the roof
Propellers / spinner – delicate and cleanly moulded
Exhaust stubs – very fine for the scale
MGs for wing leading edges are separate and very finely detailed – excellent and really impressive Airfix has supplied these separately as they can be painted off the model and added right at the end of your build avoiding damage.
Clear parts…
The clear canopy is just that – clear; in fact very clear and incredibly thin that is a huge benefit in 1:72 scale. Even better it is split so that you can pose it open – great stuff!
Instructions and painting guide…
The instructions are clear enough and follow the usual exploded diagrams of the various sub assemblies. Build sequence is logical.
Good news that the rear of the box has a colour painting guide and RLM colours are identified and that's a real bonus enabling the modeller with less knowledge of the specific German colour coding to select matches from their preferred range of paints. Humbrol paint references are of course given.
Decals…
It's nice to have something different for an E-4 – an alternative to the usual 'Yellow Nose' decal options. Nice quality and worth remembering that when you've applied them and they are dry, to spray a coat of gloss varnish over them and the surrounding paintwork to blend them in. When you then go to add your final varnish, the backing paper should be a lot less visible.
The markings supplied cover the Messerschmitt Bf 109E-4 an aircraft flown by Oberleutnant Franz von Werra, Gruppen-Adjutant I/JG 3. Samer, France, 1940
Overall then…
Yes, a definite good pass to be honest. The bullet points and text above pretty much sum up what I think about this new-tool '109' release from Airfix and that's the point really, a far cry from their early attempts many years ago. It is a new tool and some of the detail has such finesse that this has set a high standard that all new models from the manufacturer will be judged.
SMN Quick Summary rating out of 5
| FEATURE | STAR RATING (out of five) |
| --- | --- |
| Quality of moulding | **** |
| Accuracy | **** |
| Instructions | **** |
| Decals | **** |
| Subject choice | ***** |
| Overall | **** |
I'd recommend this kit to anyone who likes the scale or German Luftwaffe aircraft from WWII.
Geoff C.