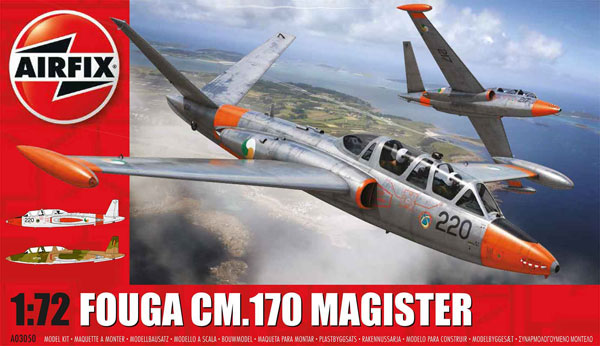 Ref: A03050
Price around £10.99 GBP
Review by Geoff Coughlin (Oct 2014)
Our thanks to Airfix for supplying our review sample. Get this kit here now at: www.airfix.com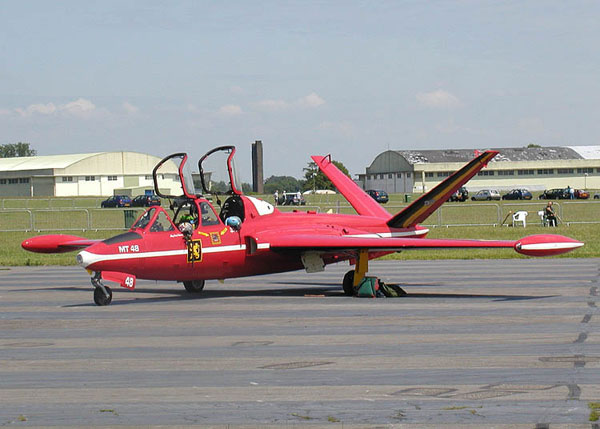 (Photo: Fouga Magister CM-170R (registration MT48) of the Belgian Air Force, photographed at the Classic Jet preview day, Kemble Airfield, England, in June 2003. Taken by Adrian Pingstone)
A little bit of background
The Fouga CM.170 Magister is a 1950s French two-seat jet trainer. The related CM.175 Zéphyr was a carrier-capable version for the French Navy.
In 1948, Fouga designed a jet-powered primary trainer called CM.130 for the French Air Force (Armée de l'Air, AdA) to replace piston-engined Morane-Saulnier MS.475 aircraft. When AdA found the aircraft lacking in power from the two Turbomeca Palasturbojets, Fouga enlarged the basic design and used the more powerful Turbomeca Marboré engine. The distinctive V-tail of the new CM.170 Magister originated on the CM.8 (Aka Castel-Mauboussin 8) glider Fouga was using to experiment with jet engines. In December 1950, AdA ordered three prototypes, with the first aircraft flying on 23 July 1952. A pre-production batch of 10 were ordered in June 1953 followed by the first production order for 95 aircraft on 13 January 1954. Fouga built a new assembly plant at Toulouse-Blagnac to produce the aircraft. The aircraft entered service with AdA in 1956.
The Fouga Magister 170R was designed in 1949 by Robert Castello and Pierre Mauboussin. The first prototype flew on 23 July 1952 and the first one sold to AdA flew for the first time in February 1956.
Due to different industrial mergers, the aircraft has been known as the "Fouga CM.170 Magister", "Potez (Fouga) CM.170 Magister", Sud Aviation(Fouga) CM.170 Magister" and "Aérospatiale (Fouga) CM.170 Magister" depending on where and when they were built.
The French Navy's Aéronavale adopted a derivative of the Magister, the CM.175 Zéphyr, as a basic trainer for deck-landing training and carrier operations. These were preceded by two "proof of concept" prototypes designated the CM.170M Magister, which made their first flights in 1956/57.
An improved version of the Magister designated the CM.170-2 Magister was produced from 1960. It used a more powerful Turbomeca Marboré IV engine. Production of the Magister stopped in France in 1962 but it continued to be built in Finland up to 1967.
The development of the aircraft came to an end when the French Air Force selected the Alpha Jet as their new jet trainer.
After retirement, a number of Magisters were bought by private-owner pilots in the USA and are operated in the experimental category.
The Airfix kit
I have to admit that I was slightly disappointed thinking that this release was a new-tool, but alas not – the package comprises the 1975 kit with new decals, the latter being very nice though.
Here are some observations…
The parts are quite well tooled and excess flash plastic around the parts is minimal
Surface detail has lots of raised rivets, especially on the fuselage
Wings have raised panel lines
Cockpit detail is surprisingly good for the period: decent cockpit tub, main instrument panels with good raised detail
Cockpit side panels also feature raised detail
No decals are included for any of the instrument panels
Dry-fit of fuselage and wing parts looks promising
Canopy is moulded as one-piece.
Clear parts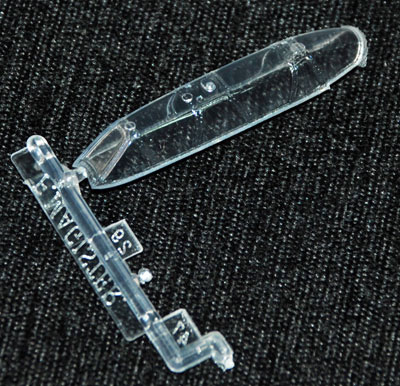 Reasonably clear although you'll have to add your canopy in the closed position as no option for open canopies is included.
Instructions
These follow the usual exploded stage diagrams and are clear and straightforward. Humbrol paint references are given on the all-colour painting guide at the back of the instruction sheet. Colour names are also given allowing you to match your colours from whatever source you prefer.
Decals
Two schemes are offered – the quality looks very good and a very nice feature is full stencil data markings – excellent.


Scheme A – Fouga CM.170 Magister, Silver Swallows Aerobatic Team, Light Strike Squadron, Aer Chor na hEireann (Irish Air Corps), Casement Aerodrome, Baldonnel, Eire (Republic of Ireland), 1997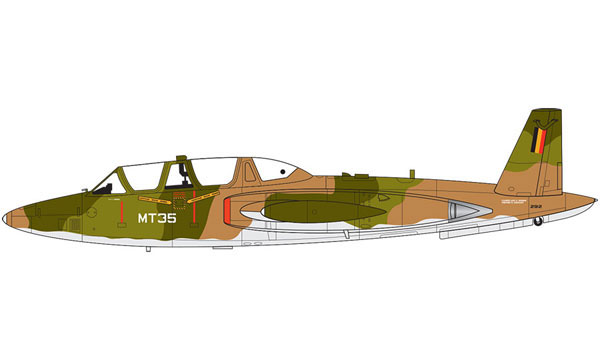 Scheme B – Fouga CM.170 Magister, Bierset Station Flight, Belgium, 1983/84
To sum up
This is a welcome re-release of a unique design and famous aircraft that I remember seeing flying with both French and Belgian AF aerobatic display teams. The price looks to be a little steep but that's a relative factor. The decals are great and provide options for varied Magister aircraft.
SMN Quick summary Star rating out of 5
| FEATURE | STAR RATING (out of five) |
| --- | --- |
| Quality of moulding | *** |
| Accuracy | *** |
| Level of detail | *** |
| Instructions | *** |
| Decals | **** |
| Subject choice | ***** |
| Overall | *** |