Reference: A01003
Review by: Geoff Coughlin
Price: 5.99 approx (Oct 2011)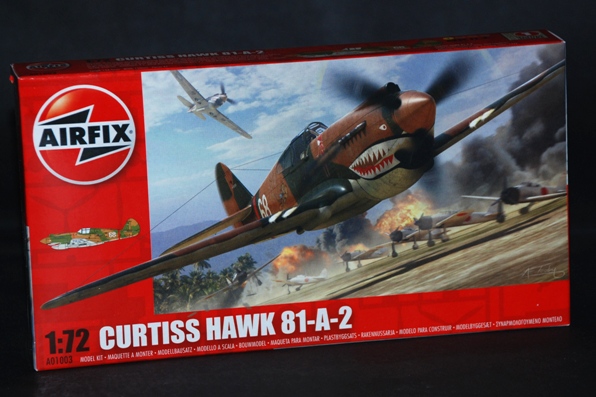 Our thanks to Airfix for supplying our review sample. 

Background
The P-40B, in its various incarnations, served the United States Army Air Force throughout WWII, fighting in Europe, across Asia and in the deserts of North Africa.
The first variant to see active service, the P-40B proved to be an effective and tough low-level fighter. While not as manoeuvrable as the Japanese Mitsubishi Zero fighter, or as fast as the Messerschmitt Bf109, the P-40B still proved to be a tough opponent.
Pilots liked the fact that it could often get home after suffering heavy damage, as well as being able to inflict it with its armament of six machine guns. The P-40B became synonymous with the shark-mouth markings, due to both its use with 112 Squadron and the American Volunteer Group in China.
Today the P-40B continues to fly in the United Kingdom as well as the USA and elsewhere.
What's in the box?
Plenty of plastic for sure – 2 sprues including the small clear one with the canopy and side windows behind.
The light blue plastic has a good feel to it, quite smooth and on the softer side of hard. Having built the Harrier GR-7, this plastic is very similar and is easy to trim, sand and work with.
Panel line detail is recessed and in 1:72 scale looks very good to me, looking more realistic than the slightly heavy engraved detail on some 1:72 kits. Getting better all the time!
Box Art
Simply stunning! Just look at that weathering on the fuselage of Flight Leader Charles Older's P-40B from Kumming, China 1942 strafing Zero fighters clearly caught unawares by the attack; it looks spot on to me.
Some of you may be wondering why I am commenting on the box? Well, the fact is great box art sells kits and I for one think the box is all part of the whole buying and 'owning' experience; it matters!
It's even better when the contents match the box in terms of quality and this is the case here in my opinion.
Cockpit
Detail in the cockpit is perfectly adequate for this scale. In fact, it's better than adequate.
Examples include:
Cockpit sidewall detail, delicate control column and cockpit floor
Rib detail in main gear bays and depth of latter
Wheel hub and main leg detail is very delicate
Bulged tyre option
You also get a decent looking pilot of you want to add him.
Undercarriage
The finesse of the undercarriage legs is impressive; no flash, just fine, accurate crisp moulding. Impressive. A nice set of slightly bulged tyres is also supplied and when painted and weathered these will add to the final authentic look of your model.
Fuselage
Once again the panel line detail is very refined and this will add greatly to the realism of any finished model. The panel line detail on the fin looks a little heavier than the remainder of the airframe, which is a bit odd.
Airfix are certainly listening to modellers and showing great willingness to raise their standards to that of the best and they are certainly getting close. The fin has a separate rudder, which can be repositioned at a more 'operational' angle often seen on parked machines.
Engine area
The engine exhausts look very delicate for the scale and the ventral cowl flaps are moulded open and are also commendably thin. The upper engine cowl has the MGs integrally moulded but, again, for 1:72 scale they should look fine when painted up.
Wings
The twin pairs of MGs are very delicate and integrally moulded with the upper wing halves. This normally looks poor on models but should work well here, given their finesse. However, they are very delicate and you may consider putting some masking tape around them for protection during main assembly and clean up.
Clear Parts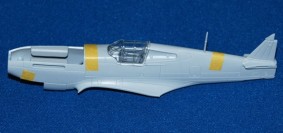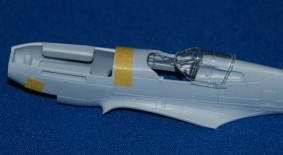 Nice looking these – very clear without any flash. The windscreen is moulded with the rear 'sliding' portion. You can see from these images that I have dry-fitted the fuselage and canopy and I reckon that if you carefully cut away the front windscreen with a razor saw or scalpel, the rear section should be able to be posed open. It certainly looks like the resulting assembly will look 'right'.
Instructions, Decals and Painting Guide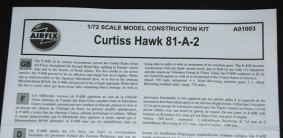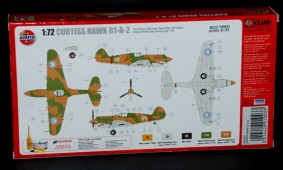 The instructions are logical and well laid out. The usual exploded-stage diagram approach is used. The colour painting guide is provided on the back of the box and this makes good sense.
One aircraft is featured with this release:
Curtiss Hawk 81-A-2 flown by Flight Leader Charles H. Older, Third Squadron, American Volunteer Group, Kumming, China 1942.
The decal sheet is well printed with all markings/colours in register. With these decals being printed for Airfix by Cartograf we should be fine on quality.
Summary
This is a good addition to what's already available. The fine recessed detail, delicate and detailed undercarriage legs and bulged tyres are all positive, as is the choice of decals.
It's hard to really criticise this package and at around £5.99 (Oct 2011) it offers fantastic value for money. All in all, a nice new kit beautifully presented.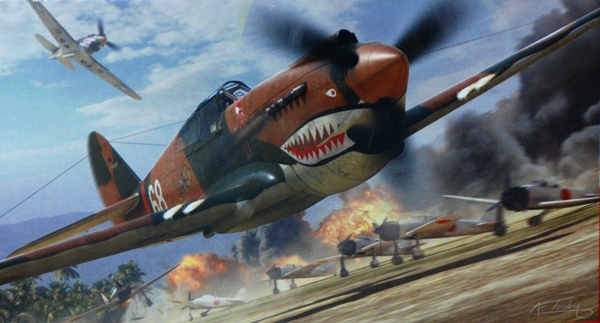 Highly Recommended.
Geoff C.