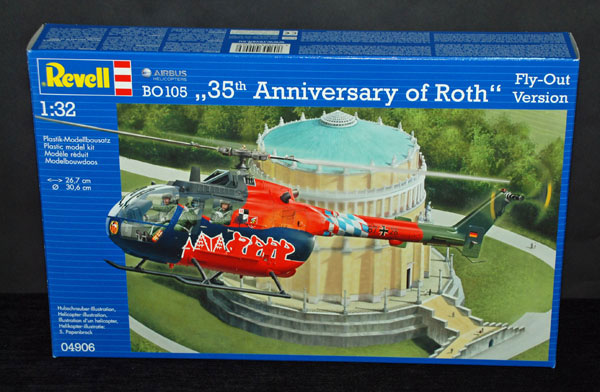 Price: around £17.99 (GBP)
Kit Ref: 04906
Review by Geoff Coughlin (January 2015)
PIC 1
Our thanks to Revell for supplying our review sample. Revell model kits are available from all good toy and model stores. For details visit www.revell.de/en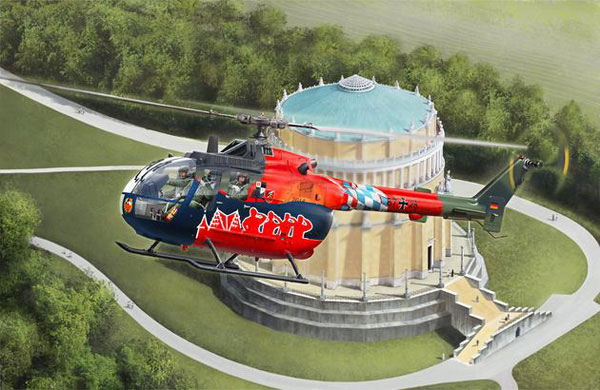 A little bit of background
The BO105 is the most successful helicopter design in the light utility class. Due to its agility it is suitable for many military uses. Thus in the 70's the German Army also received a liaison and reconnaissance version in addition to the anti-tank helicopter variant. More than 300 machines entered service with various Army regiments. In the meantime, the German Army has begun to disband its first BO105 units. For this occasion, a BO105 from Combat Helicopter Regiment 26 (CHR 26) Franken stationed near the town of Roth in mid-Franconia was adorned with a spectacular livery. As well as the Bavarian flag, a timeline of CHR 26, saluting soldiers, some of the city's landmarks, the city's Coat of Arms and a Hornet as the unit's emblem adorn both sides of this colourful helicopter

Initial assessment
It's good to see this one back having been originally released many years ago (1999 I think).
The moulds look to have stood up well and most parts are cleanly moulded with just a little excess flash here and there. Sure most of the few panel lines that there are on the BO 105 are raised, but if you want to you can always re-scribe them – easy in this scale and plenty of help in your Techniques Bank.
You can see from the manufacturer's model above and in the gallery below that the kit makes up into a nice model.
Sprues…
In my view this was always a decent model and representation on the type – in the cockpit there is some reasonable detail but you can add as much extra detail here as you like – especially the seat harness straps. A dry-fit of the main components shows quite a good fit.
Probably the best thing to do is show the sprues to you here:
So, what do you think? Well, overall I'm pretty impressed with what's inside, especially given the relatively low price of the package for a 1:32 scale model.
Highlights at a glance:
Subject choice – very welcome return and boxing with new decals
Surface line detail – raised but not too bad overall and easily re-scribed
Skids look basically accurate like the original
Clear parts clear and undamaged
Decal options – excellent!
Simple model to build and within any modellers' capability.
Things to watch and take extra care with:
A shame the rear access doors are moulded closed, but opportunities for some scratch building here
Some excess flash on fine parts, so care needed when cleaning them up.
Instructions
These are in classic Revell style with 27 exploded stages no less.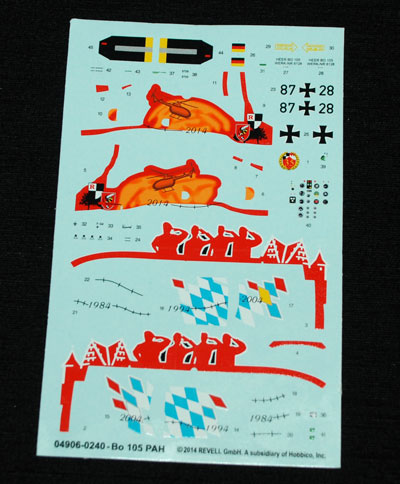 Decals
Fly Out Special for 35th Anniversary of Roth
Decal quality is pretty good, the colours are solid with decent opacity; the red looks to be an accurate tone and markings are in register. No need to go to for aftermarket supplies here.
Conclusion
Pretty good all in all and good to see this one back and readily available. The decals will sell the model for sure but don't expect a completely new-tool, this is quite an old kit but one that makes up into a very good representation of the original, especially if you some refined detail.
Geoff C.
SMN Quick summary Star rating out of 5
| FEATURE | STAR RATING (out of five) |
| --- | --- |
| Quality of moulding | *** |
| Accuracy | *** |
| Level of detail | *** |
| Instructions | *** |
| Decals | **** |
| Subject choice | **** |
| Overall | *** |