Ref: 04386
Price around £13.59 GPB
Review by Geoff Coughlin (Jul 2012)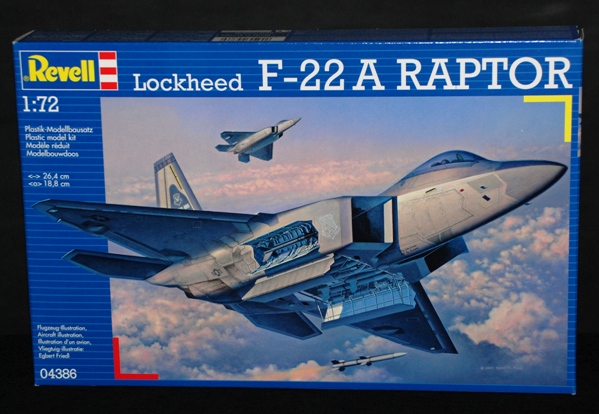 Our thanks to Revell for supplying our review sample. Revell model kits are available from all good toy and model retailers. For further information visit www.revell.eu or email ukbranch@revell.de
What about this?…
Reference…
Don't forget, there's a good set of images in your SMN Photo Reference Library – Geoff
A bit of background…
The Lockheed Martin/Boeing F-22 Raptor is a single-seat, twin-engine fifth-generation super maneuverable fighter aircraft that uses stealth technology. It was designed primarily as an air superiority fighter, but has additional capabilities that include ground attack, electronic warfare, and signals intelligence roles.Lockheed Martin Aeronautics is the prime contractor and is responsible for the majority of the airframe, weapon systems and final assembly of the F-22. Program partner Boeing Defense, Space & Security provides the wings, aft fuselage, avionics integration, and training systems.
The aircraft was variously designated F-22 and F/A-22 during the years prior to formally entering USAF service in December 2005 as the F-22A. Despite a protracted and costly development period, the United States Air Force considers the F-22 a critical component of U.S. tactical air power, and claims that the aircraft is unmatched by any known or projected fighter,while Lockheed Martin claims that the Raptor's combination of stealth, speed, agility, precision and situational awareness, combined with air-to-air and air-to-ground combat capabilities, makes it the best overall fighter in the world today.Air Chief Marshal Angus Houston, former Chief of the Australian Defence Force, said in 2004 that the "F-22 will be the most outstanding fighter plane ever built".
The high cost of the aircraft, a lack of clear air-to-air combat missions because of delays in the Russian and Chinese fifth-generation fighter programs, a U.S. ban on Raptor exports, and the ongoing development of the planned cheaper and more versatile F-35 resulted in calls to end F-22 production.In April 2009 the US Department of Defense proposed to cease placing new orders, subject to Congressional approval, for a final procurement tally of 187 operational aircraft.The National Defense Authorization Act for Fiscal Year 2010 lacked funding for further F-22 production. The final F-22 rolled off the assembly line on 13 December 2011 during a ceremony at Dobbins Air Reserve Base.
Since 2010 the F-22 has been plagued by unresolved problems with its pilot oxygen systems which contributed to one crash and death of a pilot. The fleet was grounded for four months in 2011. The Raptor fleet has resumed flight operations, although problems with the oxygen systems have continued to be reported.
The Revell Kit…
This is another impressive package from Revell that's a re-release of their 2007 kit – pretty much a straight re-release with the same decal sheet as supplied then. Four main grey sprues plus one tinted clear sprue for the canopy.
Recessed panel lines – looking restrained in this scale plus a look and feel of high quality moulding with parts crisp and sharp.

Box and contents…
The Revell box artwork is usually impressive enough and that's the case here – an image of a United States Air Force F-22A Raptor engaging a bogey at long range.
Let's go inside…
The light grey sprues are packaged well and no damage is apparent. Taking the main components first, they are well tooled, recessed panel line detail and having a quality feel, and not too heavy for the scale. No distortion was apparent and a dry fit of the fuselage promises a decent fit; the initial impression is one of a lot of detail parts that will go to make up an impressively large model in 1:72 scale.
The overall shape looks quite good and the attached images of a completed model can help you to decide for yourself, but the inclusion of the large external drop tanks give the model a squat, purposeful look. Again, the pics available in your Photo Reference Library for the F-22A are worth checking out at all stages of your build.
Cockpit and interior…
The usual cockpit tub is there with flat side consoles that don't have raised detail or decals but I suspect that this may be because so little info is available for the layout (probably still secret and all that…). The main panel has blue CRT displays provided as decals, albeit the bright blue is a bit unrealistic, but you can use your artistic licence here when you get to that!
A nice ejection seat is included with realistic-looking detail for the scale.
Weapons…
A decent variety of weapons is attached and you can see exactly what in the accompanying images above. A good selection of AMRAAMs and AAMs like the Aim-9M Sidewinders are there as well as LGBs for the detailed weapons bay. This is a highlight of the model; although you won't be able to see much on your finished model unless you pick it up. Having said that, good detail nonetheless and the small circular ejector pin marks can usefully be scraped away so that the overall look of your full weapons bay isn't diminished.
Undercarriage units…
Pretty reasonable detail for the scale and will look fine.