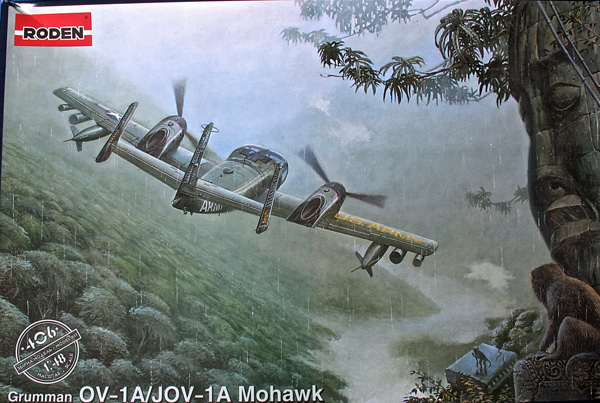 Review by Graham Thompson
Price around £29.99 GBP (Feb 2014)
A little bit of background
The Mohawk began its development in 1954 when the US military were looking for a replacement air reconnaissance, communications, artillery spotting type aircraft following on from successful types that performed well in WWII such as the Piper cub, Lysander and the Fiesler Storch.
The requirements put forward was to have a small twin engined, twin seat turbo prop capable of short take-off and landing (STOL) from rough airstrips. Grumman won the contract with their deep winged, (eventually) triple tail design with side by side crew position in a large 'bug eyed' cockpit, later to be seen in the Intruder. Powered by twin turbo prop engines, large flaps and slats gave it a low stall speed as well as lift on the take-off. The variable pitch propellers were capable of giving powerful reverse thrust making short landings possible.
The almost helicopter-looking cockpit gave excellent visibility for the crew which was perfect for its intended roll. Initially the Army were not interested in arming the Mohawk other than a .5 machine gun for self-defence. They were more interested in it carrying photo reconnaissance with night and infrared capability. Later variants were fitted with sideways looking radar (SLAR) pods which were a long small section box located on the lower right fuselage protruding out to the front of the aircraft. A fine model of this variant is also done by Roden and a good example of that kit can be seen in the Scale Modellers Now Subscribers Gallery built by Mikhail Shaposhnikov.
The Navy had other ideas though and looked at the design as a carrier born Marines support strike aircraft without any of the electronics and photo capability of the Army brief. Eventually the Navy dropped their interest and the development remained in the hands of the Army.
After tweaking the design, going from a single tail fin to the triple design that increased control at slow spreads, the first operational aircraft were delivered to the US 7th Army based in Germany in 1961. By now, it had been equipped with two wing pylons to carry fuel tanks and was the first turbo prop aircraft received by the Army.
The type served well in Vietnam as a spotter, target marking for air strikes and reconnaissance. The latter task often involved extreme low and slow flying along rivers to spot enemy units hidden under the tree cover at river crossing points. Although designed to take ground fire from small arms, these missions often meant they were shot at from hillsides above them as they dropped into river valleys. The gorgeous artwork on the box depicts this very nicely as apes sat on a Buddhist statue stare at the aircraft passing down to tree level in heavy rain. They were regarded as being so vulnerable that on some missions a second Mohawk flew higher above the lead aircraft just to observe their position should they get hit and go down!
It was decided to run a test on a strike capable version and 54 aircraft were fitted with a total of six wing pylons capable of carrying containers for 2.75″ missiles, 500lb bombs or 5″ Zuni folding fin rockets. Six of these modified aircraft designated JOV-1A were sent to Vietnam for trials but it was soon decided that the more effective roll was to spot the enemy and call in the Air Force to do what they did best.
The Mohawk proved an effective and popular aircraft serving well with a few other nations as well. During the civil war in El Salvador (1980-1992) U.S. Army OV-1 Mohawks conducted regular reconnaissance flights over El Salvador to support the government against Marxist-oriented insurgents. They also flew missions in Desert Storm. The type was finally retired with the last official flight being in South Korea in Sept 1996.
This aircraft, nicknamed 'Whispering Death' by the Vietcong because of the quite turboprop engines is a great subject to model and builds into an attractive, as well as historically important aircraft.
Early promo Video
OV-1 with SLAR pod fitted