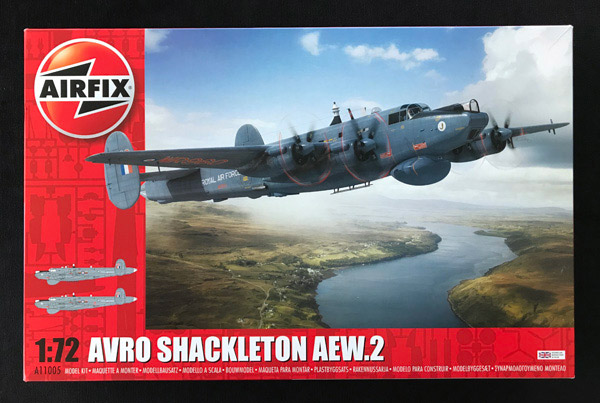 Kit Ref: A11005
Price around £44.99 GBP, $60.96 USD, €50.61 Euros, $77.76 AUS, $76.27 CAD
Review by Geoff Coughlin (January 2018)
See our FINISHED NOW BUILD REVIEW
Our thanks to Airfix for supplying our review sample – get this kit here now from Airfix
The Airfix kit
Really pleased that the last Avro Shackleton variant operated by the Royal Air Force is now available from Airfix. We reviewed Revell's take on this aircraft a while back and now you have the Airfix option to choose from too – it's always good to have choice. The box art is as impressive as ever and is more sturdy than those offered for the smaller scale kits and that's immediately a plus (they make great trays to hold parts during construction and painting!).
What do you get?
You can see the sprues as well as I can so take a good look at the images and I think you'll be pretty pleased. No rivet detail is moulded onto the parts and it may be worth adding this using one of the many riveting tools available.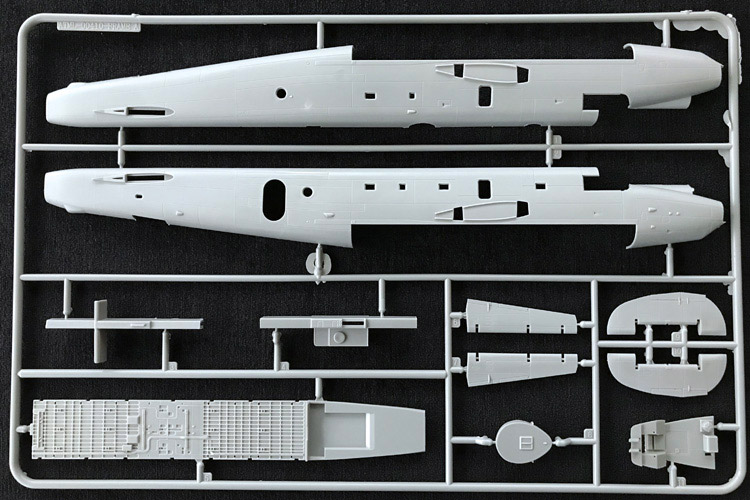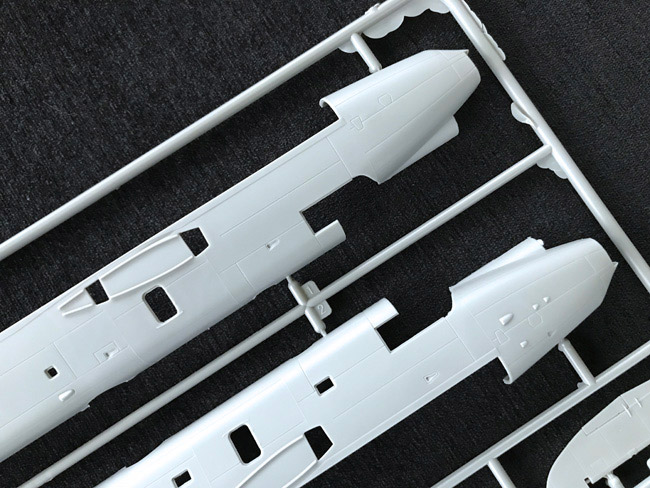 Let's start with the plastic
The plastic is a darker grey than the manufacturer's other recent releases – nice well-tooled parts are supplied. Panel line detail is scribed and well done for the scale. Detail and finesse of parts is high – even better than usual from this manufacturer and that's a great step in the continuing general improvement in new products from Airfix.
Parts breakdown is pretty conventional for a multi-engined kit – and of course this time there are the additional fuselage sections for that great radome, weapons bay and undercarriage.
Fuselage – general shape looks accurate to my eye. I have cut the fuselage halves from their sprues and test-fitted them and they fit very well – promising. The bomb bay doors can be posed open to show the detailed bay interior although no stores are included. The huge radome is now included and this sits forward of the main bomb bay.
Main wings – separate upper wing halves split in two horizontally and attaching to their lower wing sections. A nice touch is the provision for dropped flaps with detailed interiors.
Flaps – really pleased that the option for dropped flaps is there, can add a bit of interest to your finished model.
Rudder / elevators – These are neatly moulded separately so that you can add some interest by slightly offsetting them if required.
Cockpit – this is a well detailed part of the kit, although not a lot will be visible on your finished model. Having said that, the instrument panel is there with decal details, seats and tables as well as side panel instruments for the operators.
Undercarriage – again, another strength in the kit – all the detail is there as far as I can see to make these areas eye-catching. The main undercarriage legs are nicely detailed as are bays themselves.
The wheels are provided with and without tyre tread pattern and all have a subtle bulged effect which is great.
Propellers – these are multiple units for the RR Griffin contra-rotating props and the engine faces offer enough detail in this scale.
Stores – no stores are included.
Pilot figures – seated pilot/crew figures (X2) are included and are well tooled.
Clear parts
The Shackleton AEW.2 has quite a bit of glass around the airframe and all parts supplied are crystal clear and blemish-free.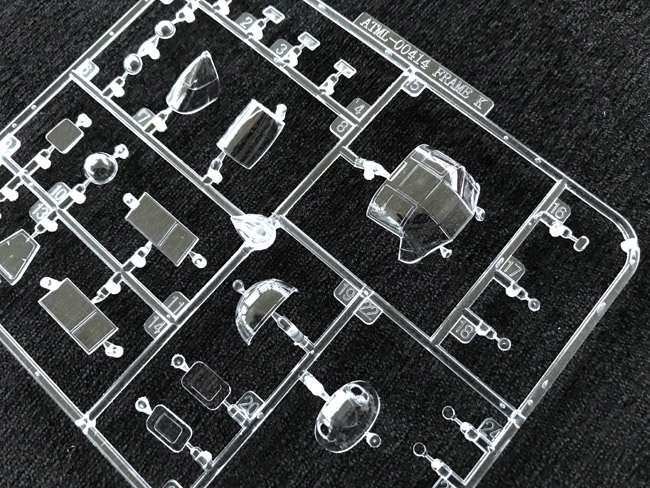 Instructions
The simple foldout instruction booklet is clear enough with references to paint colours; reference to exact colours and photos will help match your preferred paints to what's needed. There are full colour painting/decal guides included for each version supplied.

Decals
Decals for two Avro Shackleton AEW.2 maritime patrol aircraft is included:
Option A: Avro Shackleton AEW.2 "Dougal", No. 8 Squadron Royal Air force, Lossiemouth, Moray, north east Scotland, 1980
Option B: Avro Shackleton AEW.2 "Ermintrude", No. 8 Squadron Royal Air force, Lossiemouth, Moray, north east Scotland, 1979
Full stencil data is included and a clear diagram showing where each tiny item goes. The different schemes are shown on a high quality colour fold-out sheet.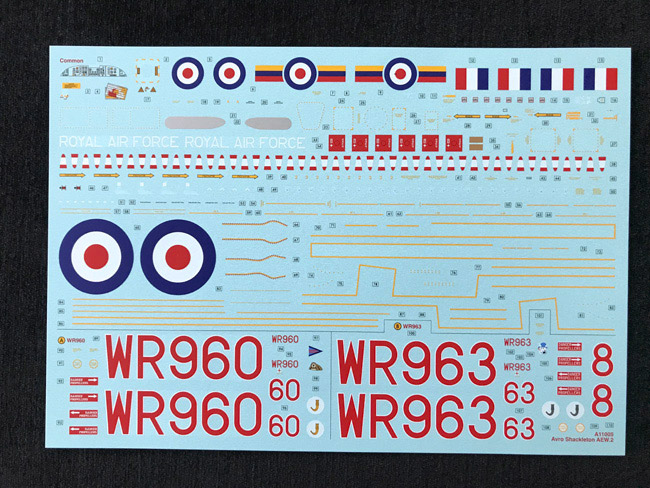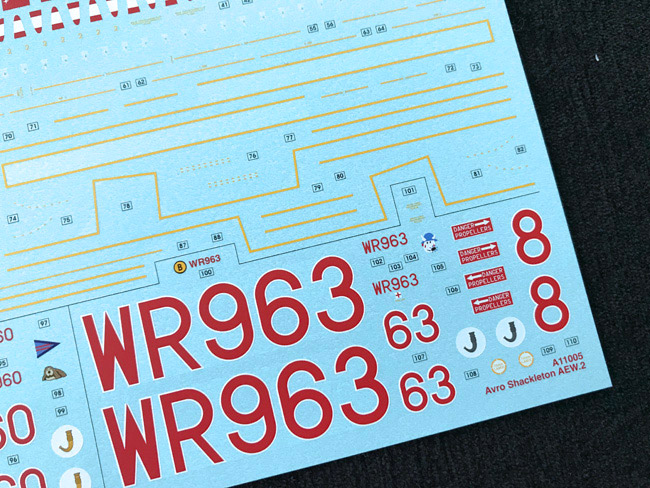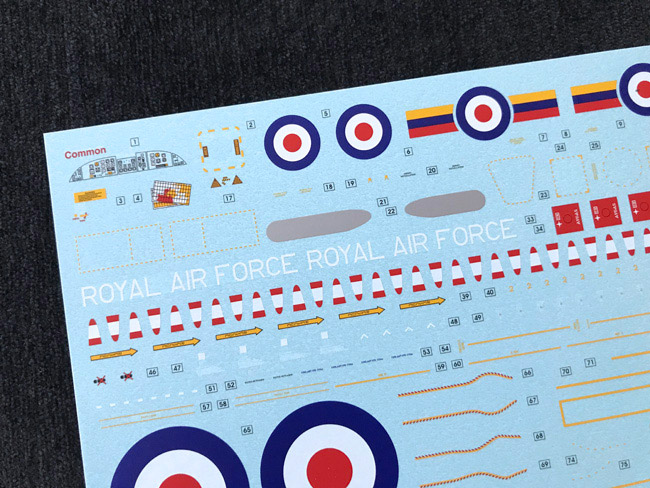 The decals are very well printed and look to be good quality – let's hope so. From building some of their recent releases these decals work well with decal softening solutions that help the markings settle down into the recessed detail.
Here's my summary
This is a good package with excellent levels of quality and detail across the whole kit. We will be building this one in the future and that will show how it all goes together and I for one am really looking forward to it.
Geoff C.
SMN Quick summary Star rating out of 5
| FEATURE | STAR RATING (out of five) |
| --- | --- |
| Quality of moulding | **** |
| Level of detail | **** |
| Accuracy | **** |
| Instructions | *** |
| Decals | **** |
| Subject choice | **** |
| Overall | **** |
A little bit of background on the Avro Shackleton maritime patrol aircraft
The Avro Shackleton was a British long-range maritime patrol aircraft (MPA) used by the Royal Air Force (RAF) and the South African Air Force (SAAF). It was developed by Avro from the Avro Lincoln bomber, which itself has been a development of the famous wartime Avro Lancaster bomber.
The Shackleton was developed during the late 1940s as part of Britain's military response to the rapid expansion of the Soviet Navy, in particular its submarine force. Produced as the primary type equipping RAF Coastal Command, the Type 696, as it was initially designated, incorporated major elements of the Lincoln, as well as the Avro Tudor passenger aircraft, and was furnished with extensive electronics suites in order to perform the anti-submarine warfare(ASW) mission along with a much improved crew environment to accommodate the long mission times involved in patrol work. Being known for a short time as the Lincoln ASR.3, it was decided that the Type 696 would be named Shackleton in service, after the polar explorer Sir Ernest Shackleton.
In April 1951, it entered operational service with the RAF. The Shackleton was used primarily in the anti-submarine warfare (ASW) and maritime patrol aircraft (MPA) roles; it was also frequently deployed as an aerial search and rescue (SAR) platform and for performing several other secondary roles such as mail delivery and as a crude troop-transport aircraft. In addition to its service with the RAF, South Africa also elected to procure the Shackleton to equip the SAAF. In South African service, the type was operated in the maritime patrol capacity between 1957 and 1984. During March 1971, in one high-profile incident, a number of SAAF Shackletons were used to effect during the SS Wafra oil spill, having intentionally sunk the stricken oil tanker using depth charges in order to prevent further ecological contamination.
During the 1970s, the Shackleton was replaced in the maritime patrol role by the jet-powered Hawker Siddeley Nimrod. During its later life, a small number of the RAF's existing Shackletons received extensive modifications in order to adapt them to perform the airborne early warning (AEW) role. The type continued to be used in this support capacity until 1991, at which point it has been replaced by the newer Boeing E-3 Sentry AEW aircraft. These were the last examples of the type remaining in active service.