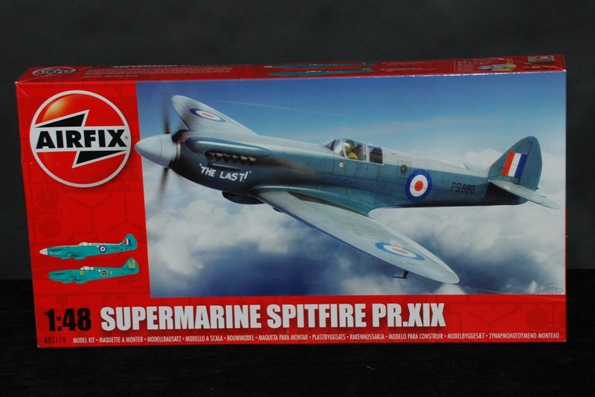 Kit Ref: A05119
Price around £16.99 GBP
Review by Geoff Coughlin (Jan 2013)
See our FINISHED NOW BUILD REVIEW

Our thanks to Airfix for supplying our review sample. Get this impressive kit here now at: www.airfix.com
The sounds… Rolls Royce Griffon – nice…
 

Reference…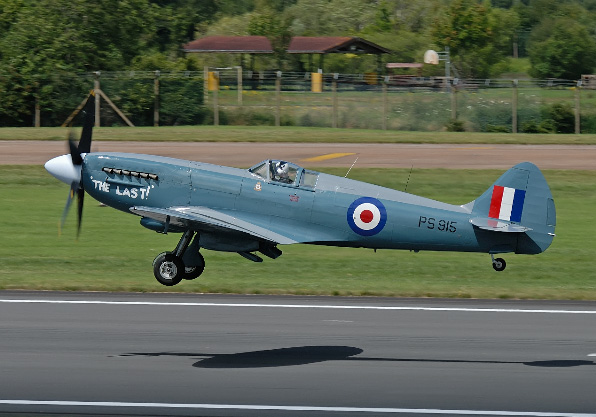 You have a good walkaround photo reference set for the Supermarine Spitfire PR Mk.XIX in your SMN Photo Reference Library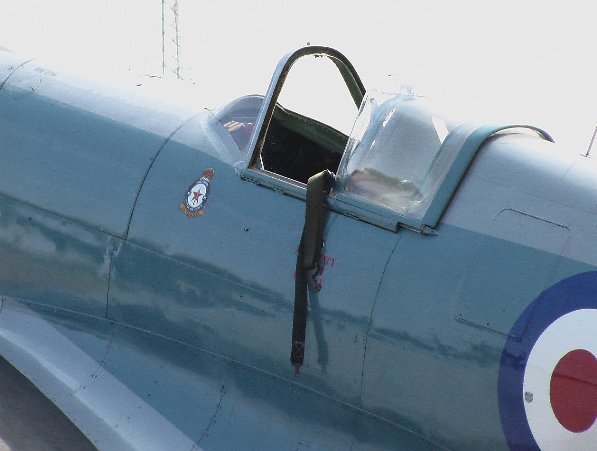 There is more info on the Battle of Britain Memorial Flight PR.XIX featured on the Airfix decal sheet and you get to that from the hyperlink above.
A bit of background…
The Mk.XIX was the last and most successful photographic reconnaissance variant of the Spitfire. It combined features of the Mk.XI with the Griffon engine of the Mk XIV.
After the first 25 (type 389s) were produced, later aircraft were also fitted with the pressurised cabin of the Mk.X and the fuel capacity was increased to 256 gallons, three-and-a-half times that of the original Spitfire. The first Mk.XIXs entered service in May 1944, and, by the end of the war, the type had virtually replaced the earlier Mk XI. A total of 225 were built with production ceasing in early 1946.
Intro…
Any Supermarine Spitfire kit is going to interest many scale modellers and when another new-tool arrives I get quite excited! Especially if it features the sleek PR.Mk.XIX in 1:48 scale; that's what you have here and it looks pretty good from first inspection.
That box again…
Airfix has hit the mark again with some excellent box art to go with the three sprues containing all the parts and options along with a small clear sprue with canopy and other small glazed items.
The best bit – the contents!
Probably the best thing to do is just let you look at all the images I've taken and included here to give you the fullest coverage of the parts, but here are a few observations:
Overall shape – excellent in my opinion. The gull-wing is on the mark as are the 3 glazed identification lights on the underside of the gull-wing, together with the camera windows. Parts are cleanly moulded and little flash is apparent on the parts although some of the sprue gates where the parts join are a bit large so extra care when removing them will be necessary
Panel line and other detail – accurate and good for the scale; certainly on a par with Tamiya and Hasegawa for example. You can see in the images what I mean. The engine exhaust pipes will need to be hollowed out, but this is easy with a hand-held pin-vice drill
Cockpit – the cockpit is impressive although you can add a decent seat harness yourself from whatever source you like and there's more than enough detail in here to suit most modellers. The port access door is moulded closed but you could cut it out to add a bit more interest to your model and slide back the canopy
Options – separate rudder and tailplane elevator assemblies are provided and this is good, enabling you to add yet more interest and align as desired as you can with the rudder. Flaps down or raised are available too, all increasing the possibilities. Rib detail in the flaps is fine for the scale
Undercarriage and  wheels – different wheel hubs are included and are also supplied as separate items making painting so much easier. Spit undercarriage legs are quite simple and have sufficient detail
Canopy – option for slid-back positioning or closed
Cameras – these are included and are fitted inside the fuselage with glazed windows
Pilot – a decent pilot figure is included (Dave C take note!) and he will enhance the model no end if you display your completed project on a suitable base
Instructions…
Very clear and follow the usual Airfix way of exploded diagrams making it plain what to do with each of the options you choose.
Decals and colour schemes
You get the two schemes illustrated in the gallery images here and again, what a great choice Airfix has made – two different and varied schemes, both interesting and typical of the type at the same time, excellent! I love the inclusion of a Swedish aircraft in PRU Blue overall – superb. What's also great is to see the colour diagrams back (ok, not on glossy paper maybe) but colour nonetheless and if by keeping down printing costs by going down this route helps to maintain colour in all their kits, then that's fine by me and I'm sure many of you too.
Scheme 1 – Supermarine Spitfire PR XIX PS888 "The Last!" No.81 Squadron Royal Air Force Seletar, Singapore 1 April 1954
Scheme 2 – Supermarine Spitfire S.31, 1 Division Flottilj 11 Flygvapnet, Nykoping, 1955 (Swedish Air Force)
Decals are well printed and all colours look accurate, solid and in register. Be sure you apply them to a really gloss surface – speaking of which, do check out your Techniques Bank, there's help and a steer here if you want it.
To sum up…
SMN Quick Summary rating out of 5
| FEATURE | STAR RATING (out of five) |
| --- | --- |
| Quality of moulding | **** |
| Accuracy | **** |
| Instructions | **** |
| Decals | **** |
| Subject choice | ***** |
| Overall | **** |
What else is there to say – just buy it!
Geoff C.