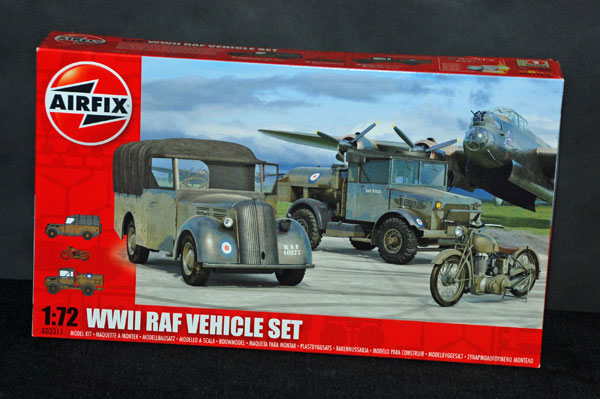 Ref: A03311
Price around: £10.99 GBP
Review by Geoff Coughlin (April 2014)
Our thanks to Airfix for supplying our review sample. Get this impressive little kit here now at: www.airfix.com
This is a great addition to the similar, but much larger set already released by Airfix, the WWII RAF Bomber Re-Supply Set and we have already reviewed and built than in SMN in Here Now. This much smaller set takes three of the vehicles from the Bomber Re-Supply Set and they are packaged together here in a neat set.
So this is what you get in this WWII RAF Vehicle Set:
Standard Light Utility Vehicle – Standard 12hp 4×2 'Tilly'
Bedford MWC or Bedford MWD
Motorcycle – 500CC
The whole set of vehicles here was fully reviewed in the Bomber Re-Supply Set and so I have included the words from my full review below. If you want to go straight to that full Here Now review, click here.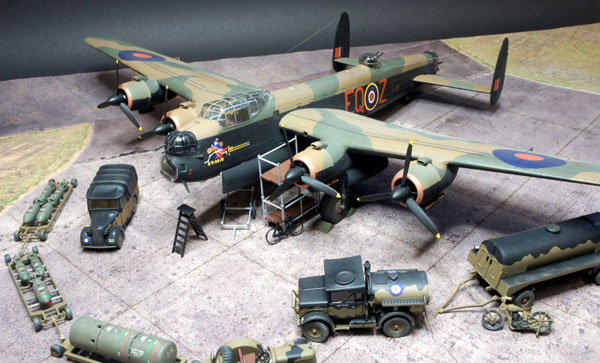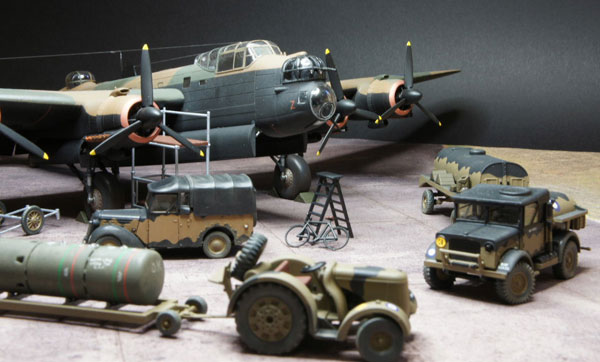 WWII RAF Bomber Re-Supply Set
What a great addition by Airfix…
Many of you will have one or (probably) more bombers from the Airfix range together with other types from other manufacturers and now's here's a great opportunity to create a realistic diorama or display base / setting for your model. I really think that a base makes any model, especially one that you've spent good time creating so why not show it off to it's best – it's a no-brainer for me!
As the air war over occupied Europe progressively developed, so did the equipment used by the RAF and its Bomber Command. Specialist vehicles were introduced to supply arms and equipment to waiting machines and maintenance tasks were made easier through the introduction of specialised equipment.
The mechanisation of these tasks and duties is well represented in this set. While not as glamorous as their flying counterparts, the contribution played by trucks, tractors, and vans, as well as the men that crewed them, cannot be forgotten, or underestimated.
This is what you get:
Standard Light Utility Vehicle – Standard 12hp 4×2 'Tilly'
Bedford MWC or Bedford MWD
David Brown VIG1 Tractor/Tug
Motorcycle – 500CC
Maintenance Tower
Bowser – 450 Gallon
Bomb Trolley – Type C
Bomb Trolley – Type F
Small Bomb Container (SBC) – with 4lb incendiaries
MC Bomb – 1000lb
Bomb – 8000lb
Ladder
Bike
Chocks
Fuel Cans
Initial assessment
First impressions are good as the kits are all-new tool and that is good news at any time. Construction methods suggested are simple and straightforward and will present do difficulties for any modeller. The range of vehicles is realistic and ideal to allow you to interchange and mix up your display using different combinations of the types on show.
Quality
The sprues are full of well detailed including some delicate parts and all look pretty impressive, especially given the small scale. There is some flash visible but this should be able to be removed easily enough using a scalpel and careful sanding.
The tyres in these kits come slightly weighted in appearance and that adds to the overall look.
Other comments
There's a good range of different bombs for the two types of bomb-trolley and the fact that decals are included for these and the other items included add to the authenticity of the package. I love the maintenance tower as that can be used for any number of subjects in this scale.
The colour painting guide is included on the back of the box that will act as excellent reference in itself.
Clear parts
All the clear parts are just that – clear and look well-tooled.
Instructions
These follow the usual exploded stage diagrams and are clear and straightforward. Humbrol paint references are given on the all-colour painting guide included on the box and that's nice to see. Colour names are also given allowing you to match your colours from whatever source you prefer.
Decals
The decals provided complete each vehicle, are in register and colour saturation is good too.
SMN Quick summary Star rating out of 5
| FEATURE | STAR RATING (out of five) |
| --- | --- |
| Quality of moulding | **** |
| Accuracy | **** |
| Level of detail | **** |
| Instructions | **** |
| Decals | **** |
| Subject choice | ***** |
| Overall | **** |