Review by: Geoff Coughlin (Oct 2011)
Price: £26.00 approx
Reference: 2705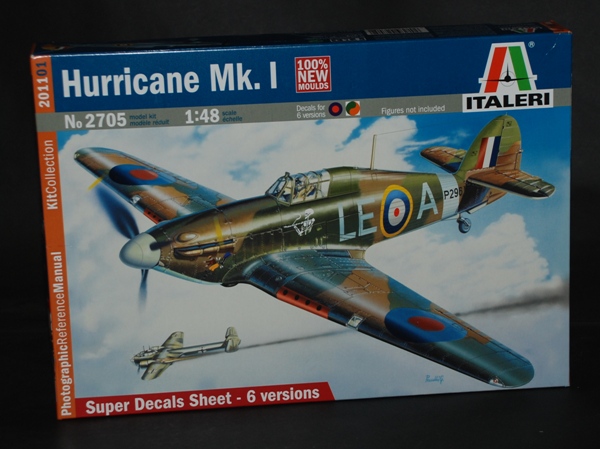 If this doesn't make you want to build a Hurricane, nothing will!
1:32 scale has had all the glory in recent months, with the release of the Tamiya Supermarine Spitfire Mk.IX and North American Mustang, but now it's the turn of 1:48 scale.
Let me tell you straight away: this is a class package in just about every respect.
The Box
Let's start here – this is different. A decent, evocative picture spreads across the box top, depicting a famous No.242 Squadron RAF aircraft.
The rear of the box is interesting, as it has all colour profiles depicting the aircraft featured within. The box top markings aren't shown on the box back, but are included on the comprehensive decal sheet, more of which later. The box is the preferable lid and tray type.
Contents
Well, I was immediately struck by so much stuff:
4 sprues light grey sprues with some very finely tooled parts
A high quality decal sheet depicting the 6 aircraft options, one for the Irish Air Corps, the remainder RAF
A clear sprue with a very finely tooled split canopy, suggesting the rear portion will sit over the upper rear fuselage immediately aft of the cockpit
An excellent instruction book with exploded assembly views and FS paint references and names, making it easy to match your preferred paint range
A walkaround reference book, containing many internal and external reference images, colour profiles of the subjects plus a cutaway. Very impressive
An etched brass fret with Sutton harness, instrument panel and canopy grab handles.
Quality
Simply of the highest order and, as the box says, a 100% new tool. The recessed panel lines are stunning, so fine and restrained but precise and accurate, at least as far as I can tell.
The fabric effect on the rear fuselage is about as perfect as you could want and not over-scale, as is so often the case. This impressive fabric effect is carried over to the elevators, with the effect being subtle and spot-on to me.
Fully detailed Rolls Royce Merlin engine
I'm not joking, this looks very impressive in this scale and, considering its all injection moulding, extraordinary. The engine cowls look as if they are designed to pop on and off so that you can display any or all of the completed engine. Very nice.
I've taken some additional close-up images (see above) so that you can see all the detail right up close.
Cockpit
It all seems to be here – that tubular framing, seat and frame detail. The main instrument panel is etched brass as I mentioned and this is designed to sit over the dials that are on the decal sheet. This system works very well in most scales so should be great in 1:48.
Further Touches
Bulged tyres are nice and the Hurricane always seems to sit well on slightly bulged tyres and the separate hubs will make painting a breeze.
Separate rudder and tailplane will allow these control surfaces to be deflected and create additional interest in your completed model. Entry doors can be posed open too.
Both types of spinner – rounded and more pointed – are here, together with their appropriate propeller blades. It just keeps getting better!
Etched Brass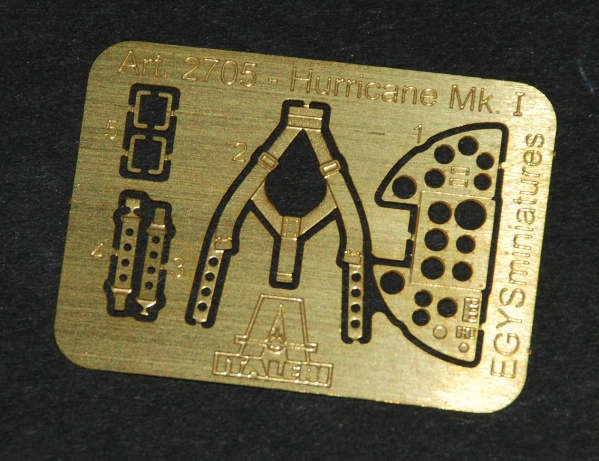 Simple and practical sums up what's provided – the simple Sutton harness, canopy grab handles and that main instrument panel. The detail is very good for the scale, leaving nothing else to add.
Decals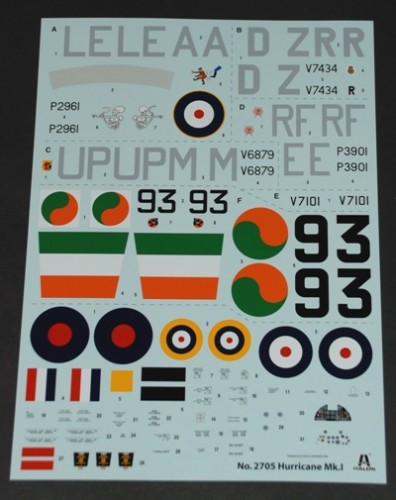 The glossy finish only bodes well to me, as the carrier film is very limited and almost invisible on the roundels. The markings feel thin enough and, in my experience, Italeri decals usually go down well using decal solvents, so I'm not anticipating any problems there. The colour is good, as is the registration with all colours lining up well.
You can see from the images included elsewhere within this Here Now review which aircraft and squadrons are featured, so I won't repeat them again now. I particularly like the inclusion of a Polish Squadron aircraft, considering the invaluable part played by the Poles flying Hurricanes (and other types of course) during WWII.
The inclusion of an Irish Air Corps machine is a nice touch and unusual, so you can certainly make a different-looking Hurri from the box.
Instruction Book
The first time I saw one of these with an Italeri product was when Les Venus built his first maritime project for SMN – the huge 1:35 Type 100 S-Boot.
As I mentioned above, the reference book included this time contains exploded views of the assembly sequence. I remember getting close to building the (now) old Hasegawa 1:48 Hurricane and I remember the reviews at that time saying that the build sequence and breakdown of parts was complex.
You seem to get more for your money with this package and the assembly looks logical and promising. Let's hope that the Merlin engine fits on its bearers and those cowl panels clip into place as the instruction suggest.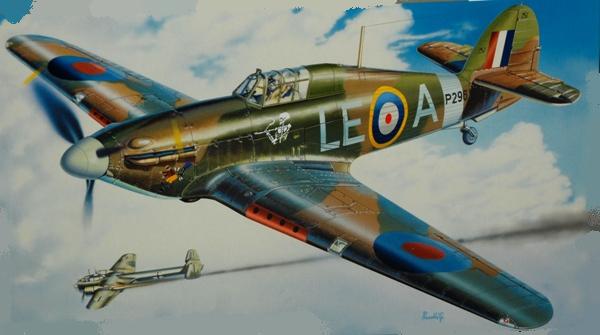 What's the verdict?
I think that you've pretty much guessed what I think! I've tried to be very objective here and I am not prone to get too carried away when it comes to assessment, but this new Italeri Hawker Hurricane is stunning – I just can't fault it in any way!
How bizarre is that?! In a very pleasing way of course…
| | |
| --- | --- |
| Quick summary | Star rating out of 5 |
| Quality of moulding | ***** |
| Accuracy | ****+ |
| Instructions | **** |
| Decals | ***** |
| Subject choice | ***** |
| Build enjoyment (for BN only) | N/A – wait and see! |
| Overall | ***** |
Something appropriate to close the review…
Geoff C.