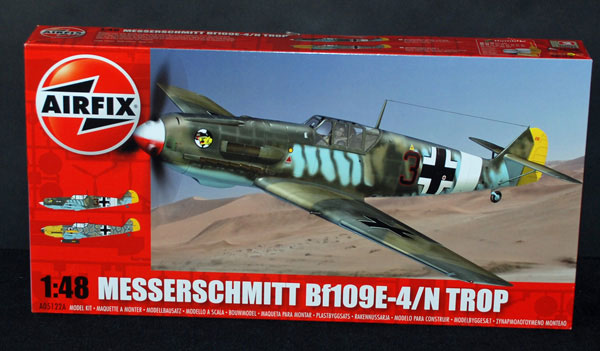 Kit Ref: A05122A
Price: £16.99 GBP (Mar 2014)
Reviewed by Geoff Coughlin
Our thanks to Airfix for supplying our review sample – get this kit here now www.airfix.com
Check out SMN's full build review of the first release of this new-tool Airfix Bf-109E in Finished Now.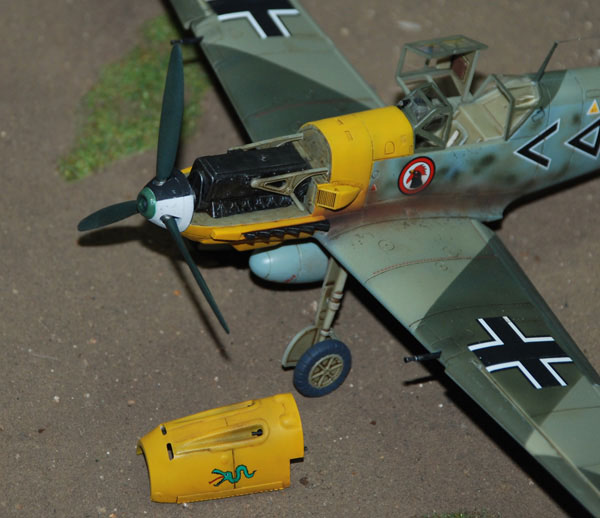 Want to know more about the Bf-109 – check out this video…

Another release of the excellent Airfix 2010 tooling
I have written a detailed review of the original Airfix Bf 109E-3, E-4 kit and the second release (E-1, E-3, E-7) and they were published with others in SMN's Here Now area a little while back. The fact is that this new release – this time in Bf 109E-4/N Trop configuration adds further to what has gone before, with the addition of new decals and markings appropriate to the E-4 and N Trop.
The sprues are the same as for the earlier releases, so it seems pointless providing new text here. I have therefore included my original review suitably doctored to include the new decals on this occasion. I really enjoyed the build – it was so much better than I had expected and quality of the tooling subtle and high quality. I see little reason to change my original opinion at the time which was to go and buy this kit if you haven't – it is one of the best this manufacturer has ever produced!
Ok, so what's in the box?
A box remarkably full of grey sprue, appearing rather more in total than I remember putting together for my Tamiya and Hasegawa Bf-109s some years ago, so it's looking promising! Two large grey sprues house all the main parts with the usual separate clear sprue tree containing clear parts.
The plastic has a better feel to it than in some past releases, less powdery, quite smooth and on the softer side of hard. Having built the Harrier GR-7 and many other Airfix kits in the past few years (see your Airfix area in Finished Now), this plastic is very similar and is easy to trim, sand and work with. Panel line detail is recessed and in 1:48 scale looks pretty good to me, better in this scale looking more realistic than the slightly heavy engraved detail on some 1:72 kits. Getting better all the time!