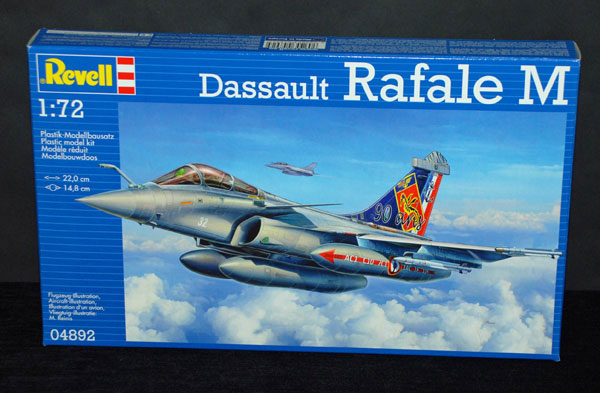 Kit ref: 04892
Price around: £13.50 GBP (Jan 2015)
Review by Geoff Coughlin
Our thanks to Revell for supplying our review sample. Revell model kits are available from all good toy and model stores. For details visit www.revell.de/en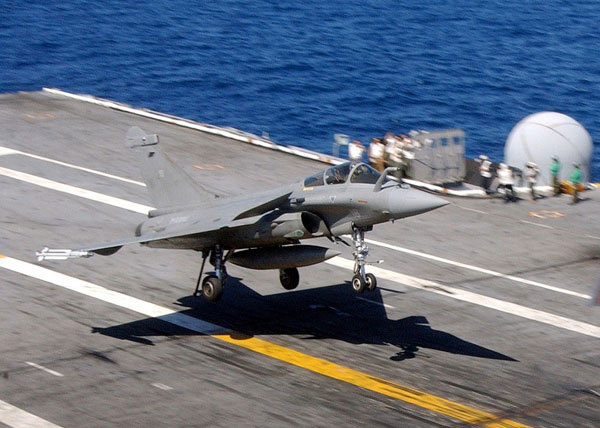 A little bit of background to the type
The Dassault Rafale is a French twin-engine, canard delta-wing, multirole fighter aircraft designed and built by Dassault Aviation. Equipped with a wide range of weapons, the Rafale is intended to perform air supremacy, interdiction, reconnaissance, and nuclear strike missions.
In the late 1970s, the French Air Force and Navy were seeking to replace and consolidate their current fleets of aircraft. In order to reduce development costs and boost prospective sales, France entered into an arrangement with four other European nations to produce an agile multi-purpose fighter. Subsequent disagreements over works-hare and differing requirements led to France's pursuit of its own development program. Dassault built a technology demonstrator which first flew in July 1986 as part of an eight-year flight-test programme, paving the way for the go-ahead of the project. The Rafale is distinct from other European fighters of its era in that it is almost entirely built by one country, involving most of France's major defence contractors, such as Dassault, Thales and Safran.
Many of the aircraft's avionics and features, such as direct voice input, the RBE2 AA active electronically scanned array radar and the Optronique secteur frontal infra-red search and track sensor, were domestically developed and produced for the Rafale programme. Originally scheduled to enter service in 1996, the Rafale suffered significant delays due to post-Cold War budget cuts and changes in priorities. The aircraft is available in three variants: Rafale C single-seat land-based version, Rafale C twin-seat land-based version, and Rafale M single-seat carrier-based version.
Introduced in 2001, the Rafale is being produced for both the French Air Force and for carrier-based operations in the French Navy. While the Rafale has been marketed for export to several countries, it has only been selected for purchase by the Indian Air Force. The Rafale has been used in combat over Afghanistan, Libya, Mali and Iraq. Several upgrades to the weapons and avionics of the Rafale are planned to be introduced by 2018.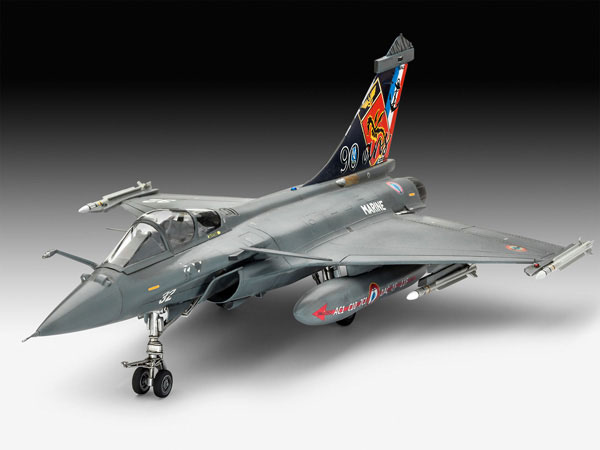 The Revell kit
So here we have another re-release from Revell; I'm unclear of the origin or original release date but it can be made into a presentable model from the box.
Generally the shape looks good with the separate delta-wing assembly fitting to the underside of the vertically-split fuselage halves. Recessed panel line detail is quite restrained and under camo paint should look fine.
What you get…
This is what you get – at-a-glance:
Re-boxing of older release
Minimal cockpit detail and no instrument panel decals either – poor
Raised surface detail
Undercarriage units have detail but a lot of excess flash
Wheel hubs have good moulded detail
Exhaust nozzles – plenty of excess flash to remove
Pylons for external loads
2 auxiliary tanks (2,000 Ltr) that are incorrect for type – should carry 1,200 Ltr variants
Only 2 drop tanks included – box art misleading as it shows 3 tanks fitted
2 MICA or MAGIC guided missiles – thickly moulded fins that some modellers may find unusable.
Some other observations
The main wheel wells aren't moulded, just boxed for the main legs to attach into – the forward large undercarriage bays on the real aircraft are moulded shut. The nose gear bay is poorly represented by a very shallow recess that bears no relation to the original.
Clear parts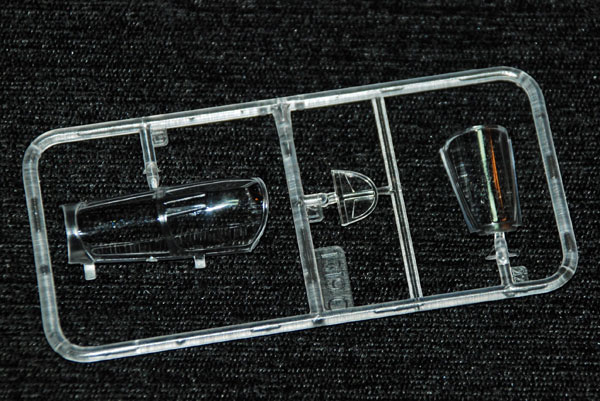 Clear canopy that doesn't have any obvious defects.
Decals and instructions

The decals are the best part of this package and a couple of good options is included for French machines.
Dassault Rafale M #32 – 90 ans 11F / 10ans Rafale 12F BAN Landivisiau 2012
Dassault Rafale M #17 Flottille 12F – BAN Landivisiau 2011
To sum up…
Overall this is not that impressive a package, especially given the relatively high price for an old-tool kit. The box art is a bit mis-leading too and although the artwork is excellent some modellers may be fooled into thinking that there are 3 drop-tanks included. On the plus side, if you want a model that looks quite like the real thing and aren't bothered about raised panel lines, lack of cockpit detail and simplified detail, you may be attracted to this release.
Geoff C.
SMN Quick summary Star rating out of 5
| FEATURE | STAR RATING (out of five) |
| --- | --- |
| Quality of moulding | ** |
| Accuracy | ** |
| Level of detail | ** |
| Instructions | *** |
| Decals | **** |
| Subject choice | *** |
| Overall | *** |