Kit reference: 04849
Price: around £20.00 GBP (Apr 2013)
Review by Geoff Coughlin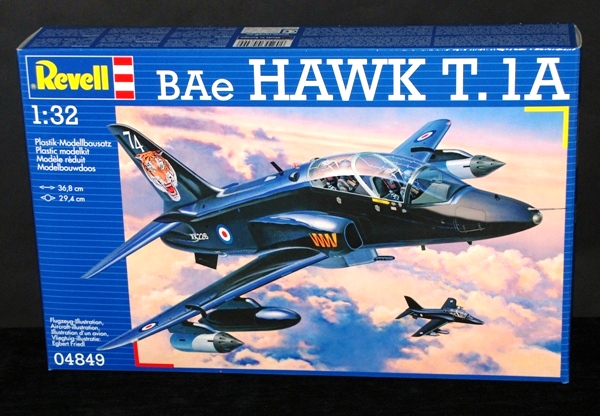 Our thanks to Revell for supplying our review sample. Revell model kits are available from all good toy and model retailers. For further information visit http://www.revell.eu/ or email ukbranch@revell.de
A little bit of background…
The two-seater BAe Hawk was designed for advanced pilot and tactical weapons training and the first aircraft flew on 21 August 1974. The armed version entered service later with the two Tactical Weapons Units at the RAF bases at Brawdy and Chivenor. They were normally equipped with a 30-mm Aden Cannon Pod and pylons for external Tanks or Rocket Pods. In the mid 80s many aircraft were modified to the type T1A standard.
The BAE Systems Hawk is a British single-engine, advanced jet trainer aircraft. It was first flown at Dunsfold, Surrey in 1974 as the Hawker Siddeley Hawk, and subsequently produced by its successor companies, British Aerospace and BAE Systems, respectively. It has been used in a training capacity and as a low-cost combat aircraft.
Operators of the Hawk include the Royal Air Force (notably the Red Arrows aerial display team) as well a considerable number of foreign military operators. The Hawk is still in production in the UK and under license in India by Hindustan Aeronautics Limited (HAL) with over 900 Hawks sold to 18 customers around the world.
The Revell Kit…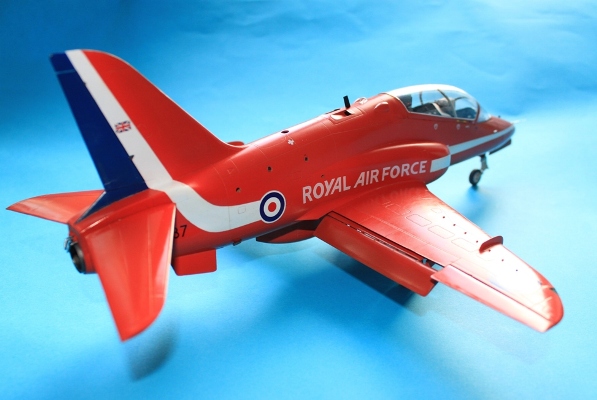 We have already reviewed the first release of this kit in Royal Air Force Red Arrows display team configuration and you can read James V's Here Now review here and the full build by Tom P here – the latter being particularly useful as Tom Potter who built it incorporated scratchbuilt dropped flaps – a notable feature on almost all parked Hawk aircraft. In fact at the time of writing we have already built two of these Revell 1:32 Hawk kits – the second by Dave Coward you can see here.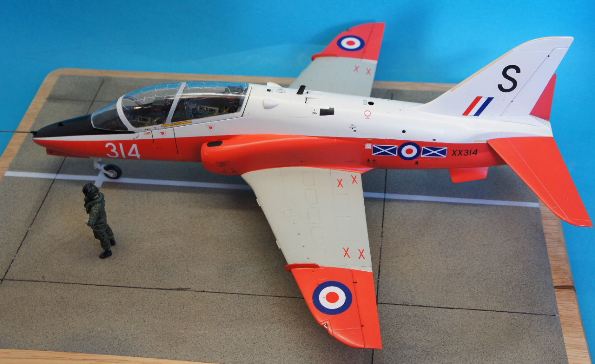 References…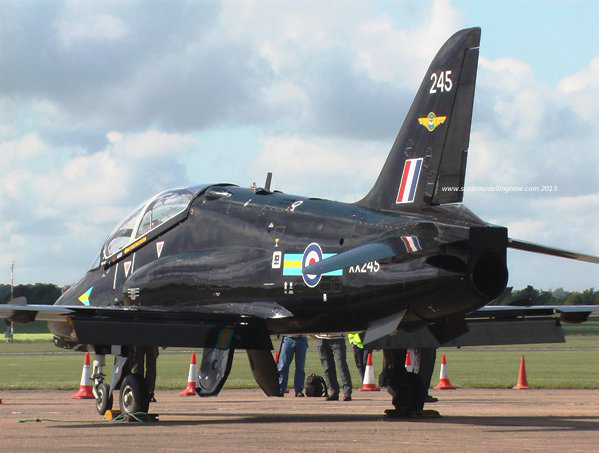 You'll also be pleased to know that you have fantastic walkaround reference photos – inside and out for the Hawk T.Mk.1A in your Photo Reference Library.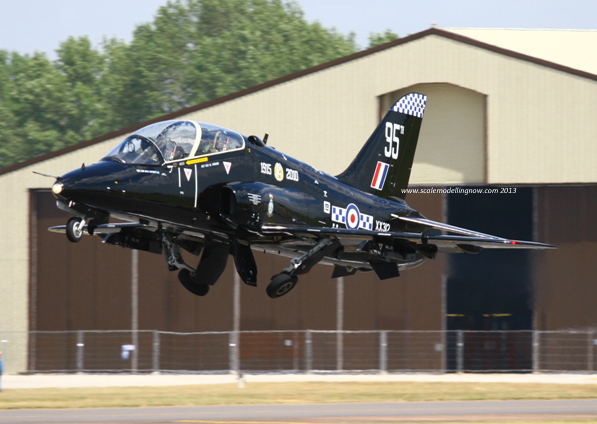 Box and contents…
Revell persist with rather flimsy boxes that are doubtless cheap to produce yet somehow manage to protect the contents although prove less useful during construction; the crushed He 111 box recently received being a case in point here!
So what's inside…?
The grey sprues (red in the Red Arrow boxing) are packaged well and no damage is apparent. Taking the main components first, they are quite well tooled, recessed panel line detail although on closer examination, a somewhat dated feel and a little brittle – much like Hasegawa kits can appear and Monogram too; no distortion was apparent.
Overall shape looks pretty good and when you look at the two completed builds we have (see above) you'll see that this Revell Hawk makes up into a decent model.