Cockpit…
The cockpit looks busy enough with a reasonable seat for the scale and separate instrument and side panels. The moulded raised detail is ok and once you paint and weather these they should look fair enough. The option for an open canopy is included by virtue of the fact the windscreen is split from the large rear section that rises on the real aircraft. There is more detail in the real aircraft and so you have some scope to add plenty of smaller items yourself.
The seats have no moulded harness and Revell would have you add the decals supplied for these but this is poor and not very convincing I'm afraid, so you may wish to go for resin replacement seats, they will make a big difference. Alternatively add your own seat harness?
Other areas…
The elevators are separate, as is the rudder and you can pose these deflected. The main issue I feel is that the flaps that are in two sections always drop when the aircraft is parked (see photo above) and the option for dropped flaps isn't available in this kit. Tom P shows in his build how you can make your own dropped flaps that will look very convincing and I know resin replacement parts will be available by the time you read these words for sure.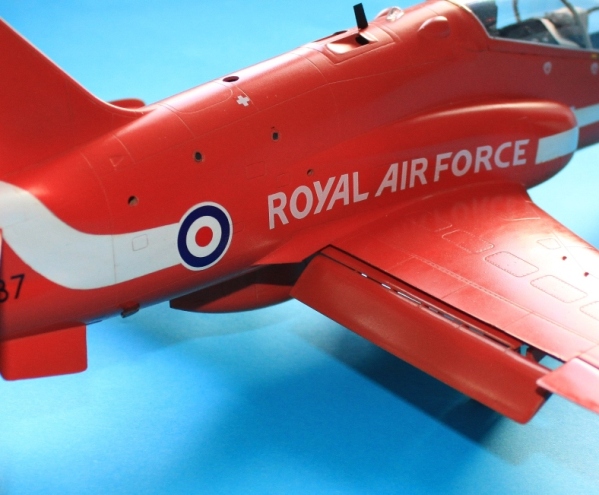 New sprue…
You now get a pair of wing tanks and Matra rocket pods that will enhance the options for finishing your model, especially if you can track down some decals for overseas Hawk operators.
Undercarriage sprues…
The undercarriage legs look fine and they have reasonable detail and will further benefit from hydraulic lines that you can add. A raised lip to the wheel hubs always helps painting and these are included.
Clear parts…
The clear parts look clear, very clear in fact with no defects apparent.
Instructions and decals…
The Revell instructions follow their usual exploded stages format. Location of parts is clear but colour paint coding is for Revell paints only so either use their paints or try to match your own choice of paints. BS colour references are included. The build sequence is pretty standard and logical but many modellers will part company with the stated order to suit their experience.
The decals look to be good quality – certainly good subject choices; stencil detail is also provided and is almost always well worth adding, especially in 1:32 scale to add additional interest to your completed model. All the colours are in register and colour density looks impressive and carrier film limited, so I wouldn't expect any problems with application. The MDC for the canopy (very noticeable on the Hawk) is included on the decal sheet and should work well – also check out our two build articles to see what Tom and Dave did.
Conclusion…
The BAe Hawk is a world success story in terms of sales and are always popular kits; the markings alone should ensure that this re-release sells well and is popular with modellers, especially with those that have an interest in all things Royal Air Force. For your money this Revell package is well worth a look and given the low purchase price you can afford to spend more on accessories.
Recommended for all scale modellers.
Geoff C.