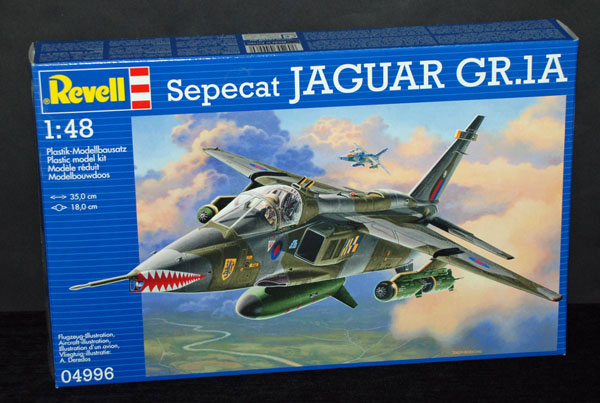 Review by Geoff Coughlin (December 2014)
Price: around £22.99 (GBP)
Kit Ref: 04996
Our thanks to Revell for supplying our review sample. Revell model kits are available from all good toy and model stores. For details visit www.revell.de/en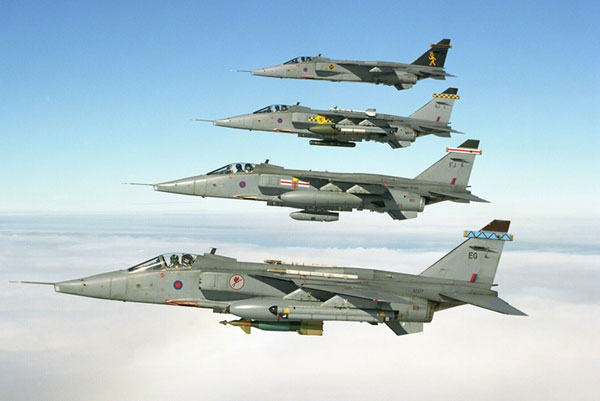 A little bit of background
The SEPECAT Jaguar is an Anglo-French jet attack aircraft, used primarily by the Indian Air Force. Earlier, it was used by the British Royal Air Force and the French Armée de l'Air in the close air support and nuclear strike role. Originally conceived in the 1960s as jet trainer with a light ground attack capability, the requirement for the aircraft soon changed to include supersonic performance, reconnaissance and tactical nuclear strike roles. A carrier-based variant was also planned for French service, but this was cancelled in favour of the cheaper Dassault Super Étendard. The airframes were manufactured by SEPECAT (Société Européenne de Production de l'avion Ecole de Combat et d'Appui Tactique), a joint venture between Breguet and the British Aircraft Corporation, one of the first major joint-Anglo-French military aircraft programmes.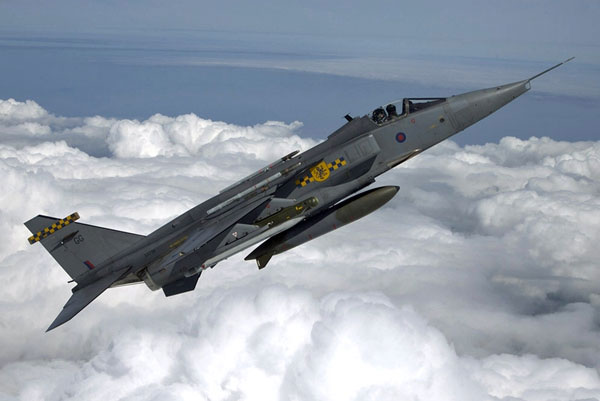 The Jaguar was exported to India, Oman, Ecuador and Nigeria. With various air forces, the Jaguar was used in numerous conflicts and military operations in Mauritania, Chad, Iraq, Bosnia, and Pakistan, as well as providing a ready nuclear delivery platform for Britain, France, and India throughout the latter half of the Cold War and beyond. In the Gulf War, the Jaguar was praised for its reliability and was a valuable coalition resource. The aircraft served with the Armée de l'Air as the main strike/attack aircraft until 1 July 2005, and with the Royal Air Force until the end of April 2007. It was replaced by the Panavia Tornado and the Eurofighter Typhoon in the RAF and the Dassault Rafale in the Armée de l'Air. India plans in the long term to replace its Jaguar fleet with the developing Advanced Medium Combat Aircraft (AMCA).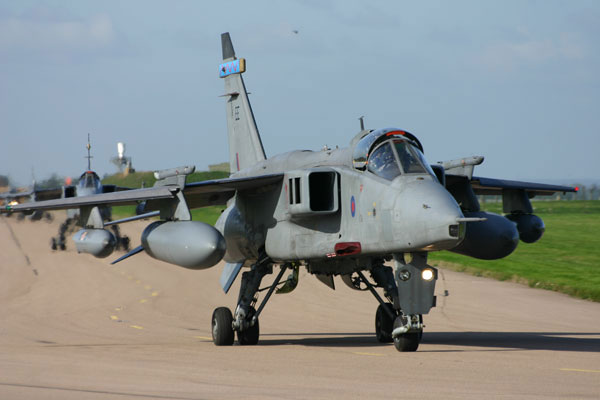 Initial assessment
It's good to see this one back having been originally released by Airfix some years ago. The moulds look to have stood up quite well and most parts are cleanly moulded with just a little excess flash here and there but this was a decent release when first out and it remains so now. I built two of these kits over the years and they look good when completed if you are prepared to put in the work.
Sprues and more sprues
Recessed panel lines are a bit heavy with generally good fit of parts; certainly the end result looks good as you can see from the manufacturer's photos of the completed model attached to this review.
Probably the best thing to do is show the sprues to you here:
So, what do you think? Well, this kit represents the updated release by Airfix with the two drop tanks being the main plus for me. The cockpit is pretty basis with the Martin Baker seat being just about acceptable but you'll have to add a harness from another source. You get decals for the main instrument panels and you'll have to use them or replace the cockpit with one from Aires or add some Pavla aftermarket items – there is a choice available. You may even have the old Paragon resin replacement parts that will add a lot. Choosing to close the canopy is an option and then you could probably get away with most of what's included but not really if you want one raised.
Highlights at a glance:
Subject choice – very welcome additional boxing with excellent new decals
Choice of open or closed canopy
Wheel tyre shape – not perfect but much better and usable, unlike the Kitty Hawk wheels
Good array of weapons – LGBs, AIM-9L AAMs, Recon pod, plus twin drop tanks
Clear parts clear and undamaged
Decal options – two varied choices.
Things to watch and take extra care with:
Some excess flash on most parts, so care needed when cleaning them up
Lack of cockpit detail
Heavy recessed panel lines.
Instructions
These are in classic Revell style with 31 exploded stages.
Decals
Very high quality and a real strength of this Revell packaging.
Option 1 SEPECAT Jaguar GR.1, No.54 Squadron, Royal Air Force, Coltishall, England, Mach 1979
Option 2 SEPECAT Jaguar GR.1A, No.41 Squadron, Royal Air Force, Coltishall, England, September 1987
Conclusion
Well I hope that this Here Now in-box review says enough for you to make your buying decision. The package offers an old kit but with the new decals is worth a good look. I am in the middle of building the Kitty Hawk Jaguar GR.1A (in Build Now as we speak and then Finished Now when complete) and that is proving a real challenge, so for me I would certainly look at this package and make your own choice.
Recommended
Geoff C.
SMN Quick summary Star rating out of 5
| FEATURE | STAR RATING (out of five) |
| --- | --- |
| Quality of moulding | *** |
| Accuracy | *** |
| Level of detail | *** |
| Instructions | *** |
| Decals | **** |
| Subject choice | **** |
| Overall | *** |