Reference: A820133
Airfix Club Limited Edition (available to Airfix Club members)
Review by Geoff Coughlin (Feb 2013)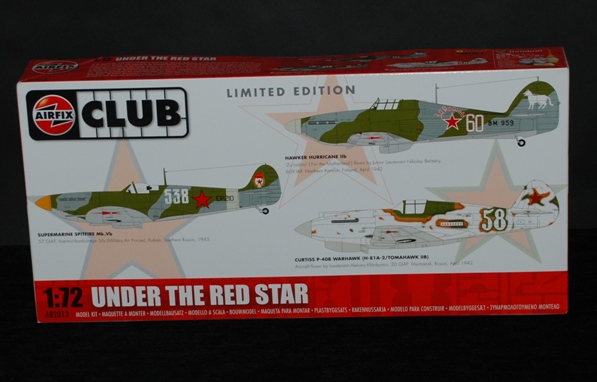 Our thanks to Airfix for supplying our review sample. Check out the Airfix Club here now at: www.airfix.com
Under the Red Flag…
This is the latest Limited Edition release by Airfix to their Club members and includes the three aircraft models you see in this review along with appropriate (and exclusive) Red Star decals for representative aircraft serving on the Eastern Front in WWII.
Ok, so what's in the box?
Three models:
Supermarine Spitfire Mk Vb
Hawker Hurricane Mk.IIb and
Curtiss P-40B Warhawk (H-81A-2, Tomahawk IIB)
Initial observations…
The first thing to say that this is a very mixed bag, mainly because the P-40B Warhawk is excellent, being the relatively recent new-tool that we have already fully reviewed in Here Now and built too that you can find in Finished Now. The Hawker Hurricane isn't bad at all – heavy panel lines but quite a nice model. The Supermarine Spitfire however is a very old kit featuring raised panel lines and one that I remember building many, many moons ago. The kit dates back in fact to 1974 with the date stamp still on the inside of the fuselage! Nonetheless, the decals are nice and together this provides a bit of fresh new life for some of these models.
Supermarine Spitfire Mk.Vb
This is a basic kit that has a decent outline shape and will be ideal for new junior modellers. Take a look at the images and see for yourself.
Hawker Hurricane Mk.IIb
You will immediately see that this is a quantum improvement over the Spitfire included here; ok the panel lines are a bit heavy, but the shape and detail is pretty good. The fabric effect on the rear fuselage is good and pretty much in scale. We've already done an in-depth Here Now review based on these sprues for the Airfix Hawker Hurricane Mk.IIc and you can see the whole review here. Dave C completed a nice build and you can find the full build here.  
Curtiss P-40B Warhawk
A completely different kettle of fish; you can read my full Here Now review created at the time this kit as released by going here. Personally I love the build too and you can see that in full by clicking here. Hope you enjoy them!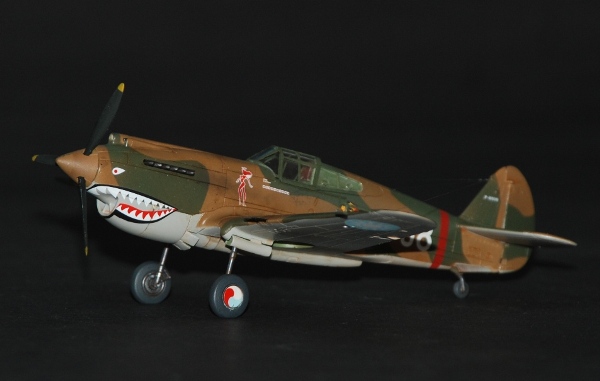 Instructions and decals…
Instructions are very straightforward in simple stages on the fold-out sheet. Colour markings options are nice with colour all aspect diagrams. The decals look to be to current standard and good quality featuring good stencil data and instrument panel decals that are fine in this scale.
Summary…
A fair addition to what's already available and I guess a way for Airfix to extract the maximum from an old tool in the case of the Spit. The Hurricane fairs much better in terms of quality as you see from the photos with the icing on the cake reserved for the Curtiss P-40B that is a very nice model by any standards. Geoff C.