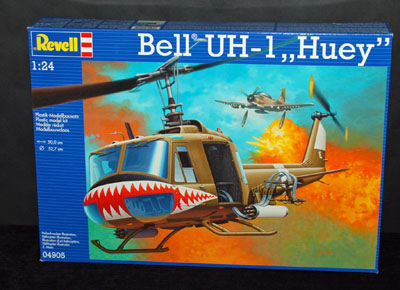 Price: around £26.99 (GBP)
Kit Ref: 04905
Review by Geoff Coughlin (January 2015)
Our thanks to Revell for supplying our review sample. Revell model kits are available from all good toy and model stores. For details visit www.revell.de/en
A little bit of background
The Bell UH-1 Iroquois (unofficially Huey) is a military helicopter powered by a single turbo shaft engine, with two-bladed main and tail rotors. The helicopter was developed by Bell Helicopter to meet the United States Army's requirement for a medical evacuation and utility helicopter in 1952, and it first flew on 20 October 1956. Ordered into production in March 1960, the UH-1 was the first turbine-powered helicopter to enter production for the United States military, and more than 16,000 have been produced worldwide.
The first combat operation of the UH-1 was in the service of the U.S. Army during the Vietnam War. The original designation of HU-1 led to the helicopter's nickname of Huey. In September 1962, the designation was changed to UH-1, but "Huey" remained in common use. Approximately 7,000 UH-1 aircraft saw service in Vietnam.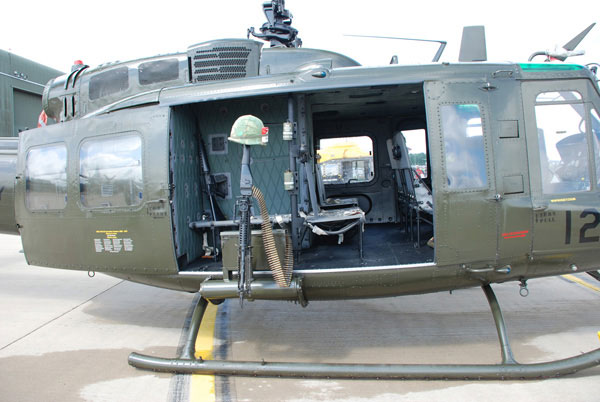 Reference…
Don't forget that you have a good walkaround set of photos covering the internal and external details of the Huey in your SMN Photo Reference Library here on this page.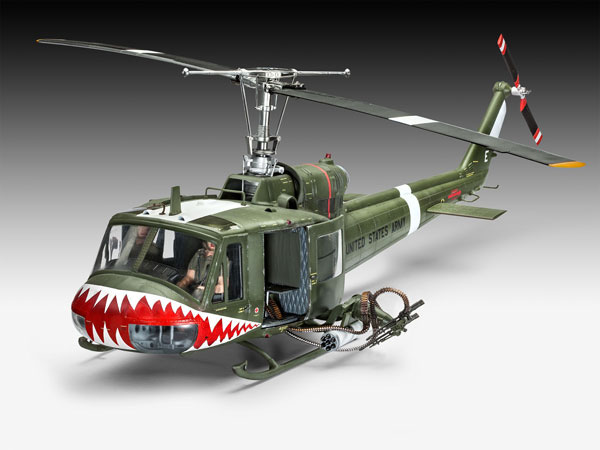 Initial assessment
It's good to see this one back having been originally released many years ago under the Monogram brand. Those were the days… this one would certainly blow you and your mates away in terms of modelling street-cred, I mean look at it… big, brash, well detailed, fun to play with as the rotors work and you can get 'stuff' inside, come on, you just couldn't beat it!
The moulds look to have stood up quite well and most parts are cleanly moulded with just a little excess flash here and there. Lots of rivets across the airframe, but in this large 1:24 scale they don't look to bad. Panel lines are a mix or raised and recessed and some of the latter a bit heavy by today's standards.
Sprues
In my view this was always a decent model and representation on the type – certainly a bit on the basic side, especially in the cockpit but you can add as much detail here as you like, especially given the low price of the basic kit and large 1:24 scale. The fit of parts was good from my recollection; certainly the end result looks good as you can see from the manufacturer's photos of the completed model attached to this review.
Take a look
So, what do you think? Well, overall I'm pretty impressed with what's inside, especially given the relatively low price of the package. The cockpit looks good for detail with most of what is in the original aircraft – main instrument panels are good. You get a decal for the main instrument panel.
Highlights at a glance:
Subject choice – very welcome return and boxing with new decals
Choice of open or closed engine main cabin door
Engine rotor head detail
Clear parts clear and undamaged
Decal options – two varied choices
Simple model to build and within any modellers' capability although it's large scale will be difficult for younger modellers to handle.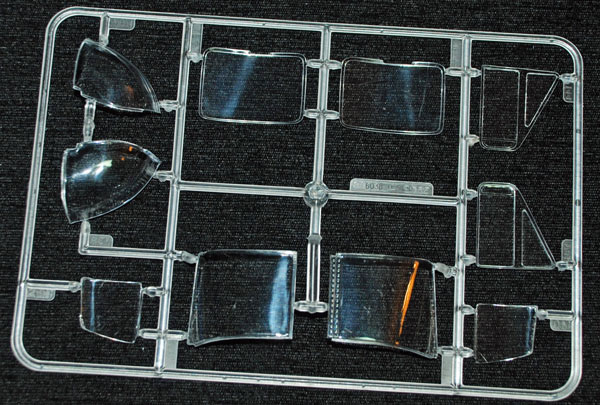 Things to watch and take extra care with:
Cockpit/seat detail lacking but great opportunities for some scratch building
Some excess flash on fine parts, so care needed when cleaning them up
Instructions
These are in classic Revell style with 49 exploded stages no less.
Decals
Option 1: US Army, 174th. AHC, (Attack Helicopter Company) Vietnam, 1967
Option 2: US Marine Corps, Vietnam, 1965
Decal quality is pretty good, the colours are solid with decent opacity; the red looks to be an accurate tone and markings are in register. No need to go to for aftermarket supplies here.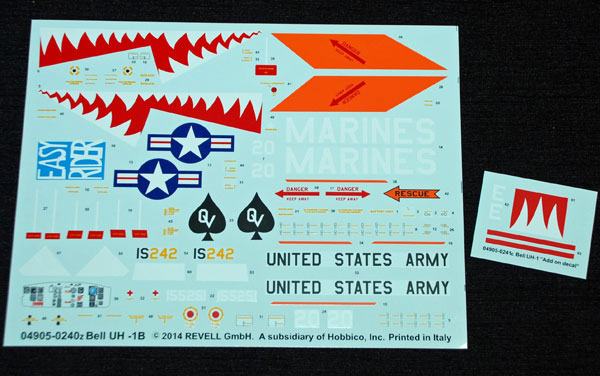 Accuracy
From what I can see the shape certainly looks fine from most of the angles I have tried. After a dry-fit and taping this is unmistakably an accurate-looking aircraft.
Conclusion
Well I hope that this Here Now in-box review says enough for you. The package is clearly well worth the money in my opinion and there is going to be a lot of modelling fun and pleasure for your money.
Geoff C.
SMN Quick summary Star rating out of 5
| FEATURE | STAR RATING (out of five) |
| --- | --- |
| Quality of moulding | *** |
| Accuracy | *** |
| Level of detail | *** |
| Instructions | *** |
| Decals | **** |
| Subject choice | ***** |
| Overall | *** |