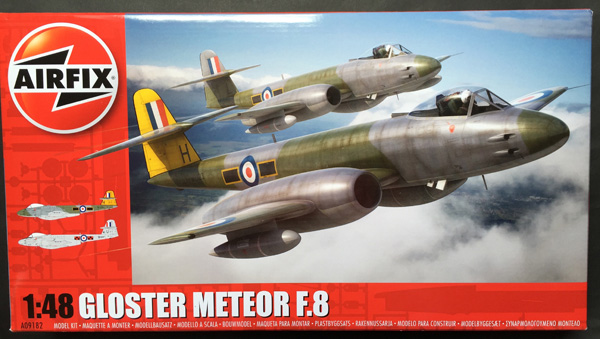 Kit Ref: A09182
Price around £32.99 GBP, $47.14 USD, €42.07 Euros
Review by Geoff Coughlin (March 2016)
See GEOFF'S FINISHED NOW BUILD REVIEW
See DAVE COWARD'S FINISHED NOW BUILD REVIEW
The Airfix kit
I can't believe that in just a few weeks I have had both my kit-want desires granted – first the Lightning T5 in 1:48 (Sword) and now this, the F.Mk.8 version of the Gloster Meteor from Airfix. The F.8 epitomises the type for me and that era of new fast jets – especially British fighter jets of the 1950s and 60s.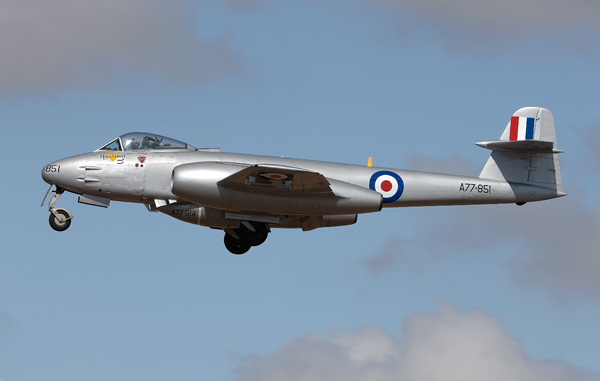 What do you get?
You can see the sprues as well as I can so take a good look at the images and I think you'll be pretty pleased.
Let's start with the plastic
The plastic is just like the manufacturer's other recent releases – slightly soft yet well-tooled light blue-grey parts. Panel line detail is scribed and well done for the scale. Some of the small round lightening holes (in the engine bays for example) will need to be carefully cleaned up although that's a minor observation. No other real excess flash is apparent, especially on the smaller, delicate parts and that's impressive.
Parts breakdown is pretty conventional for a Meteor kit…
Fuselage – general shape looks very authentic and that big 'square' fin will stand out on your model. I have cut the fuselage halves from their sprues and test-fitted them and they fit very well – promising.
Slightly disappointing is the presence of some shallow sink marks on the fuselage halves aft of the gun bays – this definitely isn't the subtle rippling you often seen in the metal skins of Meteors in this area, these are round sink marks that you may be able to pick up in the attached photos. With luck they may just sand out as they are shallow but we'll see.
Main wings – separate upper wing halves split in two horizontally and attaching to the one-piece lower wing section. It's good to see surface detail provided on the wheel bay interiors – speaking of which these are excellent with separate detailed rear walls that combine as wing spars to give the whole wing rigidity.
The rear sections of the wing roots are supplied separately and if these fit as well as the same areas on their C-47 Dakota, I for one will be very happy.
Speed brakes for the upper and lower portions of the wings are separate so you could pose these open, albeit uncommon when the aircraft was parked.
Flaps – are not provided as separate items, being moulded in the closed position.
Rudder / elevators – These are neatly moulded separately so that you can add some interest by slightly offsetting if required.
Cockpit – One of the real strengths in my view – everything is there to make a perfectly representative Meteor F8. In fact, you get two ejection seats, one with and one without a seat harness and this is a great idea to suit all tastes. The side panels are nicely detailed inserts that help to make the whole area look busy and the main panel also has raised details and the decal instrument panel could work very well over this, using plenty of decal setting solution – we'll see.
The cockpit rear decking has some nice moulded detail to add further interest.
Undercarriage – again, another strength in the kit – all the detail is there as far as I can see to make these areas eye-catching. The nose gear assembly is designed with some thought too. The nose cone is separate, allowing the internal nose gear assembly to be added later, along with the separate nose cone. I'll have to see how this works in practice in terms of practicality though as I don't usually add the undercarriage units until very near the end of the project to avoid them getting damaged.
The wheels are supplied with and without tyre-flats and the fact that they are supplied with, is great, the look of the finished model should be greatly enhanced as a result.
Engines – for some this will be the highlight of the kit, mainly because you get two detailed Derwent 8 engines and the wide and narrow engine intakes, although I'm pretty sure you only need the wide ones for the F8. Furthermore… the engines can be mounted on a separate trolley supplied in the kit – how good is that? Both engines seem to be well detailed and additional details are supplied for the engine bays such as bulkheads – really looking forward to getting some of those Alclad2 'Hot Metal' colours going here :).
The engine bay upper wing covers are also supplied as separate parts, so hopefully they will fit snugly so that you can change the appearance of your completed model.
Guns – further delights on offer in these areas too! The twin-cannons on each fuselage side are included as separate items and include some details of the originals like the magazines. The gun bay doors are separate and are designed so that your model can display the guns mounted within. Sensibly, Airfix has only detailed the centre and rear of each gun – the only areas that will be visible on your completed model – clever.
I suppose what I'm thinking at this point and maybe you too… is that if the fit of the doors for all the open panels is good, then that's great – if not… well, we'll see (keep an eye on Build Now – this kit just went to the top of the build priority list and will start imminently in Build Now, so keep a close eye on the SMN What's New page and Build Now).
Fuel tanks – a pair of underwing tanks is included and this will help you create a greater range of finished options using aftermarket decals for different operators.
What you do get in the kit is that great-looking bulged centreline tank, typical of the type in RAF service. Again, it's nice to have the option of whether to include it or not, depending on your chosen subject.
Nose weight – this isn't included and the Meteor. A Meteor F.8 is going to need plenty of weight to stop your model tail-siting. I'll have to see where the weight can go – not so easy at first glance given all that great detail supplied, but we'll have an answer / fix for this in the build you can follow. I remember that Tamiya cleverly included the cockpit tub as a metal part that solved the problem in their Meteor kits, a shame it's not been done this time by Airfix.