Model Set Series including: Glue, paints and brush
Review by: Geoff Coughlin (Jan 2012)
Price: £6.99 approx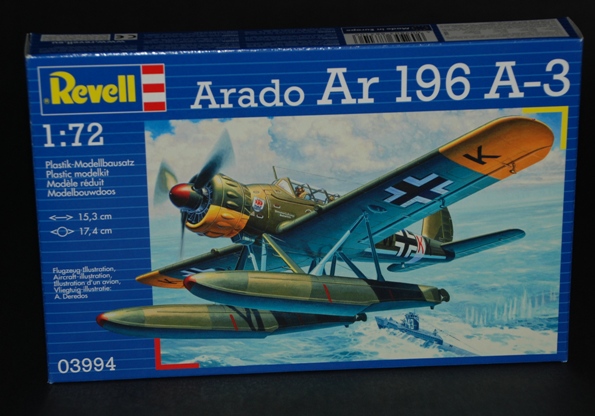 Our thanks to Revell Germany for supplying our review sample. 
Something to get you in the mood…
The Kit
Revell are proving prolific these days, with plenty of new-tool kits being released like the impressive armour subjects such as their Panther Ausf D in 1:35 scale and of course the big cousin of this review subject, the Arado Ar-196A-3 in 1:32 to mention just two.
But it's not just these larger scales that are attracting interest, clearly the smaller scale 1:72 is too, with the Arado Ar-196A-3 seaplane with new decals another new model in this scale.
This kit continues a recent theme, with several smaller 'new' kits in fact older kits repackaged with new, high quality decals.
Box and Contents
Click on thumbnails to enlarge images.
The box artwork is usually impressive and it's good here, showing an Arado Ar-196A-3 overflying an Allied submarine.
The light blue-grey sprues are packaged well as part of this starter set and no damage is apparent. Taking the main components first, they are quite well-tooled, feeling quite hard and brittle-like.
No distortion was apparent and a dry fit of the fuselage promises a decent fit and overall shape looks pretty good. Moving to the wings, they are reasonable in outline shape.
Detail Sprues
The components feature raised panel lines, which won't impress all of you, although the fabric effect but subtlety is as you'd expect with an older moulding. The type will give you plenty of weathering opportunities for sure.
The cockpit is spartan when compared to references, although does include a control column; seat and internal cockpit detail only bear a passing resemblance to the original, with decals supplied for the main instrument panels although this is quite reasonable in this small scale.
The large float detail is adequate, reflecting the original units ok and should be fine in this scale.
Quite a bit of excess flash is formed around most parts that will need to be cleaned up and removed to ensure the best fit possible.
Rear observer/gunner position has the twin MG's but these will either need quite a bit of cleaning up to look convincing or be replaced with aftermarket items.
This kit sits in the pocket-money bracket and so it's fair to say that the kit is surely aimed at the junior and novice market.
You will of course need to add the bracing wires between the floats but there arrangement is straightforward and their addition will add a lot to your finished model. See your Techniques Bank for advice on this kind of addition.
Clear Parts
The clear parts look clear enough with the canopy split into three separate sections. I'm not sure if the sections that should move on the real aircraft will slide over their rear portions, but the parts are commendably thin.
Unless you are prepared to do a lot of work on the interior you may be better closing the canopy and just creating a decent overall impression of an Arado Ar 196A-3 cockpit. Through careful painting of the kit parts and adding some scratched seat belts and a harness it should look quite good.
Instructions
The Revell instructions follow their usual exploded stages format. Location of parts is clear but colour paint coding is for Revell paints only. However, the colour names are provided and this will help you to match your own choice of paints.
Decals
The decals seem good, being newly created and manufactured.
Certainly colour saturation and register is good and all markings are accurate and sharp in their detail. This is probably the best part of the package.
Conclusion
This kit is definitely worth a look if you're a small scale modeller, especially as given the low price you could build a number in different markings by cross-kitting and mixing decals.
| FEATURE | STAR RATING (out of five) |
| --- | --- |
| Quality of moulding | *** |
| Accuracy | *** |
| Instructions | *** |
| Decals | **** |
| Subject choice | **** |
| Overall | *** |
Geoff C.