Ref: A03029
Price around £9.99 GBP
Review by Geoff Coughlin (Aug 2012)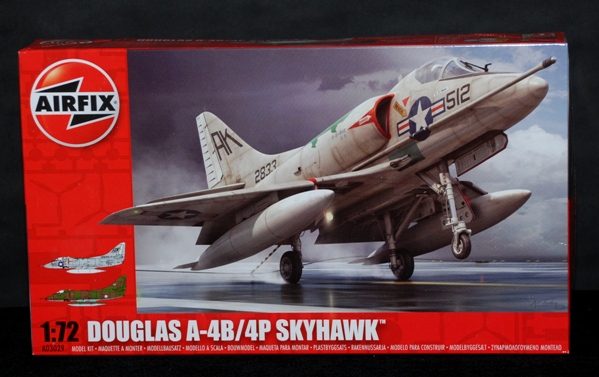 Our thanks to Airfix for supplying our review sample. Get this impressive kit here now at: www.airfix.com
Here's something to get you in the mood…
We have already reviewed this kit back in June this year when it was released as part of the Skyhawk/Sea Harrier FRS-1 Dogfight Double package. My intention here therefore is to include that Skyhawk review again here and make a few additional observations and also provide a completely new set of images showing exactly what's on offer in this package and then it's over to you! 
Reference…
Do check out your SMN Photo Reference Library where you'll find a great detailed walkaround set of images all taken with the scale modellers in mind – some fantastic close ups of all the hard to get at areas like the cockpit and other areas of the Skyhawk airframe.  A-4P Skyhawks are essentially Argentine versions of the A-4B.
Also check this website out for some great reference plus a lot more on the type… http://a4skyhawk.org/2c/productionhistory.htm
Click on each image below to enlarge or reduce:
A-4B (A-4P) Skyhawk – Initial assessment…
First impressions are good as this kit is an all-new tool and that is good news at any time.
Quality…
The sprues are full of well detailed, often very delicate parts that look very impressive. The panel line detail is quite fine, maybe slightly heavy for the scale but very presentable and sharp. Interestingly the panel line detail is slightly finer on this tooling than even the Sea Harrier FRS-1 that accompanies it; that's also a recent tool but just goes to show that Airfix is getting better and better with many of their most recent releases.  No flash to speak off visible and plenty of options for different stores load-outs; this is getting better all the time.
The inclusion of IFR probe, arrestor wire tail hook and delicate undercarriage, not to mention the three drop tanks all go to make an accurate-looking A-4 Skyhawk. The tyres in the Skyhawk kit are not weighted and this is probably a good idea mainly because they were kept inflated to high air pressures making any 'bulging' hard to pick out in some images.
The cockpit tub has decals for the main instruments and this is ideal in this scale, with an ejection seat that's not bad that will be enhanced by the addition of a scratched or etched seat harness and ejection handles.
Options continue with airbrakes open or closed provided and again this is a nice touch.
Dropped wing leading edge slats…
These are a significant feature on most parked Skyhawk aircraft and it's good to see that Airfix has provided these as separate parts. Even better would have been an option for dropped flaps too, but you can't have everything! Especially in 1:72 scale.
Clear parts…
Usefully the front windscreen is moulded separately to the rear portion that can easily be displayed open – nice touch in this scale.
no images were found
Instructions…
These follow the usual exploded stage diagrams and are clear and straightforward. Humbrol paint references are given on the all-colour painting guides included and that's nice to see. Colour names are also given allowing you to match your colours from whatever source you prefer.
Decals…
The scheme is ok but not one of the brightest applied to A US Navy subject, nor the A-4P relating to the Argentine subject. Nonetheless other markings are sure to be available by the time you read these words from the aftermarket companies. Those provided here look good quality like others we are getting now from the manufacturer – just ensure that they go onto a gloss surface and then spray (or paint) gloss varnish over the decals once dry before applying your chosen varnish/finish. I say this because I have been caught out with the slightly matt texture of the decals looking far too obvious if you apply the varnish directly onto them; just something to bear in mind! The decals are in register and colour saturation is good too.
To sum up…
SMN Quick Summary rating out of 5
| FEATURE | STAR RATING (out of five) |
| --- | --- |
| Quality of moulding | **** |
| Accuracy | **** |
| Instructions | **** |
| Decals | **** |
| Subject choice | ***** |
| Overall | **** |
Airfix has done a great job with this package, it embodies so much of what we hoped they would achieve going forward and sets a high standard that we will expect to see in all they do going forward. It's nice that the Skyhawk has been made available separately from the Dogfight Double boxing and will undoubtedly prove popular. Their 4-Star rating above overall sums it up!
Geoff C.