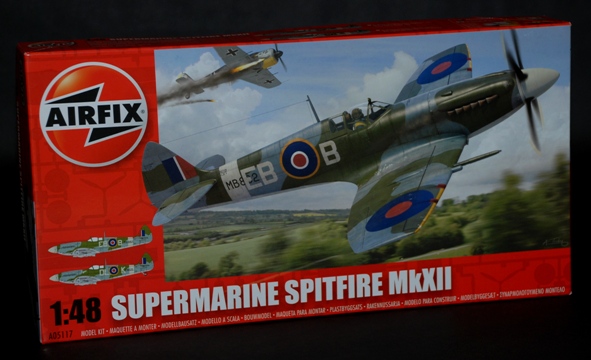 Review By: James Vaitkevicius
See James' FINISHED NOW BUILD REVIEW
Our thanks to Airfix for supplying our review sample. Get this kit here now at: www.airfix.com

Box Art
So here we go, another new tooling from Airfix. I really believe that Airfix have reinvented themselves in recent years, with their kits continually getting better and, I'm pleased to report, this one is no different. Based on the Mk.II airframe, this clipped wing Spitfire, the Mk.XII, was strictly an interim design, and for once (unlike the Mk.V and Mk.IX) did not enter mass production. Only 100 were built, equipping two squadrons – No.41 received its Mk.XIIs in February 1943 and No.91 in April 1943.
The artwork on the box is, as with the recent Airfix artwork, superb and captures the imagination of the buying public once again. The Mk.XII kit has 98 pieces with the options to model the Spitfire with both 41 and 91 Squadrons, with a few optional parts such as wheel wells and the option to have the flaps open or closed, raised or lowered tail wheel and weighted or unweighted wheels.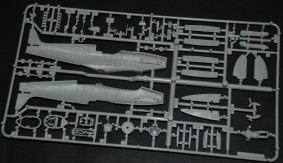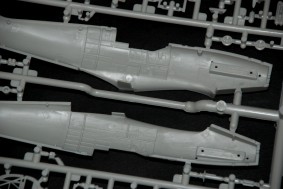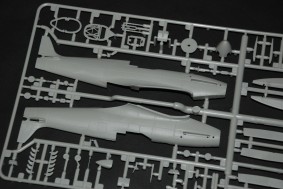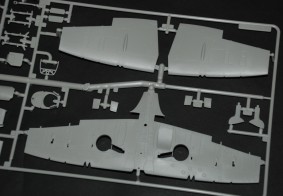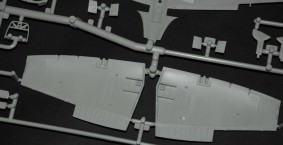 What's in the Box?
You are greeted with two grey sprues and one crystal clear sprue with the canopy and gun sight attached. It has become the norm with Airfix kits of late to be accurately moulded, with no flash on the sprue either. The recess panel lines on this kit are also highly accurate. I like the fact that the kit has options that differentiate it from other 48th Scale kits in the past; simple things such as weighted wheels and different flap positions are a nice touch.
Further Inspection
One thing you immediately notice is the level of detail that the kit has. Details such as an adequately detailed cockpit and wheel bays make this an interesting kit, especially for those on a budget, as well as for all of you out there who just love this type.
Cockpit
A fairly basic and sparse cockpit is included, but it seems adequate. There is also plenty of scope for the more experienced model makers to paint/scratch build their own parts. But for a 1:48th Scale model I think this is pretty good. The dials can be picked out and detailed. The seat itself is moulded in one section but looks the part. No seat harness is included but I think this is the standard for most plastic model kits anyway. I must admit I am really impressed with the pilot as well. Really detailed, with his shirt and tie clearly visible.
Undercarriage
A good point is that the kit includes both weighted and non-weighted wheels and also two types of hubs are included. The tail wheel can either be made as a retractable or non-retractable unit.
Control Surfaces
The options to have the ailerons, rudder and tail all be positionable are available, so top marks here. Again the panel lines, fuel ports, and gun bays are clearly marked.
Clear Parts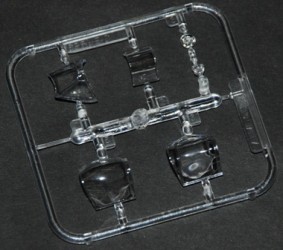 Nice looking these – very clear, crisp parts, look thin for the scale and very shiny. I'm sure with a coat of Klear, these will look immaculate. Top marks Airfix!
Instructions, Decals and Painting Guide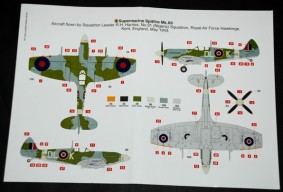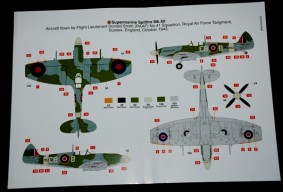 Included in the kit is an A4 sheet detailing both Spitfire aircraft from 91 & 41 Squadron, giving a great visual layout of decal position and colour schemes. These are all colour and it's good to see the colour painting guide back.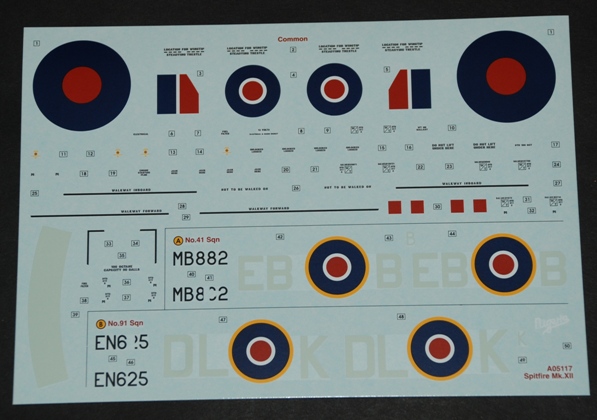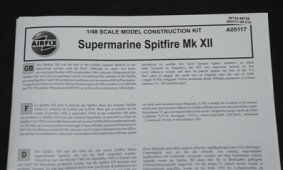 The instructions are also well produced, methodical and clear, as you would expect from Airfix with 43 sequences.
Summary
A welcomed kit in the modelling world; I think that this kit couldn't have previously been made straight out the box in this scale without buying two kits, so I think it will be welcomed. I also believe that it has enough detail and options to keep both the novice and the expert builders happy with its superb mould quality and details.
In truth, it looks an absolutely awesome little kit to build.
Highly Recommended.
James V.