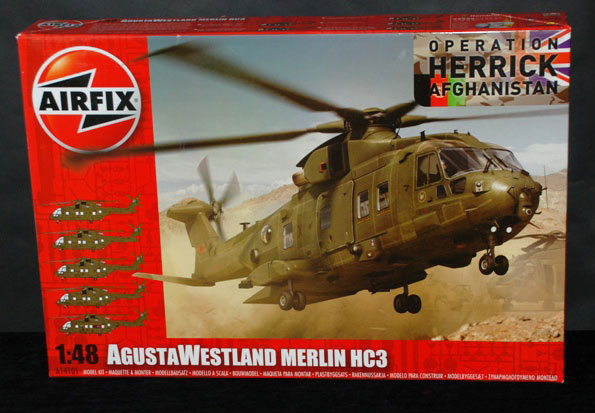 Price around: £56.99 GBP (Airfix product code: A14101)
Reviewed by Geoff Coughlin (Jan 2013)
Our thanks to Airfix for supplying our review sample www.airfix.com
A good short video to get you in the mood for your build!

Want to know more about the Merlin HC3 and its mission – check this video out…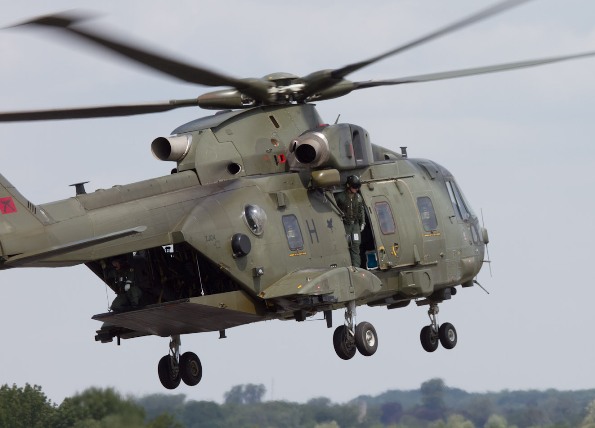 Reference
The good news is that as I write this review we are about to load a photo reference set into your SMN Photo Reference Library, so keep an eye on What's New to see that! This set isn't quite complete yet, mostly covering the external features of the Merlin HC3 in detail, with only partial internal coverage. As soon as we get further internal pics I'll rework the set for you to include these also.
Initial thoughts
I like big boxes and the one that arrived from Airfix this time is certainly that, then the AugustaWestland Merlin HC3 is a big helicopter, especially in 1:48. Stunning box art continues to adorn the front of most new Airfix kits and, as you can see in the pics attached to this review, this is again the case – how evocative is that?
It won't have escaped your notice that Airfix has released several innovative models as well as patrol figures in 1:48 scale to compliment this Merlin HC3: Lynx helicopters, Snatch Land Rovers, Supacat Coyote and Jackal armoured vehicles are all currently available making for some excellent diorama possibilities.
Ok, so what's in the box?
A box full of light grey sprues, four large sprue trees house all the main parts with the usual separate clear sprue containing clear parts (more of these later).
The plastic has a good feel to it, quite smooth and on the softer side of hard. Having built several recently manufactured kits by Airfix this plastic is very similar and is easy to trim, sand and work with. Panel line detail is recessed and in 1:48 scale looks pretty good to me, better in this scale looking more realistic than the slightly heavy engraved detail on some recently tooled items from this source. The sprue gates are still on the thick side, although better than on some of the other recent releases (see the final image in the Gallery Grid below).

Fuselage
It's enormous – bigger than I had imagined, even after seeing the test shot at Telford at the back end of last year. This is going to make up into one impressive helo! The panel lines are definitely better on this model than of late so this will please many of you.
Interior
Levels of detail inside this fuselage are excellent: seating for both sides of the interior, detailed floor and ramp, positionable doors and door-mounted guns. A highlight is the creased fabric effect of the side walls that although buried deep inside your model could look good when viewed through an open door or peering in from the rear ramp.
Cockpit
Moving forward, the cockpit has plenty of detail you'd expect to find like control columns and instrument panels and will make up into a perfectly reasonable representation of the real thing. The raised detail on the panels will show up well and some decals are included for the interior, but not the main panels. The cockpit seats are nicely detailed and you'll only need to add some seat straps to finish them off.
Undercarriage
These will look good with slightly bulged main wheel tyres that are pretty prominent on the type. The main gear legs have sufficient detail.
Rotor blades and hub
The shape of these huge blades looks accurate from the pics I have seen and they are nicely moulded too. The main rotor head also is made up of multiple parts and will look realistic on your model. I guess you can always add further wiring to suit.
Clear parts
On the face of it the clear parts look just that, very nice but on closer examination the parts supplied in my sample had unsightly 'cobweb' hair line defects right across the main windscreens as well as side windows. This is poor and not easily remedied, so I have asked Airfix for replacement parts. This is a production sample so others of you may also encounter this problem, so do check what's supplied.
Instructions, decals and painting guide
The instructions are logical and well laid out. Each option is clearly identified and you are reminded as you go what parts are appropriate depending on your choice of markings/finished subject.
Five different aircraft are featured with this release, all in the usual Dark Green overall camo scheme:
 ZJ138/X No.28 (AC) Squadron 1419 Flight Joint Helicopter Force (Afghanistan), Camp Bastion, Helmand Province, Afghanistan, 2010
ZJ124/H Flown by Flt Lt. Kevin Harris DFC Incident Response Team (JRT) Joint Helicopter Force (Iraq) Operation TELIC, Basrah, Iraq March 26 2008
ZJ118/B No.28(AC)/78 Squadron, Salisbury Plain Training Area (SPTA), UK April 2012
ZJ133/R "Splat!" No.28 (AC) Squadron
ZJ126/K No.28/78 Squadron, RAF Benson, UK November 2011. Aircraft carries the serial and codes of Halifax Mk.III LV905 EY-W "Willie" No.78 Squadron that crashed at Hank, Holland 25 May 1944.
The decal sheet is well printed with all markings/colours in register. Quality looks good although due to the great many stencil data markings you'll need a very glossy finish to ensure no silvering of the carrier film. What's great is that all the markings are included – good news!
Summary
A good addition to what's already available in this Airfix Operation Herrick themed range. The recessed panel line detail, interior fit and bulged tyres are all positive, as is the choice of decals. There is plenty of model for your money, despite some of the early eyebrow raising I have already heard on the release price – this is a large model and fairly priced in my opinion. Less impressive are those defects on the clear parts and I just hope that a replacement will be forthcoming – more importantly that this is a one-off example issue and not something that affects all the early kits.
With Italeri recently releasing a lovely Wessex helicopter and of course the excellent Airfix Lynx helos last year, time are looking very promising for chopper fans!
Highly recommended
Geoff C.
SMN Quick Summary Rating out of 5
| FEATURE | STAR RATING (out of five) |
| --- | --- |
| Quality of moulding | ***/**** |
| Accuracy | **** |
| Instructions | **** |
| Decals | **** |
| Subject choice | ***** |
| Overall | **** |