Ref: 04412
Price around £30.00 GBP
Review by Geoff Coughlin (Jul 2012)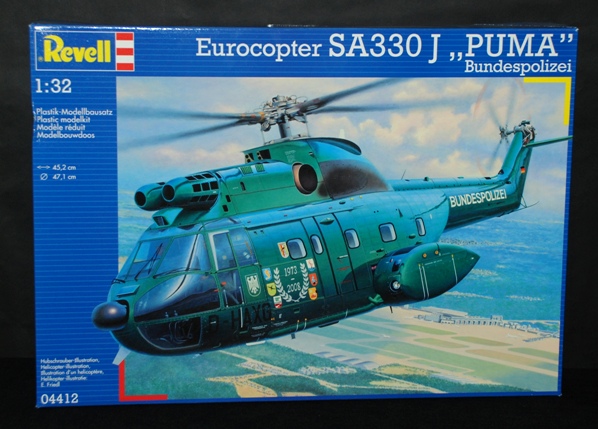 Our thanks to Revell for supplying our review sample. Revell model kits are available from all good toy and model retailers. For further information visit www.revell.eu or email ukbranch@revell.de
Good movie to get you in the groove to take on the big Revell kit!
Reference pics in your Photo Reference Library…
Do check those out, some great RAF Puma walkaround pics covering the internal and external details of the type.
A little bit about the type…
The Aérospatiale SA 330 Puma is a four-bladed, twin-engined medium transport/utility helicopter. The Puma was originally manufactured by Sud Aviation of France. In 1967, the Puma was also selected by the Royal Air Force (RAF) and given the designation Puma HC Mk 1. As a result of this decision, the SA 330 was included in a joint production agreement between Aerospatiale and Westland Helicopters of the UK, which also resulted in the purchase of Aérospatiale Gazelle by the United Kingdom and the Westland Lynx by France. This resulted in Westland building components for the Puma, and assembling the RAF's Pumas.
The first of two Puma prototypes flew on 15 April 1965. Six pre-production models were also built, the last of which flew on 30 July 1968. The first production SA 330 Puma flew in September 1968, with deliveries to the French Army starting in early 1969.
Production of the SA 330 Puma by Aérospatiale ceased in 1987,by which time a total of 697 had been sold.The Puma was then replaced in production by an upgraded and improved version, the Eurocopter AS332 Super Puma.
The Revell Kit…
This is an old kit by any standards but, having said that makes a welcome return nonetheless. I can't remember when I first saw this kit, originally released by Revell a long while back, but it's unlikely (never say never!) to be re-tooled by any other manufacturer.
Box and contents…
Revell persist with rather flimsy boxes that are doubtless cheap to produce yet somehow manage to protect the contents although prove less useful during construction. Having said that, the artwork is usually impressive enough and that's the case here – an image of a Bundespolizei machine sweeping over the German countryside – great stuff.
So what's inside…?
The green sprues are packaged well and no damage is apparent, although the large clear canopy sprue is loose in one of the main bags and has picked up some minor scratches. Taking the main components first, they are quite well tooled, although the rear boom is moulded separately and will need careful alignment. Recessed panel line and raised rivet detail abound and have a dated feel and feels brittle. No distortion was apparent although there is a lot of flash on any of the parts that's hardly surprising given the age of the moulds and this will need careful removal.
The cockpit looks busy enough with reasonable moulded seats and other cockpit detail like the instrument panels and decals provided on the decal sheet for the main instruments. The moulded raised detail is pretty good and I would be tempted to paint the panels and go that route, adding some nice subtle dry-brushing to enhance the detail. This is 1:32 scale and the cockpit is largely on show, so it's worth making the effort for sure.
Undercarriage sprues…
The wheels and undercarriage units are a feature of the type and look ok, but will be helped by adding additional details. I'm also not too sure if the model doesn't sit 'high' so that's worth checking.
Clear parts…
The clear parts look clear and no moulding defects apparent – just the few scratches mentioned earlier.
Instructions and decals…
The Revell instructions follow their usual exploded stages format. Location of parts is clear but colour paint coding is for Revell paints only. The build sequence is pretty standard and logical but many modellers will part company with the stated order to suit their experience. Also, if you are planning on building one for the RAF version or other operator there will be some mods required, so be prepared for that.
The decals look to be good quality – certainly different subject choices than offered previously. Stencil detail is also provided and is almost always well worth adding, especially in 1:32 scale to add additional interest to your completed model. All the colours are in register and colour density looks impressive and carrier film limited, so I wouldn't expect any problems with application.
Conclusion…
This is a great subject should sell well and be popular with modellers, especially with those that have an interest in choppers. The inclusion of different colour schemes on Revell's decal sheet is a bonus and of course the model itself looks to have stood the test of time quite well. Moulding is ok and the panel / rivet detail not too bad.
SMN Quick Summary rating out of 5
| FEATURE | STAR RATING (out of five) |
| --- | --- |
| Quality of moulding | *** |
| Accuracy | *** |
| Instructions | *** |
| Decals | **** |
| Subject choice | **** |
| Overall | *** |
Recommended
for all scale modellers.
Geoff C.