Model Set Series including: Glue, paints and brush
Price: £15.99 approx
Review by: Geoff Coughlin (Mar 2012)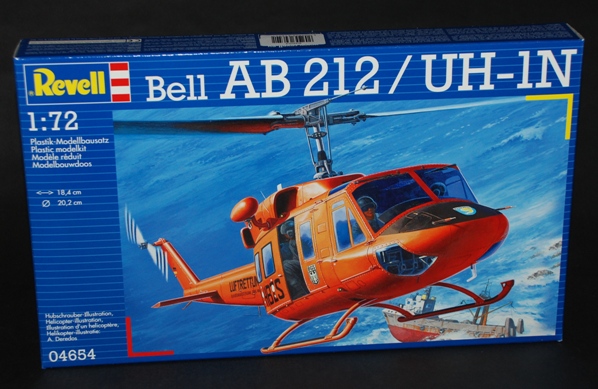 Our thanks to Revell Germany for supplying our review sample. 
A couple of bits to get you in the mood…!
The Kit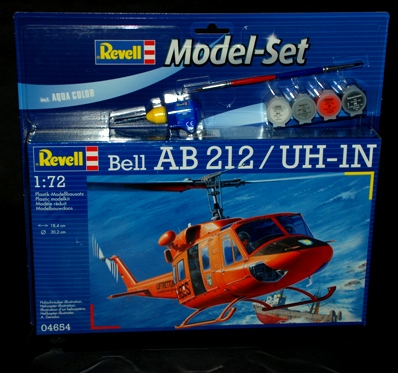 There seems to be a big current programme of re-releases of older tooled models from the 'big R', and this new Huey (sorry, this shape of helo will always be a Huey to me!) is an older tool, packaged with new decals and the painting accessories seen above.
Box and Contents
The box artwork is usually very good and it's impressive this time, featuring an Augusta Bell 212 on SAR duties above a stricken cargo vessel. Let's go inside…
This time white sprues again, packaged well as part of this starter set and no damage is apparent. Taking the main components first, they are quite well tooled, feeling quite hard and brittle-like.
No distortion was apparent and a dry fit of the fuselage promises a decent fit and overall shape looks pretty good. Detail is above average for an older 1:72 scale model.
Detail Sprues
The components feature mostly recessed panel lines and this may not impress all of you, although they are a bit over scale and not as fine as, say, the newer kits from this manufacturer.
The trick in this scale I think is to not go overboard on the weathering and start accentuating the panel line detail too much as it may look unconvincing, especially in such a small scale.
The cockpit is reasonable, featuring seats, control sticks and a good texture to the floor that will weather up nicely.
Decals are also supplied for the main instrument panel, although there is raised moulded detail that you can paint; this is quite reasonable in this small scale. The undercarriage skids are distortion-free, reflecting the original units quite well.
Some excess flash is formed around a few of the parts that will need to be cleaned up and removed to ensure the best fit possible. The main and tail rotor blades are commendably thin and should look very convincing on your completed 'Huey'.
Another nice touch is the option for an open fuselage (check out the video above) and the detail supplied can make this area look busy enough, especially if you add a few bits and bobs.
This kit looks a little pricey, but given the accessories will be eye-catching, especially given that bright orange box art!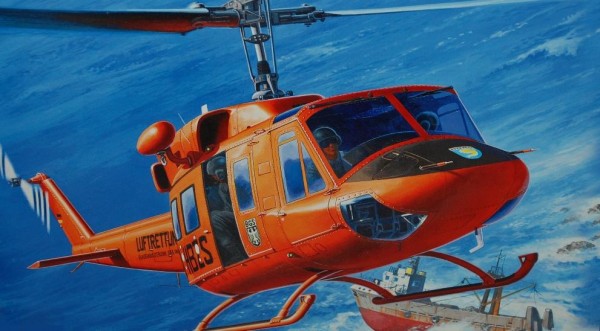 Clear Parts
The clear parts look clear enough, with the windscreen canopy moulded as one piece.
Instructions
The Revell instructions follow their usual exploded stages format. Location of parts is clear but colour paint coding is for Revell paints only.
However, the colour names are provided which will help you to match your own choice of paints. This is a basic model and so should present little difficulty in working out where all the parts are located, even for inexperienced modellers.
Decals
The decals seem good, being newly created and manufactured. Certainly colour saturation and register is good and all markings are accurate and sharp in their detail.
This is probably the best part of the package; good quality decals will make a world of difference to your completed model. It's nice to have the option of a US aircraft.
Conclusion
Basically, if you are into small-scale modelling, then this kit is worth a look, especially as given the low price you could build a number in different markings by cross-kitting and mixing decals.
If you're prepared to spend a lot of time, you can get good results.
| FEATURE | STAR RATING (out of five) |
| --- | --- |
| Quality of moulding | *** |
| Accuracy | *** |
| Instructions | *** |
| Decals | **** |
| Subject choice | ***** |
| Overall | *** |
Recommended for all inexperienced and small-scale modellers.
Geoff C.