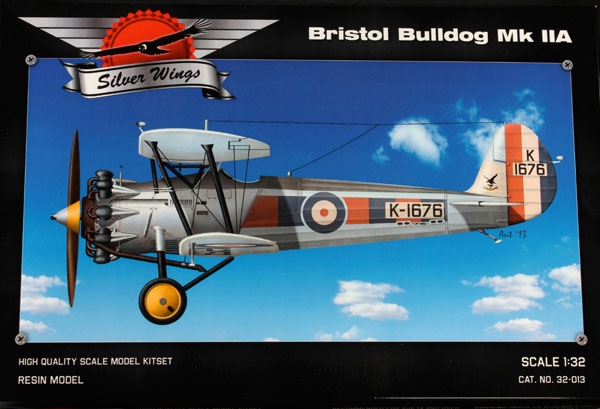 Price: around £127.00 GBP
Review by Julian Seddon (November 2013)
Our sincere thanks to Silver Wings for supplying our review sample. Get this excellent kit here now at: www.silverwings.pl
I have transferred the brief history supplied as part of the instructions to this review.
The Bristol Bulldog was a single seat biplane fighter of the inter-war period and one of the most famous aircraft used by the RAF during that time. The prototype Bristol Bulldog first flew on 17 May 1927 and the Bulldog Mk II entered service with the Royal Air Force with No. 3 Squadron in May 1929, replacing the Gloster Gamecock and Armstrong Whitworth Siskin fighters then in frontline use. The Bulldog served with virtually all RAF squadrons, and carried a wide variety of colorful markings. Often remembered for spectacular aerial formation displays at the annual Hendon RAF competition, the Bulldog finally disappeared from front line service in July 1937 when No.3 Squadron traded in their Bulldogs for Gloster Gladiators.
Powered by a Bristol Jupiter VIIF radial piston engine producing 490 hp, the Bulldog IIA had a maximum speed of 178 mph. The Bulldogs superb maneuverability and ease of handling made it very popular with its pilots. A total of 441 Bulldogs of all marks were produced for the RAF. The Bulldog never saw combat with the RAF but due to its cheap sales price, several foreign customers ordered Bulldogs, including Sweden, Siam, Latvia, Japan, Denmark and Finland, with one Bulldog tested by the US Navy. The Finnish Bulldogs fought the Soviets during the Winter War, while the Spanish aircraft served at the outset of the Spanish Civil War on the Republican side. The Bristol Bulldog was replaced in RAF service by the Gloster Gauntlet.
The Silver Wings kit
This has been on the cards for a while now and at last it arrived from Poland this week. Packed in a well-padded parcel, the kit box emerged in perfect condition despite having travelled across Europe.
Bright artwork increases the desire to see what is inside.
The contents (and there a lot of them) are packaged separately, each package basically containing the parts relevant to the section of the plane being built. Considering how delicate some of them are Silver Wings really have packed it well as there was nothing damaged at all.
The fuselage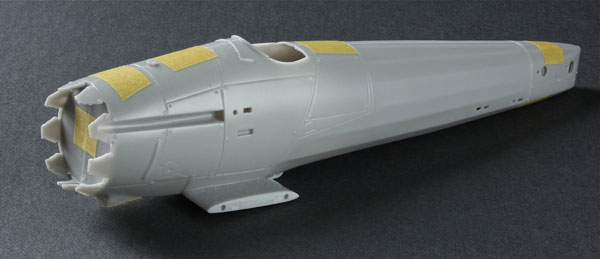 This arrives taped together, showing a pretty good fit. It is a sturdy piece of casting and the detail is not overdone. There are plenty of parts that are attached to this. The metal part of the actual aircraft is the front half and this is polished aluminium, so, out with the Alclad!
Wings and tailplane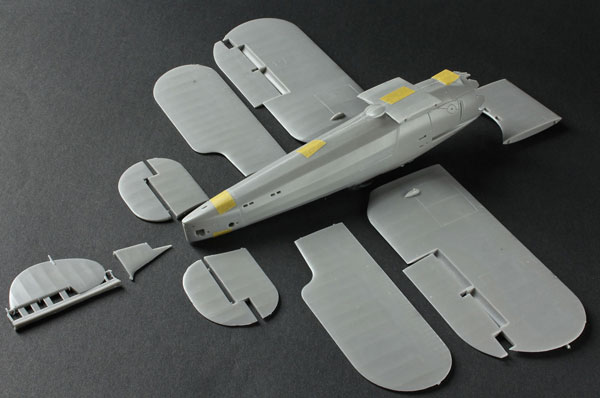 ZOOM - Move your mouse over image
I have set out all the flying surfaces both upside and underneath. These are good solid pieces of resin, they don't have much flash on them so clean up will be easy.
There are indentations indicating the position of the struts, which will have to be drilled out a bit more to fix them. No problems anticipated there.
I am sure that detail on the rudder will be obliterated in my big hands!