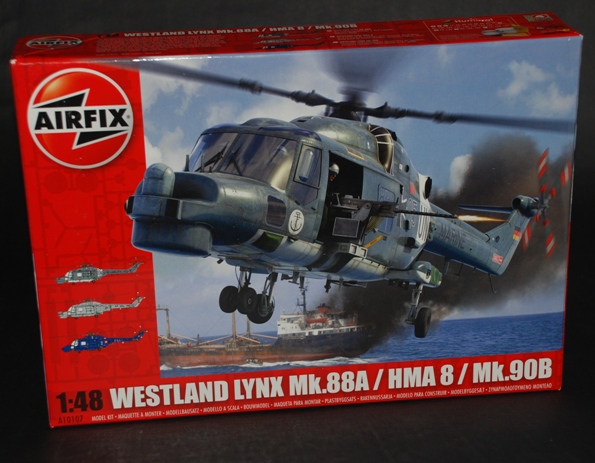 Review by: Geoff Coughlin
Price: £32.99 (Apr 2012)
See our FINISHED NOW BUILD REVIEW
Our thanks to Airfix for supplying our review sample.   
Something to get you in the mood!
Background
We've already reviewed the AH-7 Westland Lynx, which will give you a pretty good idea of what to expect with this, one of the two naval releases of the kit.
It's truly amazing that we've been hit with three new kit releases of the Lynx in the different guises all at the same time. Happy days indeed!
Reference
There's also a few images of the Westland Lynx AH-7 in that Here Now review and here's some more of Jamie's 'Evelyn' to get you started…
Overview and Initial Impressions
As I mentioned, all three of these kits have landed in our office together and here I want to look at the Westland Lynx Mk.88A, HMA 8, Mk.90B, which is bound to be very popular with modellers from across the world, especially Europe, given the decal choices supplied.
The box art is very impressive, as are all the box tops for these releases and immediately you can see the differences between the Navalised and British Army versions.
These differences are immense, to the point that the HMA.8, for example, almost looks like a completely different aircraft with all its lumps and bumps, not to mention wheels instead of skids!
The box is jampacked with sprues and so many parts it's hard to think that they will all be needed. Most will, but there are various options like folded rotor blades and stores that depending on your choice of fit-out may or may not be needed.
Levels of detail, most notably in the cockpit, rotor and inside the main fuselage look stunning. I strongly recommend that you take a look at this model, if, like me you like the type because this is an impressive bit of kit.
Note too the price of this release compared to the British Army AH-7; it's a little more expensive because of the extra options such as: Folding rotor blades and rear tail rotor unit, different airframe fit-outs with loads of lumps and bumps and options that add to the parts tally a fair bit.
Click on the thumbnails to enlarge the images and explore the kit parts!
9 sprue trees are included (including the clear one) that fairly represents the parts needed to make a model of the Lynx helicopter aircraft in 1:48 scale.
The panel line detail is crisp, recessed with plenty of raised detail typical of the type, like rivets and strengthening plates.
Cockpit
The cockpit has a pair of seats that look quite good, thinly and delicately moulded that feature moulded in seat straps but if carefully painted should look ok, or, as I suspect, many modellers will shave off and add their own replacements.
The main instrument panels are addressed using decals and I think that is quite acceptable for this scale, given what you'll be able to see from the outside looking in.
The seat backs are beautifully moulded with lots of detail and throughout this area you have the feeling that it's going to look superb when painted and finished.
Fuselage Interior…
This is simply excellent – especially that fabric-effect quilted material for the inside walls and ceiling.
Add to that the seats, M3M .50 cal MGs and you are going to have a highly detailed interior that will be seen very well through the open doors – another nice option.
Canopy
The canopy glazing is clear and blemish-free – another good feature.
The clear parts are amongst the clearest I've ever seen on a model. Small holes are present in the top of the main windscreen to allow you to fit the windscreen wipers, another neat touch.
Rotor assemblies, Engines…
These look pretty accurate with the complex shape of the main composite blades captured very well with fine edges that will look highly realistic.
Head detail on both the main and tail rotors is excellent and all looks to be very authentic and well researched. A great option to have these folded is included.
Other Observations…
The Sea Skua missiles, MGs and other small details throughout the kit, plus high quality tooling across the board, promise much and the opportunity to build more than one Lynx if you decide to acquire further kits.
Decals
These look good and high quality, including all the stencil markings too. You'll need to make sure they are applied to a high gloss finish and then applying the varnish tone you want.
Made by Cartograf, these are high quality decals. Watch the carrier film on the codes.
Looking at them, you might want to trim the carrier film away as close to the actual marking as possible to reduce the chance of a 'silvering' effect where the carrier film shows through on your finished model.
An option can be to apply the decals to a gloss finish, then when dry apply a coat of gloss over the dry decals before applying your final varnish – this should ensure the decals look like marking pained onto the surface.
Micro Sol and Set are a must here to make sure the decals conform to the surface and pull down well over all that raised rivet detail.
Markings are included for 3 Westland Lynx helicopters:
Mk.88A Marinefliegergeschwader 3 "Graf Zeppelin", Lebanon 2006
Danish Navy Air Squadron, anti-piracy operations HDMS Absalon L-16 (2009)
815 Naval Air Squadron, HMS Somerset, Royal Navy, Naval Air Station Yeovilton, Somerset, England 2010
Full stencil data is included.
Instructions
Classic Airfix fold-out sheet with the usual exploded stage-style diagrams.
The stages seem very clear with options applicable to the various aircraft featured on the decal sheet clearly marked so that you end up with an authentic Lynx. The decal instructions are superb, on colour fold-out sheets with clear, unambiguous location of the main decals and stencils.
What's the Verdict?
Well, I've got to say I'm impressed; it looks very good and certainly worth the wait. Much higher quality than you'd usually expect to find on a model from this manufacturer in this scale.
Manufacturers like Eduard have set a very high bar recently and this new model from Airfix is designed for anyone interested in the type and comes with high levels of detail, is accurate and contains great quality decals.
Personally I can't wait to see how this kit builds up. We have one build about to start in Build Now as I speak, plus 2 more very soon after that and so all three releases will be built in full here in your SMN in the near future!
| FEATURE | STAR RATING (out of five) |
| --- | --- |
| Quality of moulding | **** |
| Accuracy | **** |
| Instructions | **** |
| Decals | ***** |
| Subject choice | ***** |
| Overall | **** & a half |
Highly Recommended.
Geoff C.