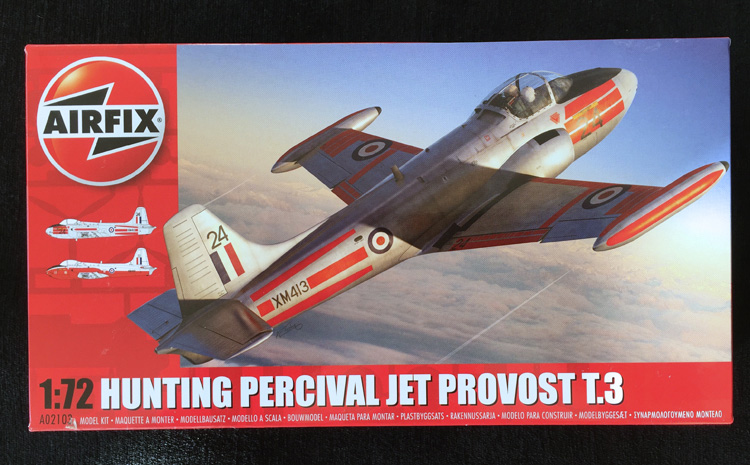 Kit Ref: A02103
Price around £9.99 GBP, $12.66 USD, €11.73 Euros, $16.91AUS
Review by Geoff Coughlin (December 2016)
The Airfix kit
Long may this 'policy' of releasing new-tool kits of iconic Airfix types, kits and subjects continue. This time we've got a lovely little JP T.3/T.3A.
What do you get?
You can see the sprues as well as I can so take a good look at the images and I think you'll be pretty pleased. The aircraft is necessarily simple and straightforward in 1:72 scale. All you may feel you want to add is some extra detail in the cockpit as this area is very visible, especially if you have the large canopy slid open.
Let's start with the plastic
The plastic is just like the manufacturer's other recent releases – slightly soft yet well-tooled light blue-grey parts. Panel line detail is scribed and well done for the scale. Some of the small round ejector-pin marks will need to be carefully cleaned up although that's a minor observation. No other real excess flash is apparent, especially on many of the smaller, delicate parts.
Parts breakdown is pretty conventional for a JP kit.
Fuselage – general shape looks very authentic and those nice wing tanks will stand out well on your model. I have cut the fuselage halves from their sprues and test-fitted them and they fit very well. There is some internal cockpit detail moulded onto the side walls.
Main wings – separate upper wing halves split in two horizontally and attaching to the one-piece lower wing section. Cleverly, the main wheel bay doors have been moulded closed – as they would appear on a parked JP.
Flaps – are not provided as separate items, being moulded in the closed position.
Rudder / elevators – The rudder is moulded separately so that you can add some interest by slightly offsetting it if required – the other control surfaces are fixed.
Cockpit – This is going to be perfectly fine for many modellers; you get a pair of nice seats that have moulded in straps (that I would have to remove and replace to add some interest and realism – you never get two seats with the same harness arrangement for a jet of this age). There is some detail on the rear decking too and of course an instrument panel. A decal is provided for the main panel – ideal for 1:72 scale.
Undercarriage – The legs are moulded with the door section that connects to it on the real aircraft. This is simplistic in one way but is perfectly sensible to me on this kit in 1:72 scale.
The wheels are supplied with tyre-flats – great, the look of the finished model should be greatly enhanced as a result.
Tailplane – This is moulded as one piece with elevators in the level position. It wouldn't be a hard job to separate the latter and slightly offset them in the drooped position, although this positioning seems rare from the pics I've seen of real JPs?
Pilots – two aircrew are included in the seating position (if you feel you must add them)
Nose weight – This isn't included in the kit and I think you'll need plenty looking at the design of the type and there's plenty of room to add it inside the nose forward of the main instrument panel.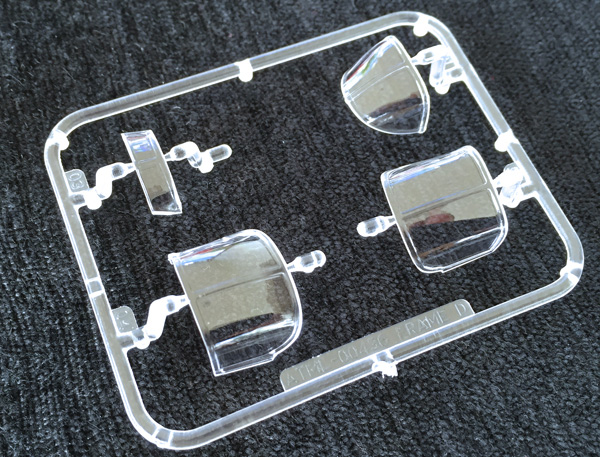 Clear parts
The canopy is helpfully split so front windscreen and rear sections are separate allowing you to pose your canopy open or closed. Crystal clear, blemish-free and well moulded without any distortion.
Instructions
The simple foldout instruction booklet is clear enough with references to paint colours; reference to exact colours and photos will help match your preferred paints to what's needed. There are full colour painting/decal guides included for each version supplied.

Decals
Decals for two different Jet Provost T.3/T.3A aircraft is included – both British machines:
Option A: Hunting Percival Jet Provost T.3 Flying Training School, Royal Air Force, Gaydon, Warwickshire, England 1967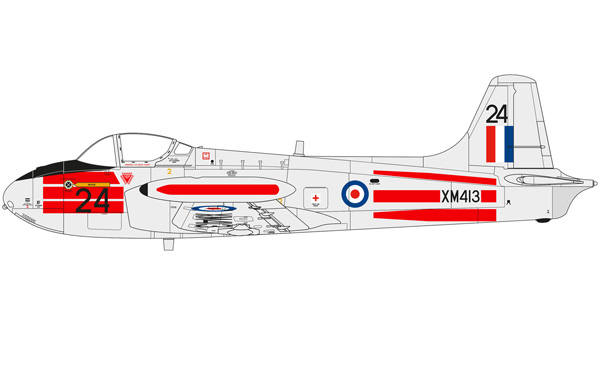 Option B: Hunting Percival Jet Provost T.3A No.1 Flying Training School, Royal Air Force, Linton-on-Ouse, North Yorkshire, England 1984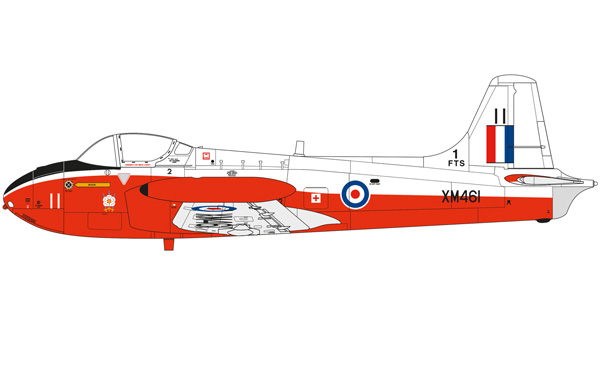 Full stencil data is included and a clear diagram showing where each tiny item goes. The different schemes are shown on a high quality colour fold-out sheet.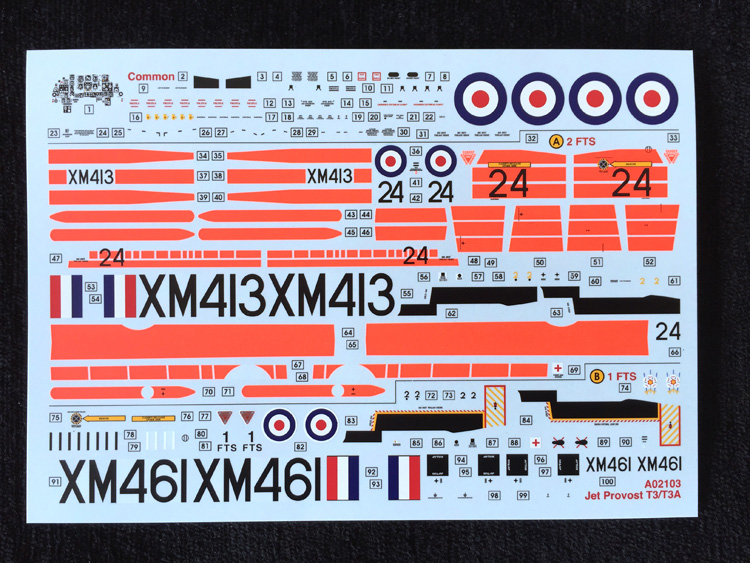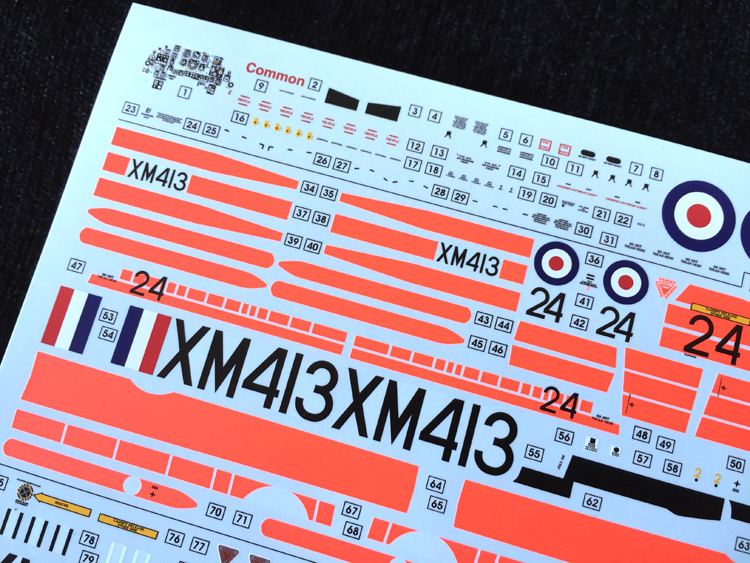 The decals are very well printed and look to be decent enough quality – let's hope so.
Here's my summary
This is a good package with fair detail across the whole kit. A great starter kit for sure, or just another great subject to add to your collection – that's probably your growing collection of new-tool Airfix 1:72 and 1:48 kits. I will be building this one and I'm ken to see how it all goes together and I for one am really looking forward to it. With luck one of the other guys on the team will also build one and you can see different approaches to tackling the project.
Geoff C.
SMN Quick summary Star rating out of 5
| FEATURE | STAR RATING (out of five) |
| --- | --- |
| Quality of moulding | *** |
| Level of detail | *** |
| Accuracy | **** |
| Instructions | *** |
| Decals | *** |
| Subject choice | ***** |
| Overall | *** |
A little bit of background to the Jet provost
The BAC Jet Provost was a British jet-powered trainer aircraft that was in use with the Royal Air Force (RAF) from 1955 to 1993. It was originally developed by Hunting Percival from the earlier piston engine-powered Percival Provost basic trainer, and later produced by the British Aircraft Corporation (BAC). In addition to the multiple orders that were placed for the RAF, the Jet Provost also attained several export deals with overseas operators, resulting in the type serving in many air forces worldwide. The design was also further developed into a more heavily-armed variant for ground attack mission, which was marketed as the BAC Strikemaster.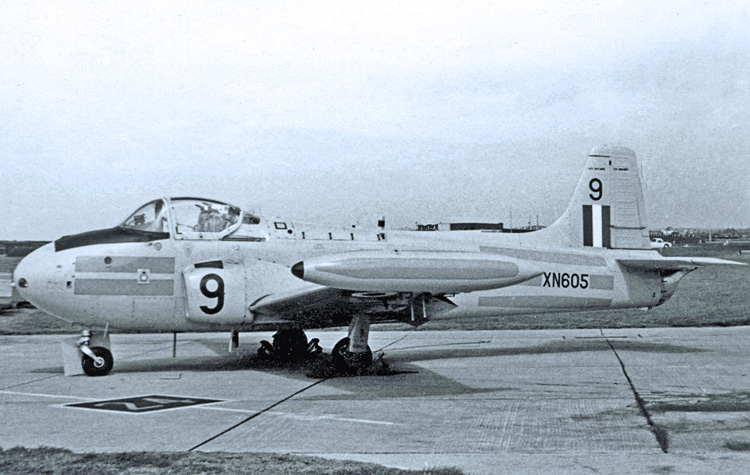 The Jet Provost proved to be a capable trainer. After successful acceptance trials of the T1 during late 1955 at No. 2 Flying Training School at RAF Hullavington, the RAF formally accepted the type in 1957. The first production version was the T3, powered by the Viper 102, and this entered service with No. 2 FTS, now relocated to RAF Syerston, during June 1959, when deliveries commenced from the Hunting Aircraft factory at Luton airport.
The T3 was also operated by Central Flying School at RAF Little Rissington, the Royal Air Force College at RAF Cranwell, Lincolnshire, and by No. 1 Flying Training School at RAF Linton-on-Ouse, Yorkshire, 3FTS at RAF Leeming, Yorkshire, 6FTS at RAF Acklington, Northumberland, and 7FTS at RAF Church Fenton, Yorkshire.
The later T4 was fitted with the more powerful Viper A.S.V. 11 of 2,500 lbs static thrust and first flew on 15 July 1960. It quickly entered service with the units listed above.