Review by Geoff Coughlin (May 2012)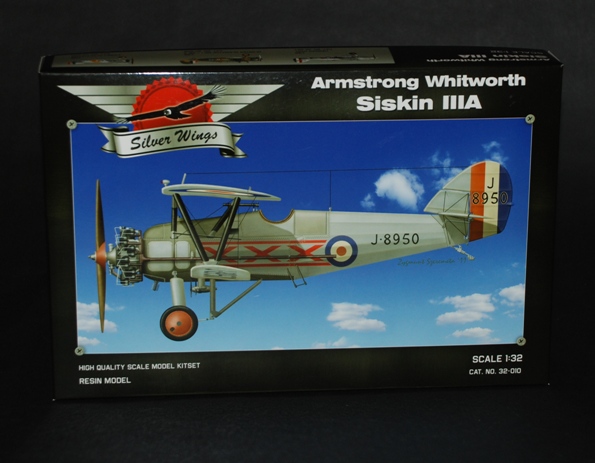 Kit Ref: 32-010
Material: resin
Period: 1923-1932
Marking options: 2 (RAF)
Number of parts: 152 x resin, 44 x photo etch, 3 x film
Length & wingspan: 241 x 315 (mm)
Additional features: main elements iron reinforced
Our sincere thanks to Silver Wings for supplying our review sample. Get this excellent kit here now at: www.silverwings.pl
A bit of background…
The Armstrong Whitworth Siskin was a British biplane single-seat fighter aircraft of the 1920s produced by Armstrong Whitworth Aircraft. The Siskin was one of the first new RAF fighters to enter service after the First World War; it was noted for its aerobatic qualities.
The main production version was the Siskin IIIA ordered in 1926, which originally was powered with a Jaguar IV engine, but was later re-engined with the supercharged Jaguar IVA engine. The supercharger, a novel idea at the time, had little effect on performance below 10,000 ft (3,050 m), but it greatly improved speed and climb above that height. Following an evaluation of two Siskin IIIs the Royal Canadian Air Force ordered 12 IIIAs which were delivered between 1926 and 1931.
With Armstrong-Whitworth busy building the Armstrong Whitworth Atlas some of the later Siskin IIIA production was sub-contracted out to Blackburn, Bristol, Gloster and Vickers.
Reference…
There seems to be precious little reference material readily available for the AW Siskin IIIA. The Silver Wings website is a mine of useful information not only about this Siskin IIIA kit, but also hints, tips and advice on building their products so it's worth taking a good look before choosing your model and then during – I have and it helps greatly! There's a good build of this model by Ryszard Holak.
SMNs build…
I plan to start this build within the week, so keep an eye on Build Now for that! As the No 43 Squadron aircraft has already been built on the Silver Wings website I will be building the colourful No. 29 Squadron RAF aircraft that you can see here…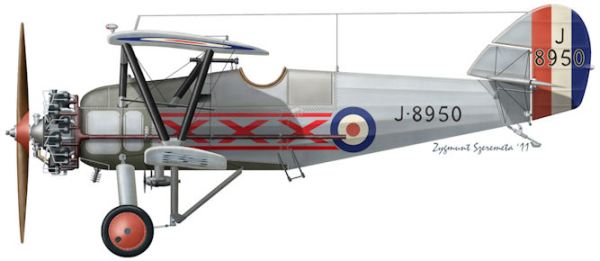 The package…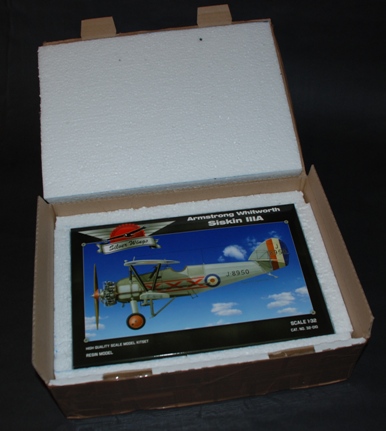 I have to say that when this kit arrived it has to be the best packaged model I've ever seen – you can see the close-fitting polystyrene surrounding the kit box, all packaged into a sturdy cardboard box. This is great as nothing was damaged. Inside there are many poly bags containing the various sub assemblies and this is immediately useful looking ahead to the build. There would have been nothing worse than trying to wade through all the small resin parts to track down what is needed.