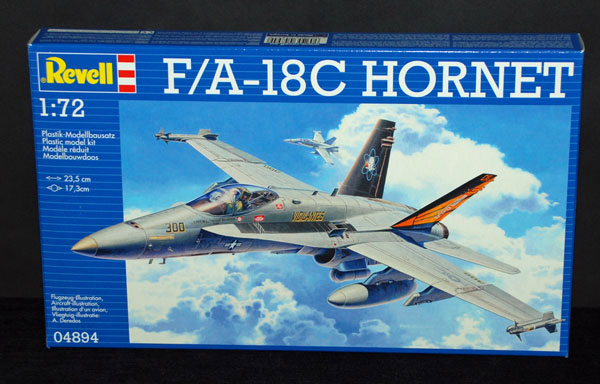 Kit Ref: 04894
Price around £13.50 GBP (January 2015)
Review by Geoff Coughlin
Our thanks to Revell for supplying our review sample: Revell model kits are available from all good toy and model stores. For details visit www.revell.de/en
A little bit of background
The McDonnell Douglas (now Boeing) F/A-18 Hornet is a twin-engine supersonic, all-weather carrier-capable multirole combat jet, designed as both a fighter and attack aircraft (F/A designation for Fighter/Attack). Designed by McDonnell Douglas and Northrop, the F/A-18 was derived from the latter's YF-17 in the 1970s for use by the United States Navy and Marine Corps. The Hornet is also used by the air forces of several other nations. The U.S. Navy's Flight Demonstration Squadron, the Blue Angels, has used the Hornet since 1986.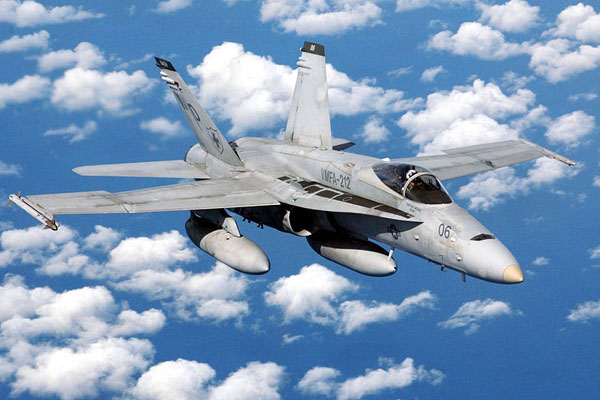 The F/A-18 has a top speed of Mach 1.8 (1,190 mph or 1,915 km/h at 40,000 ft or 12,190 m). It can carry a wide variety of bombs and missiles, including air-to-air and air-to-ground, supplemented by the 20 mm M61 Vulcan cannon. It is powered by two General Electric F404 turbofan engines, which give the aircraft a high thrust-to-weight ratio. The F/A-18 has excellent aerodynamic characteristics, primarily attributed to its leading edge extensions (LEX). The fighter's primary missions are fighter escort, fleet air defence, Suppression of Enemy Air Defences (SEAD), air interdiction, close air support and aerial reconnaissance. Its versatility and reliability have proven it to be a valuable carrier asset, though it has been criticized for its lack of range and payload compared to its earlier contemporaries, such as the Grumman F-14 Tomcat in the fighter and strike fighter role, and the Grumman A-6 Intruder and LTV A-7 Corsair II in the attack role.
The Hornet saw its first combat action in 1986 during Operation El Dorado Canyon and subsequently participated in 1991Operation Desert Storm and 2003 Operation Iraqi Freedom. The F/A-18 Hornet provided the baseline design for the Boeing F/A-18E/F Super Hornet, a larger, evolutionary redesign of the F/A-18.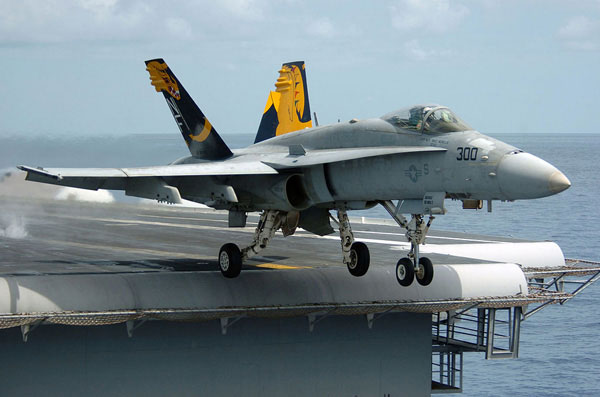 The Revell Kit
The F/A 18C is rapidly becoming an iconic aircraft, used by multiple Air Arms around the globe; it is highly capable combat aircraft that has been developed considerably in recent years and has featured several times in the Revell range of model kits.
The tooling for this kit dates back some years (I'm unclear of the exact date) and it's a decent kit, albeit featuring raised panel lines that are less desirable these days by many modellers, mainly because it's harder to weather them.

Box and contents
Revell persist with rather flimsy boxes that are doubtless cheap to produce yet somehow manage to protect the contents although prove less useful during construction. Having said that, the artwork is usually impressive enough and that's the case here with an image of an F/A-18C Hornet of VFA-151 "Vigilantes" USS Abraham Lincoln, Lemoore NAS 2007.
So what's inside…?
The grey sprues are packaged well and no damage is apparent. Taking the main components first, they are well tooled, raised panel line detail with some excess flash on many parts that will need to be removed. No distortion was apparent and a dry fit of the complex, yet typical F-18 kit breakdown of upper-to-lower horizontal fuselage join looks like it's going to offer a decent fit.
The cockpit looks acceptable with moulded cockpit instrument panels although the raised detail is only representative and inaccurate. The ejection seat is again possibly acceptable, depending on your start-point and will need a harness. Decals provided for the main instrument panels – forward and sides.
Weapons and stores
You can see for yourself that Revell has included plenty of stores options, and it's good to see that these haven't been deleted because you can build plenty of other subjects by combining this kit with an aftermarket decal sheet. The AIM-9Ls and other AAMs all reasonably well tooled and the complete range on offer can easily be seen in the accompanying images.
It's good to see 2 under-fuselage drop tanks.
Undercarriage sprues
The wheels bays and main gear units are central features of any F/A-18 kit and so, it's good to see that they are well detailed here.
Clear parts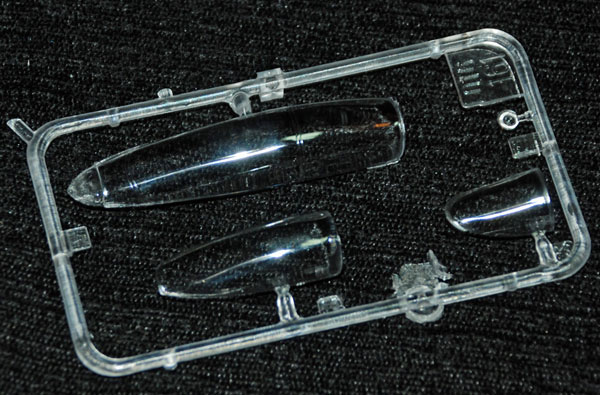 The clear parts look clear and the canopy rear portion is provided in two parts, so you can pose the canopy open or closed. The parts are clear and no defects apparent.
Instructions and decals
The Revell instructions follow their usual exploded stages format. Location of parts is clear but colour paint coding is for Revell paints only. However, the FS colour references are provided and this will help you to match your own choice of paints. The build sequence is pretty standard and logical but many modellers will part company with the stated order to suit their experience.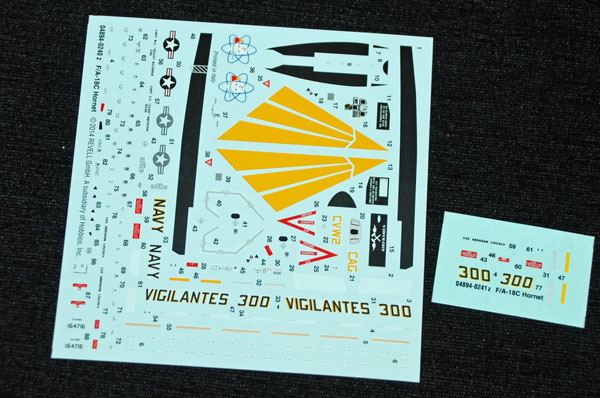 The decals look to be good quality – certainly good subject choice, you won't be able to miss your F/A-18C CAG aircraft model on a display table! Stencil detail is also provided and is almost always well worth adding, even in 1:72 scale to add additional interest to your completed model, but I suspect you'll have your own views on this. All the colours are in register and colour density looks impressive and carrier film limited, so I wouldn't expect any problems with application.
Conclusion
This is a great subject and will be popular with modellers, especially with those that have an interest in all things "US" or "Navy". The inclusion of a good colour scheme on Revell's decal sheet is good to see and the model itself looks to be quite well engineered at first glance and from the dry/test-fit – despite the raised panel lines.
Geoff C.
SMN Quick summary Star rating out of 5
| FEATURE | STAR RATING (out of five) |
| --- | --- |
| Quality of moulding | *** |
| Accuracy | *** |
| Level of detail | *** |
| Instructions | *** |
| Decals | **** |
| Subject choice | **** |
| Overall | *** |