Review by: Geoff Coughlin (November 2011)
Price: £15.00 approx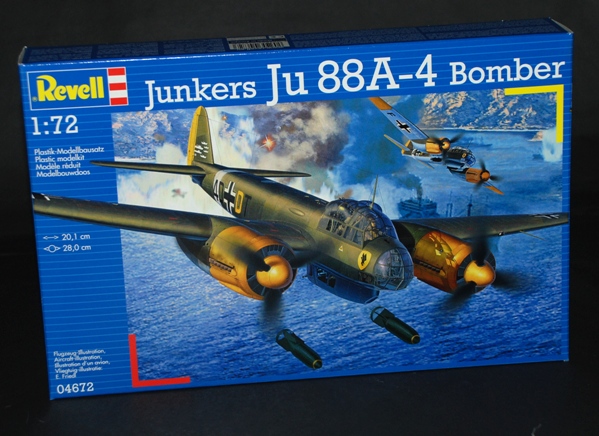 Our thanks to Revell for supplying our review sample. 

Some useful reference for you…
Note: Keep an eye out in Build Now – this new release from Revell is certainly going to feature there, just as soon as we can clear space for it!
Background to the Junkers Ju 88
The Junkers Ju-88 was certainly a multi-role combat aircraft, one of the first and produced in greater numbers than any other Luftwaffe aircraft of WWII, with over 15,000 being built.
It served as a conventional high altitude bomber, a dive bomber and was just as effective as a night fighter or even a torpedo bomber engaging surface vessels. It could also be used as a tank-killer, mine layer and even a reconnaissance aircraft.
During its final days, it was used as a bomb-carrier in a composite unit under a Bf 109 or Fw 190 (Mistel). The Ju 88 was still in full production at the end of WWII.
It was designed and built as a fast bomber, in 1938 reaching a speed of 321 mph, a speed that fighter aircraft of the period could not achieve. The first series production models – the A-1 went into service with KG 25 (Fighter Wing 25), which was later renamed KG 30 "Adlergeschwader" (Eagle Wing).
On 1st September 1939 at the start of the Polish Campaign, this unit only possessed 18 aircraft, hardly enough to take part in any military action. It was not until March 1940 that KG 30 became the first operational unit to be fully equipped with the Ju 88.
At the same time, Junkers started work on a new wing for the aircraft, which, in addition to having a larger span, also received curved wing tips. Until then the wing tips and ailerons of the Ju-88A-1 remained completely open.
This new wing was immediately incorporated into the production line and retrofitted to aircraft that had the old wing. The "Battle of Britain" which began on 8th August 1940 with "Adlertag" (day of the Eagle) was the first real test for the Ju 88. Early experience showed that there was a need for stronger defensive armament.
Instead of the current four MG 15s the more modern MG 81 was used, mostly fitted in the twin Mg 81Z mount. At the same time stronger armour plate was fitted to protect the crew.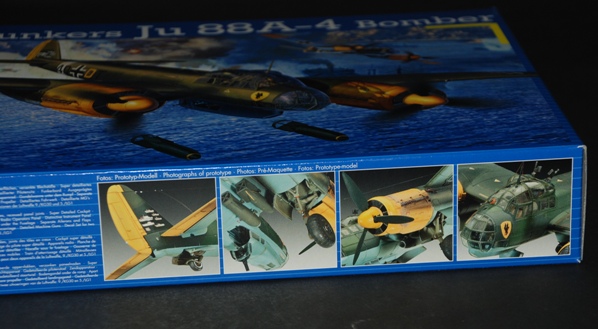 Initial Assessment
You may have read my detailed Here Now review of Revell's recently released 1:32 scale Heinkel He 111 and if so you'll note that I believe that to be a quality product that offers outstanding value for money. Where you put that 'little' kit is, I'm afraid, your problem, but now you have something altogether more manageable – a Junkers Ju-88A-4 Bomber in 1:72 scale.
Sprues and more Sprues
The box is pretty packed with these, light grey sprue frames. The best thing to do is show them to you in the Gallery Grid below. Click on the Thumbnails to enlarge and see what you think.
So, what do you reckon? Overall I'm pretty impressed with what's inside. The cockpit looks to be very well appointed, which is just as well because the Ju-88, like the He 111, has a greenhouse for a cockpit and you'll be able to see most of it, even in 1:72 scale.
Highlights at a glance
Subject choice – very welcome
Panel line detail – sharp, recessed and no too deep in this scale
Cockpit detail and detail tooling of fittings
MG's finely tooled
Raised detail on side instrument panels with decals for main panels. I think the latter will work very well – we'll see in the build stage
Bombs to hang under the inner, lower wing sections with delicate racks supplied
Undercarriage looks accurate and subtle, like the original – nice hub detail
Positionable flaps
Clarity of clear glazed parts
Decal options – plenty of variety.
Things to watch and take extra care with
Some heavy gates on the delicate parts like the MG's, so care will be needed when removing the parts
Multi-part canopy may be tricky to assemble, so take care with this
Tyres aren't bulged – not really a problem though, as you can sand small flats on the underside of each in this small scale
No seat harness is provided, so you'll have to scratch some from masking tape or metal foil or go for the etched brass option – the former should be fine in this scale though
Decals – plenty of carrier film on show, although they are thin and that's good. Trimming it away will be essential and you may want to go the Dave Coward way and try and secure some paint masks so you can spray most of the markings. This could be a worthwhile investment as the kit is very reasonably priced.
Instructions
These are in classic Revell style with exploded stages – all 63 of them.
Location of parts seems quite clear, but familiarise yourself with the symbols for grey and clear parts as well as decals and paint references as it all gets a but busy on some of the smaller sectional diagrams.
Decals
As I mentioned, the choice is quite good, given that both options offered are RLM 70/71 over 65.
Option 1 – Junkers Ju-88A-4 of 9./KG 30 "Adler-Geschwader", Catania, Sicily, Italy June 1941
Option 2 – Junkers Ju-88A-4 of 5./Lehrgeschwader 1 (LG 1) Eleusis, Greece; March 1942
Decals quality is pretty good as mentioned, the colours are solid with decent opacity and markings are in register.
That carrier film is going to be hard to lose in this scale if you apply them as is, so I plan to trim most of it off and, as the instructions suggest, use a decal softener like Micro Set and Sol. A good range of stencils is also provided, so no need to go to for aftermarket supplies here.
Accuracy
I don't have a lot of references for the Ju 88A-4 (unlike just about everything else Luftwaffe, except the He 111!) so we are reduced to what I have and the Mark 1 Eyeball. It certainly looks right from most of the angles I have tried.
After a dry-fit and taping, this is unmistakably an accurate-looking Junkers Ju 88.
Conclusion
Well I hope that this Here Now review says enough for you to make your buying decision.
The package is clearly well worth the money in my opinion and there is going to be a lot of modelling fun and pleasure along the way. We've waited a long time for a good quality, detailed Junkers Ju 88 and Revell has filled that gap very nicely.
| | |
| --- | --- |
| Quick summary | Star rating out of 5 |
| Quality of moulding | **** |
| Accuracy | **** |
| Instructions | *** |
| Decals | **** |
| Subject choice | ***** |
| Overall | **** |
Geoff C.