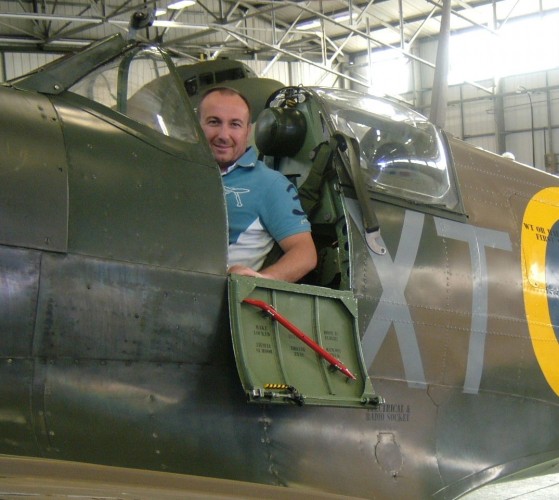 Modelling
What first attracted you to Scale Modelling? 
Being brought up in the 70s, I suppose you couldn't help but be caught up with plastic modelling as that was the heyday of Airfix.
I've always had a passion for aircraft from as far back as I can remember, so making models was a natural progression of this interest in those days.
How long have you been scale modelling for?
I must admit, I can't remember either what my first kit was (probably a Spitfire!), or who bought it for me (a good guess would be my father though).
But one of my most vivid modelling memories was when I was about 9 or 10 years old and I was given a 1/24th Airfix Hurricane for Christmas and being absolutely amazed by its size and complexity. I did manage to get an original 70s boxing of this kit from Ebay a while ago and it is just as good as I remember from all those years back.
I had a sabbatical from modelling for quite a few years due to the usual combination of women, beer and my career, but got back into it about 8 years ago and haven't looked back since.
Specialist area of Modelling? 
Aircraft mainly, but I do dabble in maritime and have the occasional stab at an armour (target) subject.
With regards to aircraft, I'll pretty much have a go at anything military related and particularly enjoy WWII aircraft as there are so many possibilities for weathering with them. Got to say though, I do like a late-war Luftwaffe fighter especially a Fw190D.
Preferred Scale?
Definitely 1:32nd, as it is a great scale for detailing and the finished models are quite impressive size. But where do you store them once they're done?!
I also quite like 1:48th and 1:24th, but I don't like 72nd and always find a bit toy like – sorry!
Favourite real subject of all time (aircraft, armour or maritime)?
Got to be the Mosquito, an incredible aircraft. We are really lucky to have some great kits of it today, including the Tamiya 1:48th series and Airfix's amazing 1:24th version, though I just wish someone would do a new 1:32nd.
I've also got a bit of a soft spot for F-14's, probably due to being a teenager in the 80's and loving the movie Top Gun; I hate to think how many times I've seen it, but I'm still blown away by the aerial scenes even now.
The best thing you've ever built?
Difficult question, as I'm always looking for my next kit to be my best, as your always learning.
The kits I still look at and get a real sense of satisfaction from must be my big Airfix Mosquito (below left), my Tamiya Spitfire MkVIII (below right) and my Hasegawa Fw190D (below centre). I know I've named more than one, but it's just too difficult to pick one out of these three.
Click on the Thumbnails below to enlarge and make your own mind up!
And finally, most memorable Modelling disaster? 
I can't really think of any real 'throw it in the bin' disasters.
I have had quite a few 'learning experiences' since I came back to the hobby, an example being that enamel and acrylic paints don't mix; the Airfix Vulcan had a very strange 'orange peel' finish after that one!
Scale Modelling Now
How long have you been a reviewer for?
Pretty much since the start. Geoff asked me to put together some reviews before the magazine even went 'live', so it was a baptism of fire as I'd never done anything like this before. As the mag started to grow, he asked me to take on the role as Aircraft Editor. This is great as I get to read the reviews before anyone else.
What made you get involved with SMN?
I think the biggest leap forward during my break from modelling was the internet, both as a resource for modelling techniques and as a source of reference material.
When Geoff approached me about getting involved with the magazine, I saw it as the way forward for this hobby, you just have to look at how electronic magazines and books are starting to take off.
With SMN, there is no limit to the size of the article and the turn around time for any review is far quicker than a traditional paper magazine; how can you compete with that?
What's your favourite thing(s) about SMN?
I do like the build articles and I'm always learning new techniques all the time from other reviewers. The Photographic Reference Library is also a great resource and the use of videos in the Techniques Bank is really useful.
Favourite SMN review?
Just one?!? I like lots of them for different reasons.
Julian (Seddon) and Jamie (Haggo)'s reviews always interest me as they like the same subjects as myself. I also like Les Venus', as he`s gone totally 'overboard' with this ship obsession, but his results have been amazing and, of course, I love Geoff's builds too. Got to keep the editor on side if I want that next review sample!
About You…
Sum yourself up in no more than five words.
Perfectionist, Joker, Impatient (it's an age thing!!), impulsive.
Biggest hobby/hobbies outside of Scale Modelling? 
Scuba diving, skiing and an interest in aviation.
Favourite food/meal?
Definitely curry, curry and more curry, plus the usual beer or red wine to go with it!
Three famous people who you admire?
Not three and not famous, but all the guys and girls out on the ground in Afghanistan. Having just done 4 months out there myself, I know that what they do on a daily basis takes real courage.
And finally…tell us a (clean) joke
MI5 had an opening for an assassin. After all the background checks, interviews, and testing were done, there were three finalists – two men and a woman.
For the final test, the MI5 agents took one of the men to a large metal door and handed him a gun. "We must know that you will follow our instructions, no matter what the circumstances. Inside this room, you will find your wife sitting in a chair. Kill Her!!!"
The man replied: "You can't be serious. I could never shoot my wife."
The agent said: "Then you're not the right man for this job. Take your wife and go home."
The second man was then given the same instructions. He took the gun and went into the room. All was quiet for about five minutes. Then the man came out with tears in his eyes. "I tried, but I can't kill my wife."
The agent said: "You don't have what it takes. Take your wife and go home."
Finally, it was the woman's turn. She was given the same instructions, to kill her husband. She took the gun and went into the room. Shots were heard, one shot after another. They heard screaming, crashing, banging on the walls.
After a few minutes, all was quiet. The door opened slowly and there stood the woman. She wiped the sweat from her brow. "This gun is loaded with blanks," she said.
"I had to beat him to death with the chair."