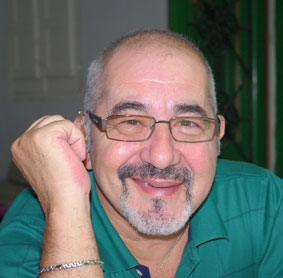 Modelling
What first attracted you to Scale Modelling?
When I was a little boy….I used to spend my school off day and watch my Uncle Paul working away at his models on the kitchen table after lunch….totally absorbed and fascinated …he bought be my first model an Airfix 1:72 scale Cougar aircraft, they were still in plastic bags in those days and it cost half a crown. I built it and painted it in one day.
How long have you been scale modelling for?
I am now nearly 66 years old and I've built my first model when I was 11 years old and never looked back. Scale Modelling is my passion.
Specialist area of Modelling?


Definitely Marine, but I had a go at everything, aircraft, figurines, AFV's, electric trains, aircraft dioramas which are all now at The Malta Aviation Museum. I have started marine modelling about 9 years ago.
Preferred Scale?
1:350 scale…..had a go at 1:600 but too small for my liking.
What is your favourite real subject of all time (aircraft, armour or maritime)?
Definetely Maritime. Reason being, the amount of detail you can put in a ship model is limitless.You have to draw a line because otherwise you will never finish the model.
The best thing you've ever built?


USS Enterprise CVN65 in 1:350 scale. It was a going away present from my colleagues when I retired from work and I really put my heart into it. I wanted to make it something special as a tribute to my colleagues and friends at work. It took two and a half years to complete.
And finally: Most memorable Modelling disaster?
I was decorating my den where I keep my models and all the units containing my models were in the middle of the room covered up. Whilst I was on the ladder I had a slight attack of Vertigo and fell off the ladders…. Luckily I was slightly hurt but whilst falling I tried to stop my fall holding on to the unit containing my figurines. It fell with me on top of me as a matter of fact and all the figurines were smashed to pieces. My life's work in figurines, about a hundred of them. A real tragedy.
Scale Modelling Now
How long have you been a reviewer for?
Since it started.
What made you get involved with SMN?
Through my great friend Les Venus, another brilliant modeller, who asked me and suggested if I could contribute to the magazine. I felt very priviledged and I told him I would do it gladly.
What's your favourite thing(s) about SMN?
The variety of articles and modelling subjects. The write ups are very interesting especially the step by step builds.
Favourite SMN review?
Actually I don't have a favourite I find all the the reviews very interesting and informative as well.
About You…
Sum yourself up in no more than five words.
Clumsy (in everything except modelling)
Biggest hobby/hobbies outside of Scale Modelling?
Looking after my beautiful 3 grandchildren
Favourite food/meal?
Seafood Risotto….especially when my wife makes it for me. Never tasted anything better in any restaurant.
Three famous people who you admire
All gone….Nelson Mandela…Mahatma Ghandi…Martin Luther King
And finally…tell us a (clean) joke…
I don't know any jokes really but I will tell you the most embarrassing situation I had. I was walking in a very pensive mood, head down and went straight into a lamp post and I said excuse me to the post. People passing by laughed their heads off.
Louis C.