Modelling
What first attracted you to Scale Modelling?
From an early age, I always loved to build things no matter what the material. My first plastic kit was a Spitfire and I was hooked.
How long have you been scale modelling for?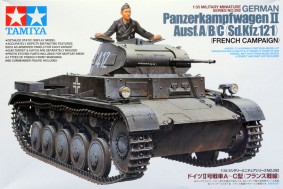 I started when I was about seven years old and continued until I joined the RAF. Then the usual things got in the way like work, girls, beer, wife and home – though not all together!
When I came out of the RAF, I worked away from home for over a year and the lady I lodged with gave me a Tamiya Panzer II and this was the start of a long association with German tanks of WWII.
Your Specialist area of Modelling?
I like the German Army (Wehmacht), with its colourful camouflage for both uniforms vehicles and AFV's. During my time modelling, I have amassed a large number of books with the adage that you can never have too much reference.
Preferred Scale?
I like to work in 1:35, as it gives scope for some real detail when the occasion arises, even though it takes a while to achieve the result I'm after.
What is your favourite real subject of all time (Aircraft, Armour or Maritime)?
I am split on this. My initial thought was the Panther tank, for its clean lines and the amount of colour schemes that can be painted.
But, for character, it has to be the Panzer III, which again can be colourful and also well worn with battle damage and grime.
The best thing you've ever built?
A trite answer would be the next one, as my aim is to improve with each build.
Looking back though, the model I most enjoyed was the Dio (see below) of the Pz35t for SMN magazine as it had a lot of research, modifications to the kit and a new type of paint scheme. The figures and a tree – which I always try to include on a base – were great fun to build.
And finally, most memorable Modelling disaster?
No question about this one and I stand in the corner with the dunce's hat on!
It was a Panther and I wanted it to look heavy. I loaded the hull with old nuts and bolts after blocking up all the holes and poured in some evo stick to set all the metal. I left it on a tin tray overnight and, on looking in the morning, found a mound of metal and a plastic gop as it had melted all the plastic!
Scale Modelling Now
How long have you been a reviewer for?
From the near the start (of the magazine), as Geoff has a way with words!
What made you get involved with SMN?
I liked the idea of an online magazine with the ethic to tell it like it is. I also liked for a review of a model to be just that and not to add loads of extras in just for the review. For a build article, you can do what you like by adding whatever.
What's your favourite thing(s) about SMN?
I like the build articles and also the tips section, which I think is very important so we can pass on to all levels of modeller tips and tricks picked up by ourselves and others.
Your favourite SMN review?
I am going to answer this by saying that it will be Jamie Haggo's upcoming Panther build and finishing article, as I have kept in touch with him during this process and think it will be inspirational.
About You…
Sum yourself up in no more than five words.
Honest, dedicated, loyal and fun.
Biggest hobby/hobbies outside of Scale Modelling?
This has to be 'She who must be obeyed' (the wife), who encourages my modelling with her inimitable answer to: What do you think of this Model?
It's pretty, or nice.
Favourite food/meal?
Any roasted meat with all the trimmings.
Name three famous people who you admire.
Churchill, Isambard Kingdom Brunel and Hans Von Luck.
And finally…tell us a (clean) joke.
Paddy shouts frantically into the phone "My wife is pregnant and her contractions are only two minutes apart!"
"Is this her first child?" asks the Doctor.
"No", shouts Paddy, "this is her husband!"
That's the nearest I get to PC!
Stay Tuned for more Q & A's with the SMN team in the coming weeks. To view the entry by SMN editor Geoff Coughlin, click here.