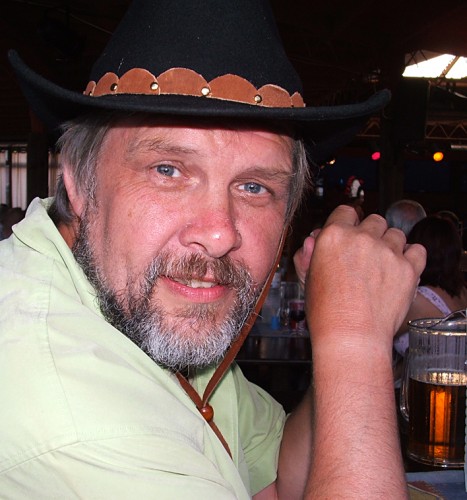 Modelling
What first attracted you to Scale Modelling?
Honest answer? I don't know. It was such a long time ago, when Airfix kits came in a polythene bag with a folded card stapled to seal the bag.
I was just drawn to it at the time and a serious amount of pocked money, half a crown per week (12.5 pence), was poured over the counter of the model shop for these and Frog kits. I cannot remember my first kit but it was probably red.
How long have you been scale modelling for?
I have been making models on and off for 50 years but only making them 'seriously' for around three years.
Specialist area of Modelling?
To be honest, I am fickle.
I suppose, taking into account what is in my stash and display cabinet, it has to be armour but at the moment I am committed to maritime.
Preferred Scale?
Armour, 1:35 (with 1:48 a close second)
Aircraft, 1:48
Maritime 1:700.
Although I may like to work in bigger scales, I have to seriously think about cost and space, which are big factors. With Maritime however, I will be doing a few larger than 1:700, but not many.
Favourite real subject of all time (aircraft, armour or maritime)?
It has to be the T34 tank. I don't know why.
I have not modelled it very much, in fact I currently only have one completed model, which is the superb 1:48 HobbyBoss kit with full interior. There is just something about the T34 that appeals to me.
Every time I see a real one, I have to admit to going wobbly kneed and a bit doe eyed. I just love the beast.
The best thing you've ever built?
Total contradiction to what I have said above, my (in my opinion) best model ever has to be an Eduard 1:48 FW190 on a scenic base with ICM figures, Tamiya Kettenkraftrad and auxiliary power unit.
I do not know why, but everything went so well on this build. So if I had to clear out my models to make space, this one would be kept.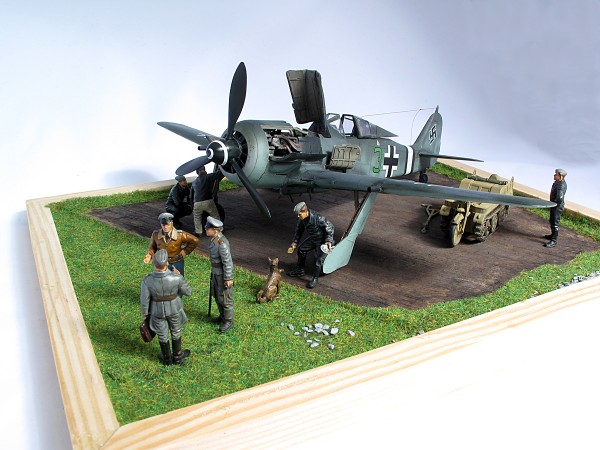 And finally, most memorable Modelling disaster?
Good grief, far too many to list.
There was a Harrier being eaten by one of my dogs!
Also, there was an Airfix 1:72 Stuka that I took, with a few other kits, to school for a WWII History display that was just painted matt black. I was commended for the model, which I just could not understand until I discovered that the history teacher actually thought I had carved it out of wood! I just could not confess and this memory has haunted me since.
But I suppose knocking over bottles of liquid poly and ruining kits still on the sprues has to be my most common disaster. I should have learned by now!
Scale Modelling Now
How long have you been a reviewer for?
I don't really know! I first met Geoff and the team at the SMN stand at the Hinckley Show about two years ago.
Although I am certainly not prolific, I just seemed to drift into reviewing via sending a couple of submissions to the Subscribers Gallery.
What made you get involved with SMN?
At the time I found SMN at the Hinckley show, I was just starting to get serious in my reincarnation as a modeller; but I was also at a crossroads. I could have gone on or quit after that show as I was not sure what I was getting out of it or why.
Like many modellers, I am a solitary builder. I am not a member of a club nor do I meet people very often who share the hobby, even though Peterborough has a superb club.
I relied on internet forums and paper magazines to feed my interest. When I spoke to Geoff at the show and saw that SMN was neither 'another' forum nor just another magazine, I saw something quite refreshing.
My parting question to Geoff was along the lines of: "Would you be interested in submissions from first time writers like myself?" Not only was the answer 'Yes', but I felt a genuine encouragement to go for it.
SMN is unique in just about everything it does and I subscribed as soon as I got home and started to think about my first submission.
What's your favourite thing(s) about SMN?
All of it. Seriously, I do believe that the magazine is unique in it's approach. It doesn't matter what type of military modeller you are, the magazine has something to offer.
The Techniques Bank is real techniques from real modellers, the walk arounds are as good as you will get anywhere, but I suppose if I had to put my finger on any one thing, it would have to be the sheer enthusiasm that SMN exudes through its reviews and builds.
It has certainly got me doing things I would never have done and I know for a fact that my modelling, although far from the best, has improved tremendously, as has my confidence to try things that I just would never have tried reading them in a paper-based mag.
I have also found this enthusiasm continues from the guys when I occasionally meet them at shows. It is obvious that these guys are really committed, or should be in some cases (!), to their modelling.
Favourite SMN review?
Sorry guys, they are all good but it has to be the Trumpeter 1:200 Arizona by Les Venus.  To read about it being built and then actually meeting it in the flesh (plastic?) was really special for me.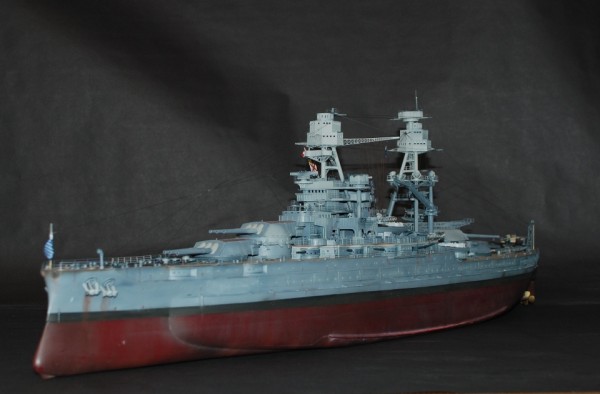 About You…
Sum yourself up in no more than five words.
Old enough to know better.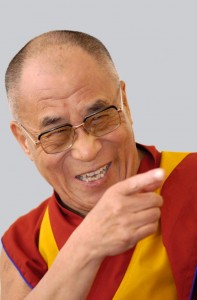 Biggest hobby/hobbies outside of Scale Modelling?
No contest. Photography, which I combine with modelling and my love of history and nature.
Favourite food/meal?
Sunday roast.
I love most foods, especially the milder Indian, but a good Sunday Roast takes some beating especially when we have a family get together and I have the kitchen and a couple of G&Ts to myself for the day.
Three famous people who you admire…
A strange mix but: The Dalai Lama, Gandhi and Rommel.
And finally…tell us a (clean) joke…
A man goes into a fish n chip shop with a salmon under his arm. He asks: 'Do you sell fish cakes here?'
'No,' was the reply.
'Shame, it's his birthday.'
Stay Tuned for more Q & A's with the SMN team in the coming weeks.
Previous 'Meet the Team' Entries