SMN 'Meet the Team' Questions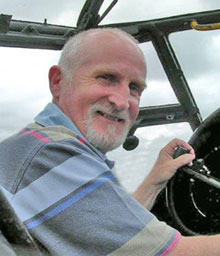 Modelling
What first attracted you to Scale Modelling?
My father was a wartime pilot so my childhood in the 1950s was centred around aircraft books and models. Dad and I used to keep a careful watch on the toy section of our local Woolworths to see what kits Airfix were bringing out next. I remember my first one was a Mk 1 Spitfire moulded in blue plastic and cost 1/6d.
How long have you been scale modelling for?
Off and on for over 50 years, though with a long break until 7 or 8 years ago when I "re-discovered" modelling in conjunction with my aviation research project, and found out how much it had progressed!
Specialist area of Modelling?
For my own collection I only model aircraft, and within that those of WW2. I have a theme for my models – those I build are the types flown by, or in, the various members of the crew of the Lancaster which is at the heart of my research. So far I've done a Tiger Moth (Rhodesian Air Training Group), an Anson (RAAF Mallala), Oxford (1539 BAT Flight Bibury) and Lancaster (467 squadron RAAF). I've got, but not yet started, a Wellington (29 OTU), another Anson (gunnery training) and I'm just about to build a Dominie which the wireless operator would have flown in at RAF Yatesbury. Two aircraft which are going to prove troublesome in my chosen scale are the Stirling and a Proctor – but I live in hope!
Preferred Scale?
1:48th seems the perfect scale for me. I'd like to do 1:32nd but the finished planes are just too big. I like to add detail to my models; 1:72nd limits what I can do but 1:48th provides the best of all worlds.
What is your favourite real subject of all time (aircraft, armour or maritime)?
Included in my theme described above are the aircraft flown in/by the Luftwaffe crew responsible for the Lancaster's fate; I have a great attraction towards the Bf110. I have built four Bf110G-4s with their ungainly stag's antler radar aerials but I'm also planning to build a Bf110E flown prior to the inception of radar.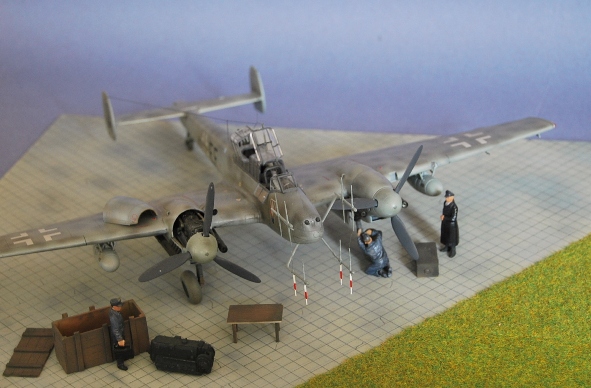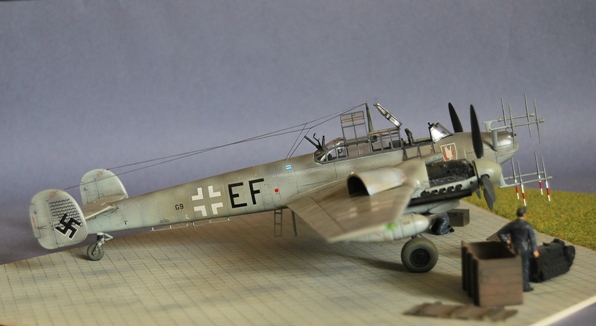 The best thing you've ever built?
One or two of the Bf110s because I've been able to detail them with the engine covers off, the forward cannons displayed (and on one of them, one removed by an armourer), flaps lowered and leading edge slats down. My aim is always to recreate the scene as it may have been on an airfield so I include figures, oil bowsers, jerry cans etc in order to give an enhanced sense of realism. I also find the mottled finish of the German nightfighters a real challenge.
And finally: Most memorable Modelling disaster?
Well I can honestly say I haven't had any disasters, fortunately. I've got a Sanger vacu-form Oxford which I started and never finished, it's been superseded by the recent Special Hobby release, though it was a good learning curve with vacu-form which I hope will stand me in good stead with the Dominie whose fuselage is vacuum moulded.
Scale Modelling Now
How long have you been a reviewer for?
I think it's 2 years or so.
What made you get involved with SMN?
I met Geoff's wife, Sara, at the Yeovilton model exhibition (no idea where Geoff was), we got talking and Sara said she thought Geoff might be interested in what I was doing. He was!!
What's your favourite thing(s) about SMN?
For me, it ticks ALL the boxes that a modeller can want – in fact I haven't bought a magazine since SMN came into existence. The reviews are very full and detailed, the reference section is so useful (a unique resource housed "under one roof", the techniques bank, especially the videos are essential viewing in order to find out how others achieve the effects to which I aspire, it's always "there" and so easily accessible AND searchable (no more thumbing through piles and piles of mags looking for that one article)…….it's just the complete package at a ridiculously affordable price!
Favourite SMN review?
I can't pick one out, but for his skill I know anything by Julian Seddon is going to be worth looking at.
About You…
Sum yourself up in no more than five words.
Pedantic, organised, optimistic, happily retired!
Biggest hobby/hobbies outside of Scale Modelling?
Golf, gardening and motorcycling.
Favourite food/meal?
I was a vegetarian for twenty five years……but I've fallen off the wagon! So right now it's sirloin steak (medium rare), thrice-fried chips (lovely and crisp) and peas.
Three famous people who you admire
Martha Gellhorn, Roger Federer, Prince William
And finally…tell us a (clean) joke…
In the barnstorming 1930's, a farmer and his wife went to a fair. The farmer was fascinated by the aeroplanes and asked a pilot how much a ride would cost.
"£1 for 3 minutes," replied the pilot. "That's too much," said the farmer.
The pilot thought for a second and then said, "I'll make you a deal. If you and your wife ride for 3 minutes without making a sound, the ride will be free. But if you make a sound, you'll have to pay £1."
The farmer and his wife agreed and went for an aerobatic flight. After they landed, the pilot said to the farmer, "I want to congratulate you for not making a sound, you're a brave man."
"Maybe so," said the farmer, "But I have to tell you, I almost shouted when my wife fell out."
Max W.